ComfortClick's Jigsaw now enables even faster ETS import with an improved import wizard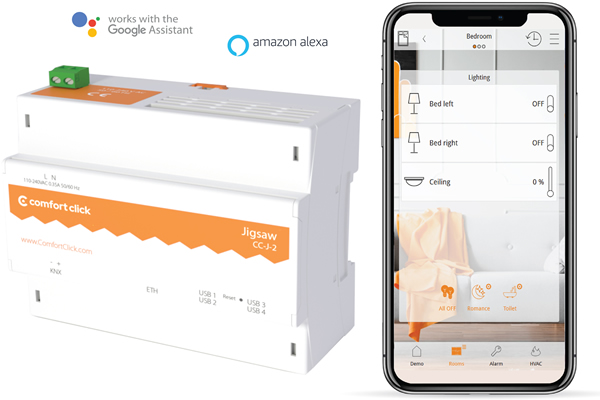 Jigsaw is a server for visualization, control and automation of KNX based smart homes. The improved ETS import wizard enables you to import the whole ETS project with just a couple of clicks, choose one of the many preset templates, and start your project visualization and automation in no time.
bOS software, which is pre-installed on the Jigsaw, enables the design of fully customizable GUI, including custom icons, colours, logos and backgrounds. bOS also comes with a set of advanced features such as: logical operations, data logging, scenes and schedules.
Control and monitor your smart building with the free bOS Client apps for iOS, Android and Windows, or Alexa and Google Assistant.
Jigsaw also enables you to integrate KNX with other technologies such as: Z-Wave, Modbus, BACnet, Sonos, Denon, Bose, Philips Hue, IP cameras, DSC, Paradox, Satel, Kodi, Global Caché, IRTrans, TCP/IP devices and many others.