Zennio would have loved to present NarrowDIM X4 at Light & Building 2020, but the current situation has demanded our reinvention – and reinvention is exactly what NarrowDIM X4 stands for. With our DIMinBOX still being widely used all over the world, LED lighting was asking for a more subtle dimmer and we answered.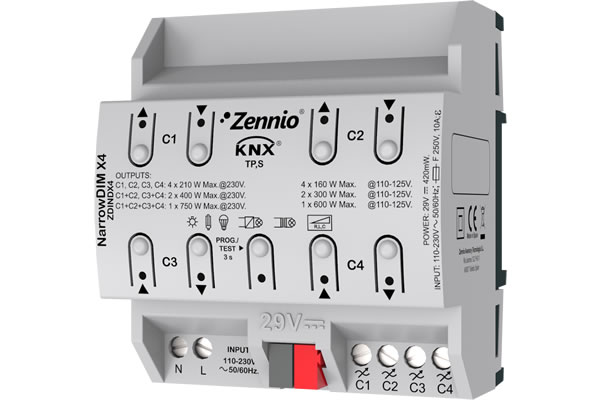 NarrowDIM X4 is a four channel universal dimmer, compatible with LED, CFL and RLC loads and 210W per channel @ 230V in 4.5 DIN rail units. We added what every dimmer should have: manual control, error detection, adjustable dimming curves for LED and CFL loads and auto load detection for RLC loads.
And then we added the bits to make it a Zennio device, 10 independent logical functions, heartbeat, 10 scenes/sequences per channel, customized On/Offs, timers, flashing – all we had to do after that was keep wiring as it was in the DIMinBOX DX4, 1 wire per channel + L + N. That's it, only 6 wires.
It is probably worth mentioning the minimum load, but as there is virtually none, we can skip it. Check the price with your local Zennio distributor – you will be amazed there too!
For more product information you can download this PDF, and you can watch this webinar hosted by BEMCO
For general information about Zennio visit: