JUNG extends the system devices and brings two essential areas together. The new power supply (320 mA) with IP interface enables more efficient operation on several levels simultaneously.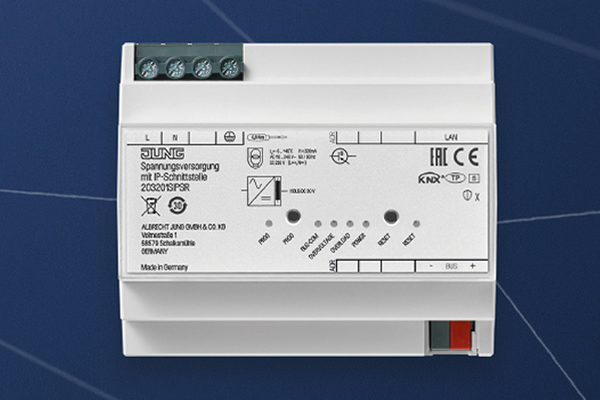 Due to the combination of power supply and IP interface, the device combines two major systems into one component. With the new power supply with IP interface, professional installers can implement KNX installations more cost-effectively. It creates a cost advantage, particularly in price-sensitive installations, as the installer can save on components. The new interface has an output of 320 mA to supply KNX nodes and couples the IP network to the KNX components. The new power supply is of course secure thanks to KNX Secure.
KNX Data Secure:
Components on the bus line are secure thanks to encryption with KNX Data Secure.
KNX IP Secure:
Devices located on the network line after the power supply with IP interface are also secure.
Power supply of KNX nodes:
Energy-efficient operation with a wide range input (110 – 230 V AC) with high efficiency of 88%.
Has application-oriented logic:
Set-up of presence detection, e.g. using key card holder and presence detector.
KNX power supplys inserts
The KNX power supplies are compact and energy-efficient. The operating status can be read quickly with an LED display on the front of the device. With only 4 TE (160 mA, 320 mA and 640 mA versions) or 6 TE (320 mA and 1,280 mA), the KNX devices take up very little space in the distribution.
Office
With the three structurally identical performance classes of 160 mA to 640 mA, extensions can be made at any time or devices can be replaced by those of the next higher performance class. With the 1,280 mA version, it is even possible to support twice as many devices as previously – which saves costs.
Smart Hotel
The new power supply with IP interface is ideally suitable for self-contained units such as individual hotel rooms. In this way, all connected devices can be supplied with power cost-efficiently and while saving space. The integrated IP interface also links the installation to the IP network.
Hospital
For the complex applications in a hospital, the different power supplies can be mixed: small for individual rooms, large for complete areas or floors. The integrated diagnosis function provides security by notifying about overloads or breakdowns in good time.
Single Family House
A complete family house can be built with just one KNX line with more than 100 devices having to be supplied. This is possible with the new 1,280 mA power supply. The advantage for owners: it saves costs as no other system devices are required.