BEMCO has partnered with one of its best selling KNX Manufacturers, Zennio, to offer its customers an exclusive series of webinars on their popular Thermostat and HVAC Control products, as well as the Z35 Touch Panel and LED control products.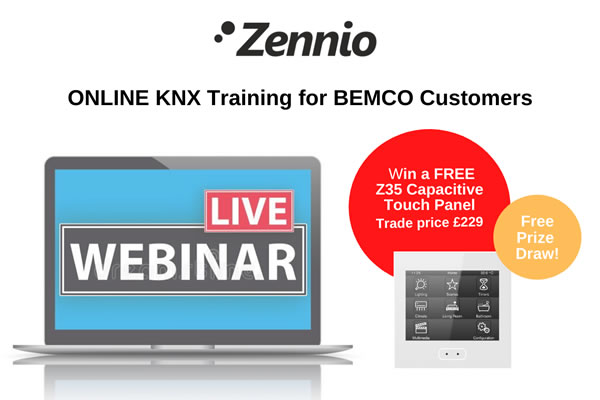 Each webinar is FREE to attend, so please sign up and get involved. We'll make it interesting and as interactive as we can. No death by PowerPoint!
What's more, we'll be giving away a new Z35 in white finish (Trade price £229) at the end of the webinar series to one lucky WINNER!

But you've got to be in it to win it! You must attend at least one of the 4 sessions.
Sign up to one of the sessions below:
HVAC 1: Thermostats on 7 April from 2:00-3:30pm
HVAC 2: HVAC Control on 8 April from 2:00-3:30pm
Z35 – Capacitive touch panel on 15 April from 2:00-3:30pm
LED control with Lumento on 21 April from 2:00-3:30pm
Co-Hosts from Zennio
The webinars will be hosted by Vidar (Zennio UK Director) and Javier (Zennio UK Technical Manager).
Feel free to raise your hand and ask a question at any time. They will either answer there and then, or come back to you individually after the session.
If you miss any of these webinars they will also be available on BEMCO's YouTube channel.