By Philip R. Juneau, ATC.
I'd like to start off with a definition of the term 'daylighting' within the context of building design and construction. Daylighting is the use of building infrastructure (e.g., windows, skylights etc) to capture direct sunlight whilst gaining the indirect sunlight from well-designed reflective materials. In building design, the challenge is to minimise energy usage whilst maximising occupant comfort, both visual and climatic. In practical terms, the goal is to minimise the use of electricity from lighting luminaires where windows, automated shading and dimming controls can be applied in harmony to maximise the daylight; this is otherwise known as 'daylight harvesting.'
When harvesting natural daylight, we need to take into account the outdoor weather, the existing room or space climate, and occupancy, in order to appropriately adjust the window shading or blinds in unison with dimming the artificial lighting. This is daylight management.
I will cover the key challenges and opportunities of daylight management in this article, and reveal how KNX can be used for optimal control.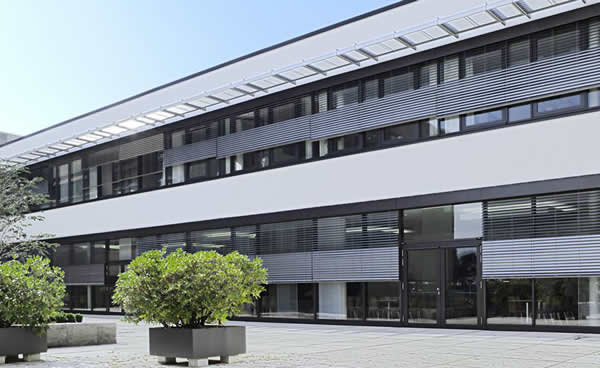 Daylighting challenges
The challenge with daylight optimisation is to control the intensity and penetration of daylight for the ultimate comfort and productivity of the building occupant. The two main challenges with daylighting from a shade and blind controls perspective are:
• to maximise ambient light whilst limiting direct sunlight.
• interoperation with room lighting and HVAC.
In order to better understand shading, let's look at the advantages and disadvantages of open and closed shades.
Open shades advantages
reduce some artificial lighting (and so offer electrical savings)
increase comfort and productivity with natural light
provide unobstructed outdoor viewing
Open shades disadvantages
allow for solar heat gain in summertime (increasing the need for cooling)
introduce glare to the leisure or workplace area (e.g. non-visible screen)
Closed shades advantages
reduce solar heat gain in summertime (decreasing the need for cooling)
reduce glare on leisure or workplace area (e.g. visible computer screen)
increase security and privacy
improve insulation (reducing heating and cooling loads)
Closed shades disadvantages
increase artificial lighting usage in absence of natural sunlight
do not capture the solar heat gain to reduce the wintertime heating requirements
decrease comfort and productivity with the absence of natural sunlight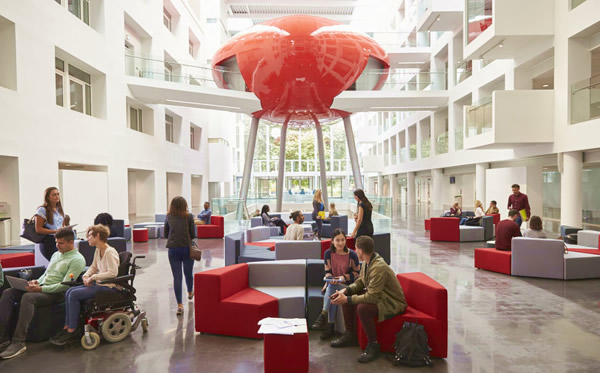 These pros and cons can all be addressed through automation in order to reduce electrical lighting and HVAC consumption and improve productivity. For maximum efficiency however, it is also crucial to closely monitor weather conditions, anticipate seasonal solar availability and model that to the actual building site location, orientation and various building functional areas throughout the facility.
Ideally, depending on how much natural light a space is exposed to, shades/blinds should open sufficiently to let in the required daylight, but not too much glare (and heat in summer). On winter days, we would want to extract as much light and heat from the sun as possible, whilst topping up with lighting and heating when required.
KNX meets all daylighting challenges
You guessed it; for daylight challenges, KNX is the ideal solution! With its device intelligence and interoperability with other building systems, KNX can be used to integrate shade and blind control with lighting and HVAC, in order to improve comfort and reduce energy consumption.
The controls topology is straightforward, as KNX is the backbone for all field-level (i.e. occupant level) operation, both from the customer interface as well as monitoring and control perspectives. The intelligence is in the device, making it easy to re-program for repurposing in your building environment. This means that, for example, a KNX switch can be configured with another KNX actuating device, such as a VAV (Variable Air Volume) unit, a DALI lighting luminaire and a motorised shade.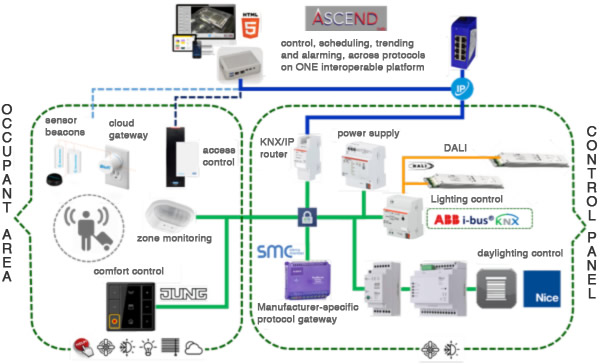 Summary
Assimilating daylighting early on in the design phase and using intelligent KNX open-protocol, interoperable and robust controls will ensure optimal and sustainable HVAC and lighting by taking advantage of renewable energy from the sun. With daylight and heat captured in the most efficient way, room applications can now centre on the function of the space itself, for example, hotel rooms, conference rooms, classrooms, etc., in order to satisfy safety, comfort and efficiency requirements, in that order.
Philip R. Juneau is the Chief Commercial Officer for Automated Technology Company (ATC), and Vice President of the KNX USA National Group. ATC's mission is to transform today's buildings into tomorrow's net-zero infrastructure by ensuring the highest levels of safety, comfort and efficiency for the overall well-being of its occupants and the overall environment.