With two new gateways Weinzierl Engineering GmbH is expanding its portfolio and allows popular systems such as DMX and Modbus to easily connect with KNX. The Weinzierl KNX DMX Gateway 544 is a compact gateway between KNX and DMX512 with up to 64 freely configurable channels. DMX is a protocol for lighting control, especially in stage technology. The Weinzierl KNX Modbus RTU Gateway 886 is a compact KNX/Modbus gateway with 250 freely configurable channels (KNX data points). The device allows easy integration of Modbus devices supporting the RTU protocol via RS-485 into KNX installations.
KNX DMX Gateway 544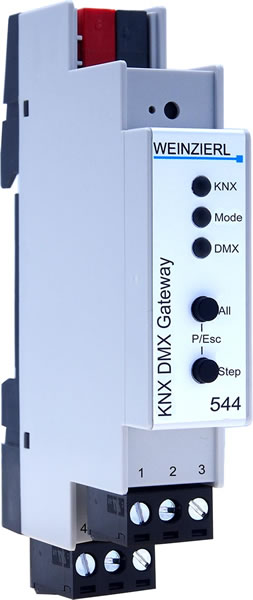 With a width of only 18mm and a gross price of 298 Euros (net), the compact KNX DMX Gateway 544 allows the easy connection of DMX and KNX. In master mode, the device allows convenient control of DMX lights, for example with KNX push-buttons. Up to 64 dimming channels or up to 8 RGB/RGBW channels are available. Several subsets of DMX512 addresses can be assigned to each channel. The dimming channels enable switching /rel./abs. Dimming of one or more DMX devices via KNX. The RGB/RGBW channels enable the control of RGB/RGBW capable DMX devices. Each RGB colour and each HSV attribute can be individually controlled via KNX. Each channel can be linked with up to 8 scenes. In addition, 4 sequencers are available in the gateway to carry out more complex tasks. In slave mode KNX actuators can be controlled from DMX. For example, the room lighting, which is part of the KNX installation, can be controlled via a DMX lighting control panel. Up to 64 DMX512 addresses can be individually evaluated and sent to KNX. Dimming value, switching with switching threshold and RGB value are available for interpretation. The DMX Gateway is expected to be commercially available in 12/2019.
For more information about the KNX DMX Gateway 544 visit:
weinzierl.de/index.php/en/all-knx/knx-devices-en/knx-dmx-gateway-544-en
KNX Modbus RTU Gateway 886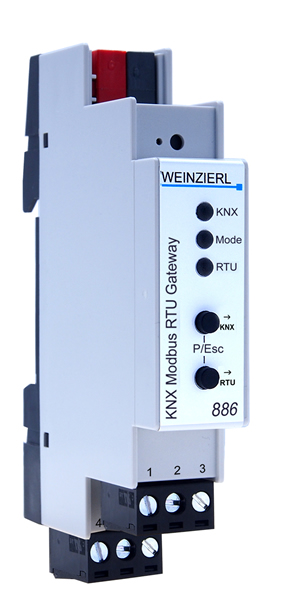 Coming in the same size at 18mm width, the KNX Modbus RTU Gateway 886 is sold for a gross price of 348 Euros (net) and is already commercially available. It can be used as Modbus master or slave. The most special feature of this gateway: the assignment between KNX objects and Modbus registers is made via parameters in the ETS – no further tool is required. The configuration can also be exported and imported via a DCA (Device Configuration App, SW extension in the ETS). The device enables the interpretation and scaling of the Modbus data according to the data point types of the KNX standard. Two buttons and three multi-colored LEDs on the front panel allow local operation (test functions) and visualization of the device status. The Modbus connection is electrically isolated from the KNX bus. All connections are pluggable.
For more information about the KNX Modbus RTU Gateway 886 visit:
weinzierl.de/index.php/en/all-knx/knx-devices-en/knx-modbus-gateway-886-en