By Simon Buddle, Future Ready Homes.
We still rely heavily on copper in our industry. It forms the backbone of any system we install. Power and communications travel back and forth from switches to dimmer panels to lighting fixtures. It's all very ordered, and everyone knows what to expect from the respective parts. The dimmer rack stands proudly against the plant room wall, giving off enough heat to keep a small hamlet in the Outer Hebrides warm all year. They have been around so long they feel almost prehistoric. Shouldn't they have died out with the dinosaurs? Maybe, but in my view, they still have a role to play.
Wireless light
So firstly, let's agree that there's no such thing as wireless light. OK, if you are being pedantic, you could argue that there is, but you can't realistically expect to use torches as your primary light source in the home for any length of time – it just isn't practical. However, there are now many wireless ways to communicate with a lamp. There are lots of wireless switches.
Phillips Hue has been around for a while now, and offers an extensive choice of lamps, luminaires and switches. You could kit out an entire house with it. There is a bridge into KNX too, so the two systems can sit happily side by side. Historically, the Hue communications have been via a Zigbee mesh network, with the interface for your smart phone app being the Philips Bridge. But not anymore. Earlier this year, Philips introduced Bluetooth-enabled lamps that don't require the Bridge to control them. You can connect directly to your smart phone via Bluetooth. One small sticking point here is that the lamps themselves do not create a Bluetooth mesh, so your phone has to be within Bluetooth range of the lamp, which typically is less than 10m.
Bluetooth Mesh
Bluetooth Mesh developed by Bluetooth SIG (Special Interest Group) and introduced in July 2017 can overcome the distance limitation. The mesh can support 32767 nodes or devices.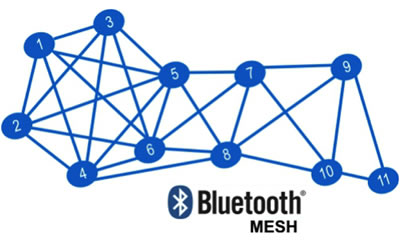 Manufacturers such as Osram and Casambi are creating lighting control solutions with Bluetooth Mesh as the backbone for communications. The solution involves adding a small Bluetooth device inline with the power cable to the driver. Great for retrofit, clearly this type of solution lends itself to the existing housing stock.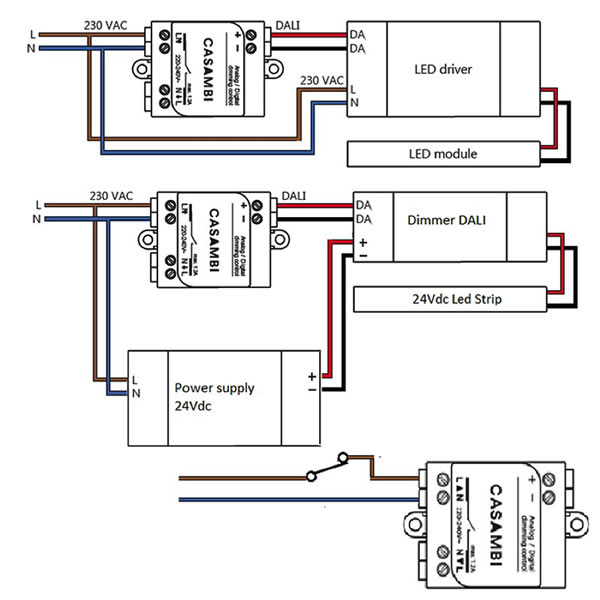 This is early days for such devices and anyone looking at this as a solution for large-scale commercial or the high-end residential market will instantly see a flaw in the system. Simply, it requires twice as many electrical connections to be made. which in turn, double our failure points and quantity of devices in the system. One other concern, of course, is price. With each device costing anywhere from GBP£50 to £90, they make a KNX DALI module look remarkably cheap for 64 devices.
The logical conclusion is that Bluetooth technology must be added into the lighting driver. And that is exactly what is now happening. Meanwell has recently released a brand-new LED driver that is Bluetooth-mesh-enabled straight out of the box. Mains cable only, no additional control wiring, no control system, no programmer – bang! Time to get your coat.

With wireless and often battery-less switches now readily available, is the end in sight for the dimmer rack? It seems quite logical that as soon as the intelligence is in the driver or the lamp itself, there really is no need for that huge lump of archaic panel full of different control modules sweating and buzzing away in the plant room. And we haven't even touched upon PoE lighting for commercial applications. And if there is no lighting panel, then there's no need for an integrator or a programmer. The electrical contractor will simply do what they have always done, install mains cables, drivers and light fittings. It only remains for a small amount of configuration to be done for the system to be finished. On one job I looked at recently, there were in excess of 800 light fittings (plus scores of PIRs), configuration was most definitely going to be a challenge, even for someone well versed in it.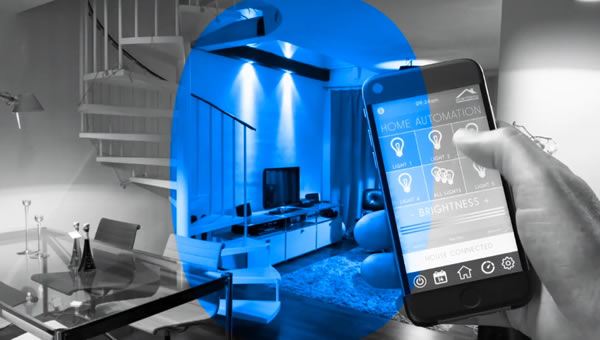 For whom the bell tolls
So, is this the end of the dimmer rack? No. It's probably the addition of another communications protocol into it. Bluetooth Mesh will undoubtedly change our world, but integration is about more than one technology – that's kind of the point. Not having to tell your customer that they are limited to certain light fixtures or styles of switch plates. Choose what you want, and we will bring all the different technologies together so that they work in a simple and intuitive way. That is our job. My question to the KNX manufacturers is, who is going to be first to market with a Bluetooth Mesh control module?
Simon Buddle CEng MIET, is a consultant for Future Ready Homes, a specialist in BMS and ELV services system design.