Iddero has just announced immediate availability of the new HC3L-KNX touch panels, featuring a widescreen 10.1″ capacitive multitouch display with IPS (In-Plane Switching) technology. The high-end IPS display delivers outstanding image quality, with bright, vibrant colours from any viewing angle.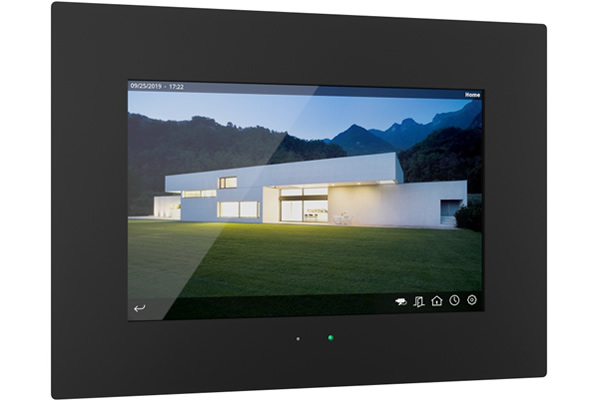 HC3L touch panels are initially available in CLASSIC finishes, with white, grey, and matte black front frames. Availability of the GLASS series, featuring a full glass front, is planned for Q1 2020.
Product highlights
• Up to 512 configurable pages (more than 4000 functions), graphical navigation through maps and zones, a wide range of widgets, configurable background images, touch gestures, and much more.
• Hassle-free, transparent remote access from smartphones and tablets, either directly (through the home LAN) or using the free idderocloud service.
• Doubles as an indoor monitor for SIP video door phones (includes direct support for IP door stations from major door phone manufacturers). Includes integrated stereo loudspeakers and digital microphone.
• Four multi-function inputs, individually configurable as binary or temperature probe inputs.
• Feature-packed: time schedules, user-editable scenes, alarms, presence simulation, notifications, logic and arithmetic functions, multiple integrated thermostats, and more.
Iddero is a manufacturer of high quality, innovative products for home and building automation based on the KNX standard. Designed to be functional, reliable, and easy-to-use, its product portfolio focuses on visualisation and control of KNX installations, combining a strong and robust design with elegant and attractive aesthetics.