The Thinka voice control and visualisation system for KNX is now Apple-certified for five new features.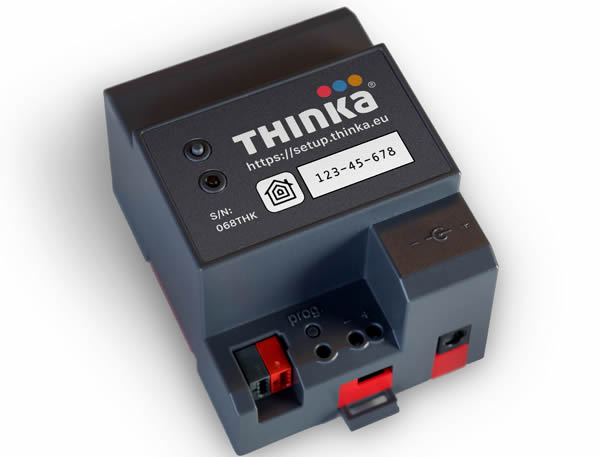 As of now, Thinka is Apple-certified for 5 new features:
● Push buttons allow you to trigger actions in HomeKit by pressing KNX buttons.
● Use the colour lightbulb service for any light that can change colour.
● Use the tunable white lightbulb service for any non-coloured light that can adjust the apparent colour temperature (warm white to cool white).
● A leak sensor is used to detect broken water pipes or other leakage. When leakage is detected quick action can be taken to limit the damage.
● A smoke sensor is used to quickly detect and alert in case of fire or smoke.
This represents another great step forward. All supported features for HomeKit, Alexa and Google, can be found here. For FAQs, click on the tab 'KNX' at https://thinka.eu/en/support.html.
Smart, safe and comfortable
With Thinka you connect your existing KNX system with the world of Apple, Amazon and Google. This opens up new and smart possibilities such as controlling your house with your smartphone or voice, remote control anywhere in the world, family sharing and smart routines.
To guarantee security and privacy, Thinka is installed inside your KNX enabled home and is never exposed over the internet. Thinka only communicates to the Internet for software updates and when using Amazon Alexa and Google Home.
Voice commands,the smart and easy way to control your home
Thinka makes life easy. Control your home just using your voice. Say "Hey Siri, I'm home" and your lights turn on, the blinds open and the heating goes up a bit. Or use Alexa or Google instead. All you have to do is connect Thinka to your KNX system and fast forward to the 21st century.
Share with your family and use from anywhere in the world
Thinka offers remote access to your home. With HomeKit you have state-of-the-art security with the Apple hardware encryption in the Thinka and your Apple device. With an iPad, Apple TV or HomePod you create a safe and reliable home 'hub'. You can invite family members as well, so they can join the smart home experience.
A private assistant in your pocket
Use your iPhone, iPad or Apple Watch to control your home. Apple's Home app comes preinstalled and is easy to use. Turn on the lights, control the thermostat, open the blinds or activate a scene. Let your phone take care of your daily routines as it knows the time, sunset, sunrise and your location. Amazon and Google have apps as well.