By Neil McCarry, IDES Ltd.
Our long-term client, a young lady who has been severely physically disabled and recently bedridden, lives in a KNX-automated house that was originally installed eight years ago. On good days, she has a little movement in her hands, which allows her to use a specially-adapted tablet that sends IR commands to a KNX interface, giving control over lights, heating etc. When movement is not possible, or at night, basic controls were having to be carried out by residential carers. This left her feeling less independent and always in need of help.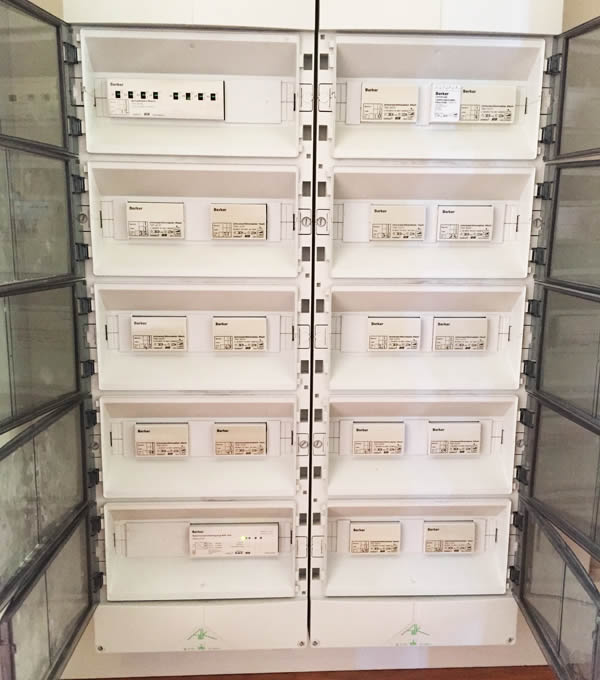 With voice recognition technology gathering pace and being reliable, it makes sense to integrate this with KNX automation systems in homes in order to provide both the less mobile and the elderly to carry out day-to-day tasks.
Voice control technology
The main contenders in residential voice control are Amazon, Apple and Google. These require an initial capital outlay for the hardware, plus one of the many KNX voice interface products, plus configuration and also possibly ongoing monthly cloud and support subscriptions.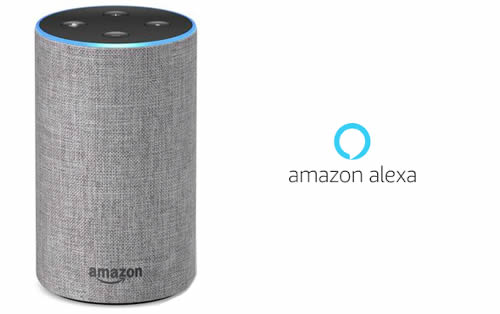 A voice-controlled device is always listening for a key word, such as 'Alexa' in order wake up and treat the speech that follows, as a command. The command is then recorded to its server. The only drawback to this system is that it is always listening in, so it could be activated inadvertently, say by the key word being uttered over the radio or TV, and then it may well record our normal conversation! One easy solution to this is to 'mute' the microphone when not in use.
It is also essential to ensure that your KNX data is encrypted, as is the case with Internet routers etc., and that all personnel involved setting up networks implement the best level of security possible.
I have found voice activation to be pretty reliable, even with my Scottish accent, but remember, it is a listening device, so if there is background noise or music, Alexa might not hear you – just as with some people!
Complex commands made simple
KNX integration with voice control allows simple voice commands to fully control your environment, including lighting, heating, blinds etc. Also, by using IFTTT (If This Then That) or script writing, we can achieve almost any possibility from a statement. For example, simply saying 'Alexa, I'm home' could turn on living room and kitchen lights if the light level were below 400lx, then turn on heating if rooms were below 15C, close blinds and turn on a music station in kitchen.
Voice assistants use app-like software modules to add more functionality and control of third-party products and services. Amazon for example, uses 'skills', whereas Apple uses 'HomeKit' and Google uses 'actions'.
We have found that the use of skills/scripts is a very useful and powerful tool for carrying out multiple actions within the house. For example, 'Alexa-turn on Goodnight' will ensure that all selected devices and lights are turned off, the heating is set back, the blinds lowered, a path of light is created to the master bedroom, the lights and temperature in that room are set to desired levels and the music is turned on. It really is a case of 'What do you want?'
Retrofitting Voice Control to an existing KNX installation
In the project mentioned at the start of this article, we were able to utilise ALL existing KNX equipment and fully automate/upgrade the house using voice. Our 'go to' device for app control and remote access is the ABB Busch control touch 6136/app-500, so it made sense to further enhance the installation using the ABB Busch voice control VCO/S99.1.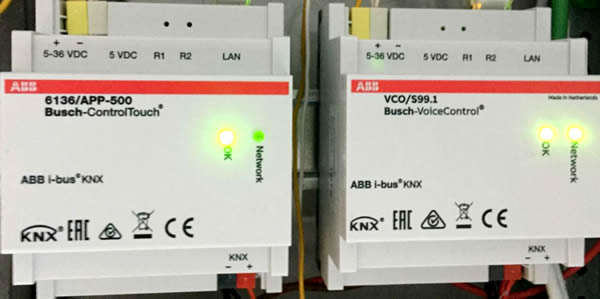 I set up the scenes/scripts within the ABB control touch and have these accessible on the ABB app so that all the 'smart stuff' is controlled on the KNX bus. It is also very easy then, to change/alter scenes/heating modes, temperature settings etc via the ABB portal or on the app. This can be done by the client, or indeed, by the systems integrator remotely, without having to go to site, which is a great bonus. By then linking the ABB Busch voice control and the Alexa app, we can set up voice commands, such as 'Turn on', 'Home', 'Goodnight', 'Goodbye', 'What is living room temperature?', and 'Set living room temperature to 23 degrees.' I have found that keeping the voice commands simple works well.
I also feel that the above setup gives robustness to the control of the house without relying on voice only.

Opportunities for KNX professionals
As professionals, we constantly worry that the introduction of more and more DIY products aimed at the smart home market is undermining our trade and making our knowledge redundant. I can assure you, that it is not!
Voice assistant technology presents KNX professionals with a huge opportunity to provide simple control of sophisticated systems that do more than just the mere basics. If our clients want automation that is goes beyond the gimmicky and is truly useful, robust and future proof, we are in the best position to give advice and make it all work. Don't forget, clients also need the confidence that what they are having installed today will still be cutting edge, reliable, upgradeable and supported by a world-wide network of manufacturers and installers tomorrow. Well, that will be KNX then!
By keeping abreast of the latest trends, we can offer the best advice, and if we can demonstrate the technology in action, potential clients will fully appreciate how this technology can enhance their lives.
Conclusion
Although voice control may still seem like a fad to some, it is already proving to be life-changing for those within assisted living environments. Provided the user can speak, a voice assistant integrated within a reliable KNX system, can open up a new level of comfort, independence, and well-being, as it has done with our client.
I am sure that the assisted living sector is where real market growth will come from, and it is down to systems integrators to get in front of developers and care home providers to promote the excellent potential of KNX with voice control.
Neil McCarry is the Director of Intruder Detection & Electrical Services (IDES) LTD, smart building/home system integrators.