The KNX REG rail mounted energy sensor is used for dedicated energy consumption measurement and monitoring. It can be retrofitted into already existing KNX systems and has three channels for connecting to appliances. For each channel, the voltage, current, effective power and reactive power can be measured: this data is then sent to the KNX bus for evaluation and visualisation cyclically or when any changes occur.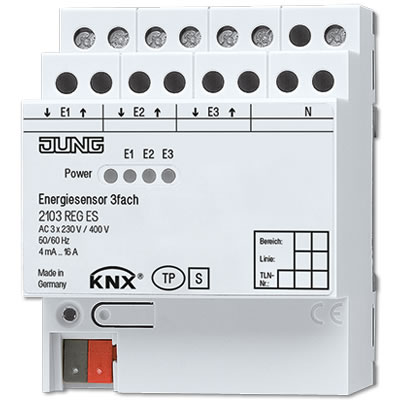 As well as the three power circuits up to 16A available previously, the KNX energy sensor can now also measure the complete domestic use or commercial consumers up to 75A using converters. The sensor records both consumption and supply. This offers improved possibilities for energy efficiency in both private and functional buildings.
Visualisation of the data received and energy monitoring is given through the JUNG KNX Smart Display. Here the values can be stored over months and years and portrayed with clear graphics and statistics. This enables users to identify any possible savings potentials at a glance and to optimise their deployment of energy accordingly.