ISH is the world's leading trade fair for HVAC. Taking place from 11th to 15th March 2019, the 2019 edition of ISH is expecting over 200,000 visitors.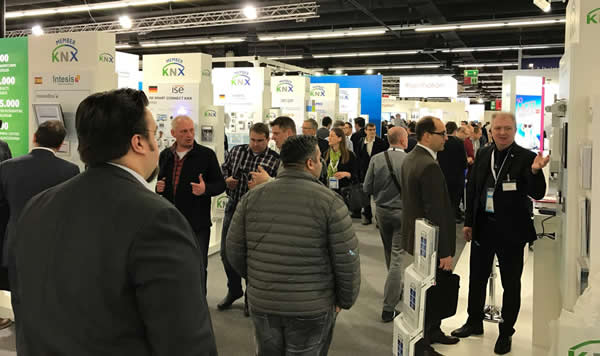 KNX Sector Coupling presented at ISH
This edition, KNX will be presenting KNX IoT Energy Management in order to showcase how Smart grid, buildings and e-mobility come together into one integrated solution.
Visitors will be able to learn about the latest developments on Sector Coupling that KNX will be presenting at the KNX IoT Energy Management Area.
In addition to this, KNX Professionals will also be showing the solutions to improve and control Energy Management. Some of the solutions to be presented are:
Energy self-sufficient Smarthome based on KNX
Gateway for Controlling KNX and Non-KNX HVAC Devices
Voice Communication without Cloud
KNX and BACnet for HVAC Solutions
HVAC, Voice Control and Secured Remote Access
KNX Members and Solutions at the KNX Booth
Come and meet the KNX staff, KNX Members and KNX Professionals at our 200sq booth at 10.3 A49.
At the KNX Members Area, you can find the latest KNX HVAC development from our members:
ABB Stotz-Kontakt GmbH
Guangzhou Seawin Electrical Technologies Co.,Ltd.
Guangzhou Tantron Electronic Co. Ltd
HDL Automation Ltd
I-Luxus GmbH
Insta GmbH
ise Individuelle Software und Elektronik GmbH
MEAN WELL Enterprises Co.,Ltd
Siemens Schweiz
Tapko Technologies GmbH