By Yasmin Hashmi, KNXtoday.
At this year's Integrated Systems Europe (ISE) show, 50 KNX manufacturers took part, 20 of which shared the KNX Association stand that dominated the Smart Buildings Hall. There was something for everyone, with training and consultation sessions for beginners and experienced installers, plus a party to celebrate KNX's augmented status at the show.

In this two-part article, KNXtoday brings you some of the highlights of the show in terms of KNX technology and developments. Part 1 focuses on AV, servers and gateways, and Part 2 looks at KNX IoT, KNX Secure, HVAC, switches and sensors.
KNX IoT
KNX Association provided a sneak preview of its forthcoming KNX IoT standards. A lot of work is being done on this, and it promises to allow connection of KNX systems to the IoT in a secure, flexible and easy-to-use way. The aim of the KNX IoT solution is to reduce the knowledge required and open the current KNX ecosystem to non-KNX IT specialists through 'out-of-the-box' operation, while still allowing advanced configuration and adaptation by specialists. Leveraging standards ensures that the value of KNX products is increased, and long-term support can be guaranteed in a constantly-changing IoT world.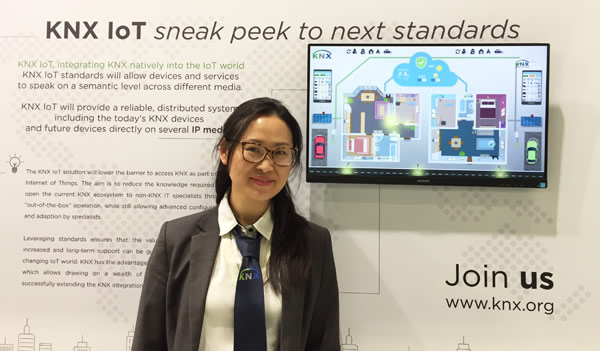 Pulsar Engineering was showing a new version of the ThinKnx software suite, namely ThinKnx UP, which allows the ThinKnx universal building automation supervisor to fully interoperate with the IoT and other network-enabled systems. The ThinKnx web API supports local and remote control through the cloud for seamless connection of IFTTT (If This, Then That) and all associated services (e.g. controlling and receiving feedback from household appliances or other systems), with the variety of ThinKnx-supported protocols. These include KNX, Z-Wave, Lutron and others, as well as with data collection services for machine learning and artificial intelligence for further improving everyday life inside smart homes and buildings.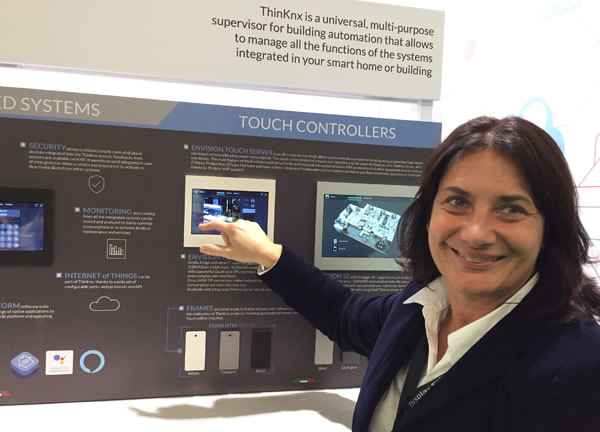 Freedompro was inviting visitors to talk to their KNX home and to integrate with over 600 IoT services and systems, using the Easykon voice control bridge. This din rail-compatible device is certified by Apple, Google, Amazon and IFTTT and includes a pre-installed web interface for simple, guided configuration. The user can then control their home through apps and voice assistants such as Siri, Google Assistant and Alexa.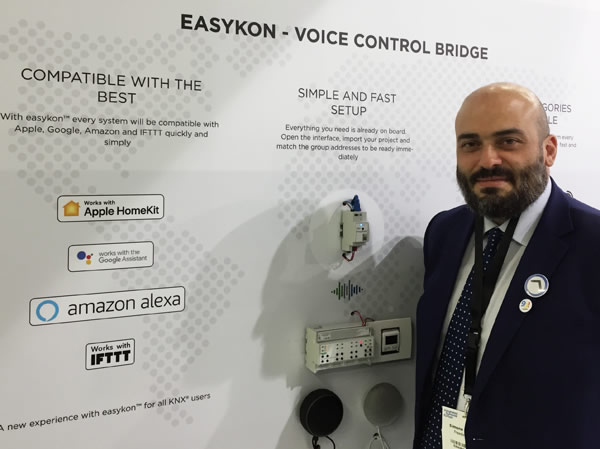 Also showing products for KNX IoT were IT GmbH with Elvis visualisation software and ETS extensions, and Iridium Mobile with the Iridium server featuring Alexa, Google Home and (soon-to-be-launched) HomeKit voice control, and the Iridium pro server and visualisation for large automation projects.

KNX Secure
Among the latest products on show from Weinzierl Engineering was a new range of dimmers, some of which are already in stock and some which are to be launched in the coming weeks. These include dimmers for mains and LEDs, RGB and tuneable white. Weinzierl also introduced two compact devices that will be commercially available in Q1 2019. The KNX IP Interface 732 Secure and the KNX IP Router 752 Secure are both powered by the KNX bus and are the smallest KNX devices on the market supporting KNX IP Secure. For input/output, Weinzierl showed two KNX Multi IO devices that each offer 48 freely-configurable inputs and outputs, plus relay extensions for the new Multi IO devices, and new devices for lighting control and security in the KNX Compact IO range (18mm width).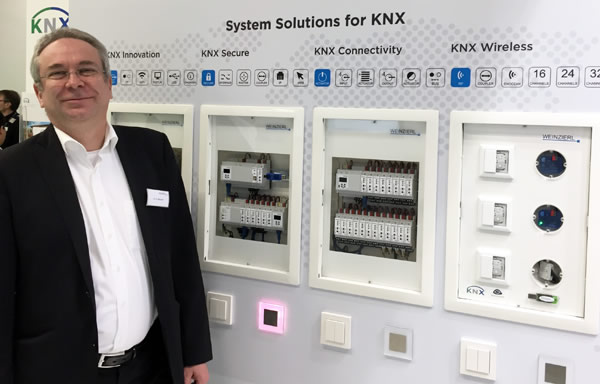 HVAC
Eelectron had a residential slant to its presentation, with the 9025 KNX range of capacitive switches and room temperature controllers/humidistats that are available in black and white glass finishes. The 9025 can control a range of functions such as on/off commands, dimming, shutter and venetian control, scene recall and control, object sequences etc. For HVAC control, the product includes a two-stage room temperature controller with integrated PI (Proportional Integral) control and has an embedded temperature sensor and a rear 2-pole connector that is configurable as a digital or analogue input.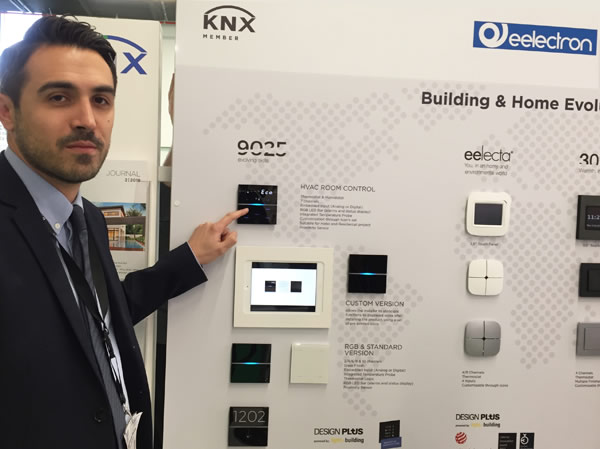 Astrum was showcasing the VFace VRV/VRF (Variable Refrigerant Volume/Variable Refrigerant Flow) gateway that supports a wide range of HVAC brands. Available in a basic version and a 7″ touchscreen version, VFace is designed to be easy to setup, with a flexible interface and integration with any type of home and building automation. It has a built-in web server and can be configured and upgraded via the Internet.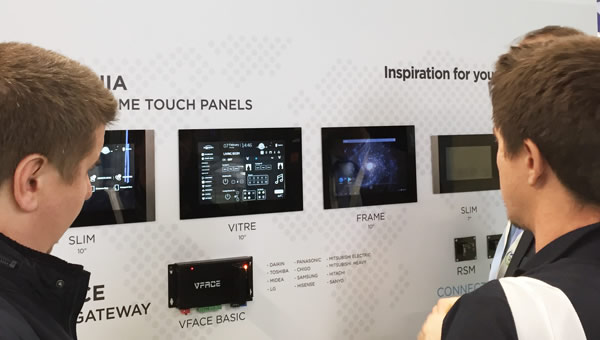 Tci ambiento was showing pureKNX, a 7″-16″ glass touchpanel with integrated temperature sensor. Aimed at ETS programmers, the user interface is automatically generated after parameterisation in ETS, and the design can be customised. A wide range of functions can be controlled including shade and lighting, HVAC, door entry and security. Languages supported include German and English, and a mobile app version is also available.
Meanwhile, Intesis presented examples of its comprehensive range of gateways and interfaces for lighting and HVAC systems. In addition, the company displayed the IntesisBox IS-IR-KNX-1i that allows monitoring and control of air conditioners from KNX installations through a standard IR receiver.

Elsner showcased new compact actuators that are optimised for socket installation, in both KNX TP (twisted pair) KNX RF (radio frequency) versions. The company also presented the KNX eTR 101 Room Temperature Controller, a switch-sized control unit that is placed in the room and automatically ensures the desired room temperature whilst allowing individual readjustment via touch surfaces.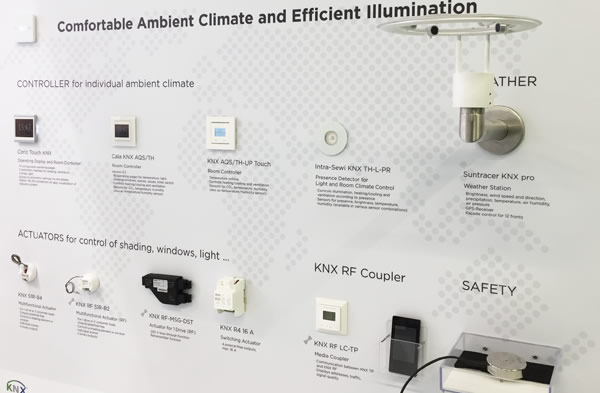 Switches and sensors
ZF Friedrichshafen showed its KNX-RF Module, a wireless energy-harvesting light switch that requires no power except the press of a finger. The switch is configurable via ETS without a gateway, and can carry out up to six different functions for dimming, shading operations, scene retrieval, or classic toggle operation.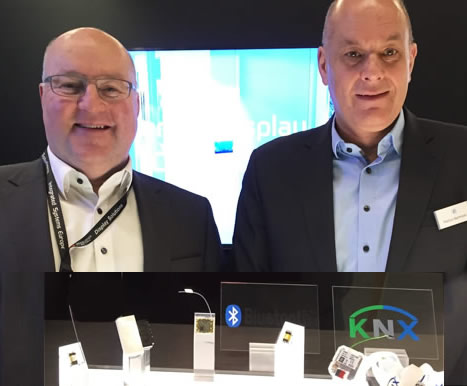 Steinel was previewing the True Presence Multisensor KNX. This all-in-one device combines a multitude of sensing capabilities, including brightness, room temperature, humidity, radial object distance, approaching and moving away, CO2, volatile organic compounds (VOC) and air pressure. This means that just one sensing device can be used to assist with a wide range of energy-saving, comfort, health and safety applications.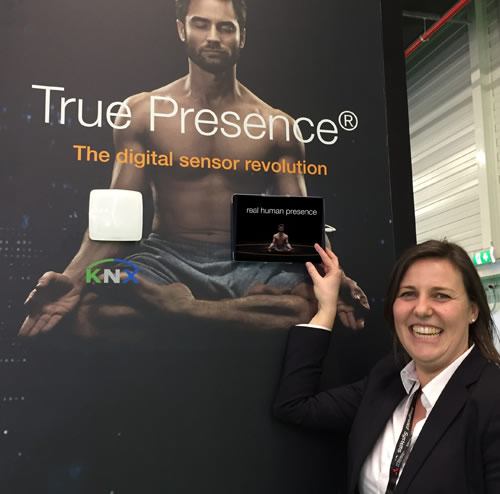 Black Nova was offering a range of stylish customisable switches for a variety of functions. The Aria glass panel is available in two sizes, has built-in temperature and humidity sensors and supports from 3 to 12 buttons. The ALBA panel is available in glass or metal finishes and offers large, easy-to-use buttons with engraved icons and texts, and an audible click that confirms a touch. The company was also previewing the Any touchpanel, which welcomes the user with an ambient light that can take the form of any shape, and responds to the slightest hand motion.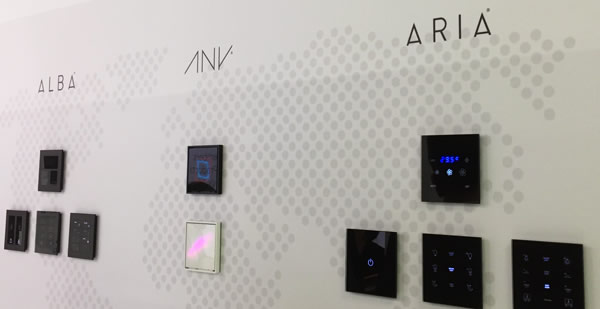 Newcomer to ISE, iluxus, showed a range of KNX modules including power supplies, dimmers and mixed switch actuators. Also on show were the Ephesus series of customisable room controllers with LCD and pushbuttons, the Athenes series of handmade brass switches and power sockets in various stylish designs, and the EOZ (Eyes of Zeus) ultra-thin series of 7″ and 10.1″ touchscreens. Plans include a DALI gateway, new pushbuttons and a fully-digital thermostat.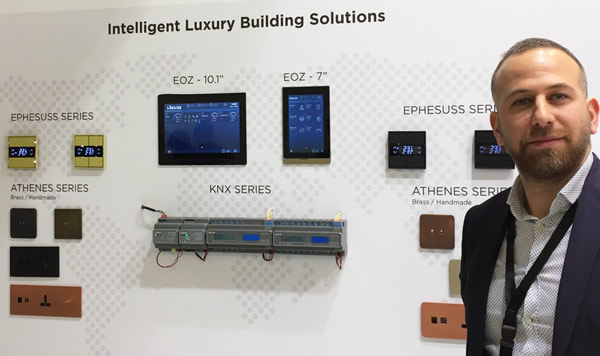 And finally, Controltronic had various glass touch sensors with magnetic fixings on show, as well as its Living Emotions app with the Glass Pad flush-mounting iPad system. The Living Emotions app allows any iOS device to be used to control lighting, shutters, blinds, heating and air conditioning systems, multimedia devices, video door speaker stations and more. In combination with the Glass Pad, the app provides a permanent connection to KNX and replaces common KNX sensors, KNX displays, KNX timers and KNX visualisations without any additional server or hardware.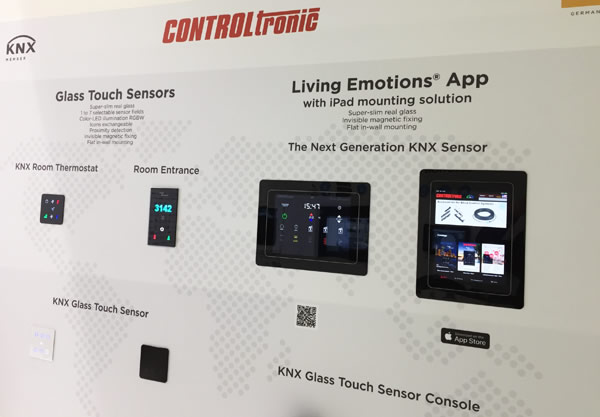 Conclusion
KNX Association and KNX members put on a compelling show at ISE 2019, leaving systems integrators in no doubt about the all-encompassing capabilities of KNX and the commitment, enthusiasm and vision of the community behind it. Whatever the application, there is a great choice of products that all interoperate with each other to create secure, flexible and reliable systems that are here for the long term, and there is a support structure to train and educate people in KNX, share knowledge, grow the market and push the standard forward.
Ease of integration is obviously the direction of travel for the building automation market, and as systems integrators look further afield at the IoT, it is clear that KNX will be there, at the forefront, already with a robust standard.