At this year's Integrated Systems Europe (ISE) tradeshow at the RAI in Amsterdam, 5 – 8 February, KNX became the most important partner thanks to its new role as ISE Presenting Show Partner.
ISE is the world's largest exhibition for AV and systems integration and this year 50 KNX manufacturers took part. The 168m² KNX booth was the main feature in the Smart Building Hall and hosted a record-breaking 20 member exhibitors providing visitors with the opportunity to see the latest KNX devices. In addition, training and consultation sessions provided a greater understanding of how to work with KNX whether you are a beginner or experienced installer. Furthermore, an increasing number of manufacturers were showing how KNX can integrate with the IoT, connecting disparate systems together under one reliable, secure and flexible standard.
"We are very proud to welcome KNX as the Presenting Show Partner. KNX and ISE can look back at remarkable developments over the years, which will be further enhanced by this cooperation. The benefits can already be seen in this edition of ISE and are bound to grow more over the years," says Michael Blackman, Managing Director of Integrated Systems Events.
Heinz Lux, CEO of KNX Association, adds, "The cooperation between ISE and KNX is a milestone. Not only can we bring the topic of smart homes and smart buildings on behalf of more than 470 manufacturers closer to a broad audience, we can also usher in the latest developments in cooperation with one of the world's biggest shows. Everyone will benefit from it, from the end-user and the integrator all the way to the manufacturer."
To celebrate the Presenting Partnership with ISE, KNX organised a celebration party on the penultimate evening of the show. After the keynote speeches of Mike Blackman and Heinz Lux, guests from all over the world were welcomed to enjoy entertainment, food and drinks and had the opportunity to expand their personal and professional networks.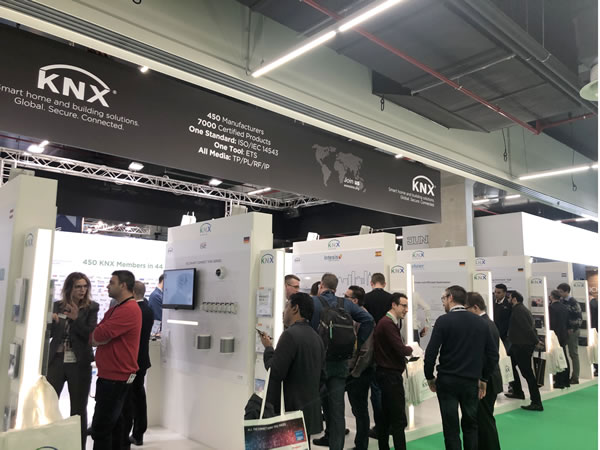 Activities at the KNX Association booth
The KNX booth was the main feature in the Smart Building Hall and played host to 20 KNX Members as well as a KNX presentation area. KNX IoT was one of the themed activities at the KNX booth with demonstrations of the current development of KNX IoT, as well as over 40 presentations about other KNX technology, products and solutions.
In addition, a KNX expert was stationed at the booth to answer any questions that KNX professionals had about their KNX projects, and to work with them find the best solutions. KNX Association also added the fun factor with various lucky drawings and prizes such as ETS Inside licences.
Increased KNX members at ISE 2019
There was a strong showing of KNX technology at ISE. No fewer than 50 members showed their new integration solutions, a record-breaking 20 of whom shared the KNX Association booth, with the remainder located in various halls around the show.
The influence of KNX is gaining ground in the world of AV, as demonstrated by a growing number of manufacturers that support the protocol for AV applications. Among these at ISE 2019 was audio/video entertainment and home control specialist, Control4, who showed a clear commitment to KNX at its booth in Hall 10 with an impressive and comprehensive KNX offer. Control4 has also supplemented its KNX line with native import capabilities for popular keypads, including Basalte, CJC Systems, Ekinex, Gira, Jung, Tense, and Vitrium. "We're serious about KNX," said Brad Hintze, Control 4's Senior Director of Product Marketing, "and we are bringing the full value of Control4's capabilities to the KNX integrator."
According to Dr. Thomas Weinzierl, CEO of Weinzierl Engineering GmbH, "Being there for the second time as an exhibitor, we experienced a strong increase in interest in KNX and especially its ability to integrate multimedia/AV and telco devices and services into building automation." Dr Weinzierl went on, "Another important topic was security in building automation – we are happy to be able to serve these growing market demands with KNX Secure."
Smart Building Conference
KNX has been the main supporter of the Smart Building Conference since its inception. The conference takes place the day before the exhibition opens, and this year it focused on explaining the smart revolution taking place within the commercial and residential building environments. Two speakers from KNX explained the benefits of integration in smart homes as well as the most innovative KNX applications in the commercial sector.
The tone has been set for ISE 2020 which will take place at the RAI Amsterdam on 11-14 February 2020, so book your place now – it promises to be another fantastic show for KNX!