Join us on 29th November at 14:00 GMT to hear our top 10 technology predictions for 2019.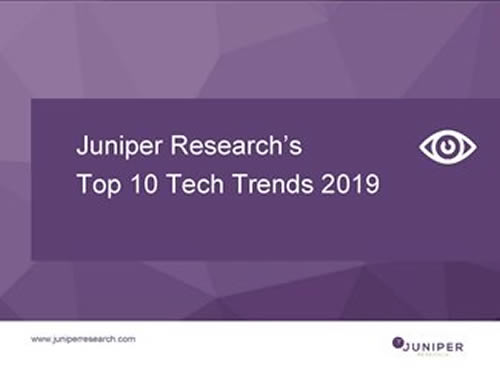 The webinar will reveal which trends will be prevalent and explains how these will impact the market and the key players within it. This will be a fast-paced webinar, delivering the key points via analyst presentation, infographics, and a Q&A session at the end.
A copy of the webinar presentation will be offered to all participants.
Webinar Agenda
29th November 2018 – 14:00 GMT
Welcome & Introduction
2018 Key trends – a brief catch up
2019 Key trends – Impact assessment
Questions & Answers
Estimated duration: 1hr
Register at:
juniperresearch.clickmeeting.com/free-webinar-top-10-tech-trends-2019/register?