Stand F51, Hall 9.1, Light + Building 2018
At Light+Building 2018, HDL is showcasing a server called IntelliCenter that allows you to connect KNX system with Sonos, Philips Hue, Apple TV and many other technologies. It definitely makes your already powerful KNX solution more powerful.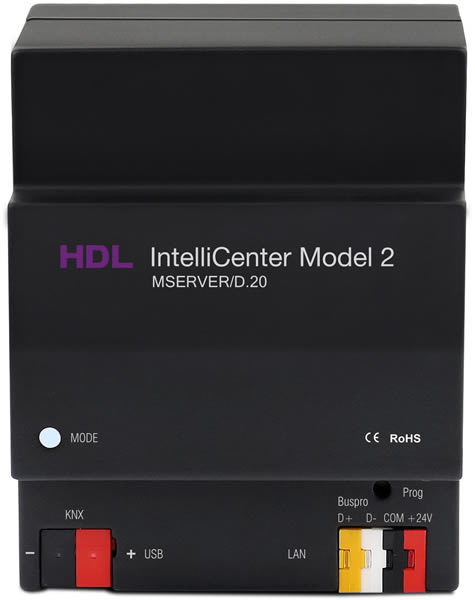 The IntelliCenter is a super gateway in terms of its hardware. It supports KNX and HDL's proprietary protocol by default. It has a KNX interface as well as an HDL Buspro interface. It works as a KNX IP gateway, an HDL Buspro gateway, and a gateway that does the translation between these two protocols. That is, it works either with one single system, or combines the two systems into a unified one.
It comes with a free-license app iRidium i3 lite, which is able to accorporate hundreds of standalone smart home products and technologies into your KNX solution. With i3 lite, users can download the modules (or drivers) of various third-party technologies from iRidium Store and make the solution more compatible. Drivers of Z-wave, DoorBird, Sonos, Philips Hue, SmartThings, HomeKit and more are available on iRidium Store.
Plug-and-Play solution – easy to configure without programming and drawing. Project for the control panel as well as for the server is created right from the app "i3 lite". No additional tools are required.
It serves as a logic module. Routines, schedules, scenes and macros are saved and run locally on the server. This feature can easily make your building smarter.
Less is more. With the IntelliCenter, you don't have to buy another KNX IP gateway, HDL Buspro gateway or the gateway translate other protocols into your system. It is powerful though it saves you money. To learn more about it, you may drop by HDL's booth F51 at Hall 9.1 during the Light+Building exhibition.