On the 20th of March 2018 KNX Association will hold the 12th edition of the KNX Award ceremony. The KNX Award rewards the smartest KNX projects in home and building control around the world, which stand out as regards innovation and technical progress. For the third time, you can be part of the voting process with: the People's Choice Award!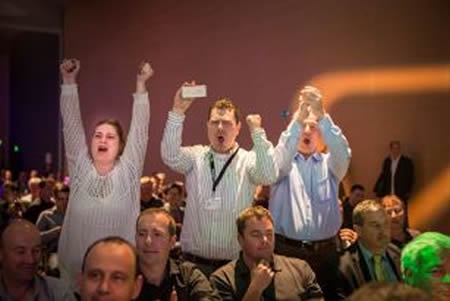 Now it's up to you to choose the winner!
If you go to the "vote" page, you will be presented with the nominated projects. Here you will be able look at the project info and pictures.
Based on this information you can make your vote count and decide the best project in your opinion. Furthermore you can also share your decision with the world via Facebook or Twitter and convince others to vote too.
The winner of the People's Choice Award will be announced during the KNX Award 2016 ceremony. This event will take place at the KNX Top Event on the 15th of March 2016 during the light+building fair in Frankfurt (Germany). The winner of the People's Choice Award will win a prize of €1000 and the KNX Award Trophy.
Details of the Contest:
Start date: 13th of February 2018
End date: 28th of February 2018
Announcement of Winners: the 20th of March 2018 during the KNX Top Event
Vote and win an ETS Inside
Not only the nominees, but also you can win a prize! We will randomly pick 3 voters who will win an ETS Inside license with Dongle.
For more information and to vote on who will be the winner of the People's Choice Award visit: