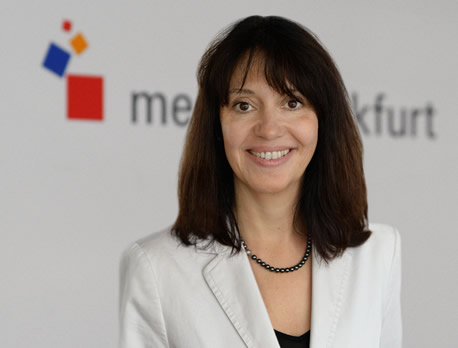 Light + Building is the world's largest trade fair for lighting and building services technology. It takes place biennially and is organised by Messe Frankfurt – the world's largest trade fair, congress and event organiser. Light + Building (L+B) covers all electrically-controlled building services systems and supports integration in the planning of buildings and building services, with a range of products that is unique in both range and depth – from the smart home to the smart building.
In this exclusive interview with KNXtoday, Messe Frankfurt's Senior Vice President of Technology, Iris Jeglitza-Moshage, explains why L+B 2018, taking place 18 to 23 March at the Frankfurt Trade Fair and Exhibition Centre, is absolute must-attend on every KNX Professional's calendar.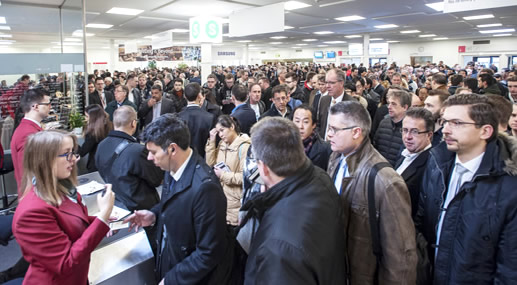 KNXtoday: What is the breadth of L+B and how has it grown over the years?
IJM: At Light + Building, the industry showcases intelligent and integrated network solutions, ground-breaking technologies and current design trends that increase both a building's efficiency and its levels of comfort and convenience, whilst at the same time satisfying all its security requirements.
Every aspect is represented here, from LED technology, photovoltaics and electric vehicles to the intelligent consumption of electricity, using smart meters and smart grids. By linking lighting with networked building services, the industry presents an integral range of products and services, which make a crucial contribution to exploiting the potential for energy savings in buildings.
Over 2600 companies come to exhibit their new products at Light + Building – some of them for the first time anywhere in the world. Of the 210,000 or so visitors, almost half come from outside of Germany. The major visitor groups include architects, interior architects, designers, planners, engineers, technicians, skilled tradespeople, as well as representatives of the retail and wholesale trades and industry.
Moreover, Light + Building can look back over a unique history of success. Since its launch in the year 2000, visitor numbers have more than doubled. We owe that, in large measure, to the excellent cooperation we have enjoyed with our partners from industry and the building and installation trades.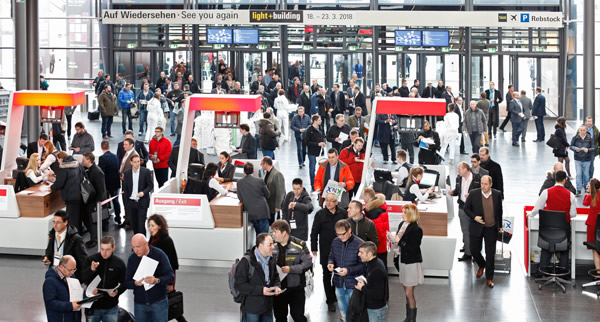 KNXtoday: How have you seen the lighting and building industry change over the years, and what notable developments have influenced L+B?
IJM: Light + Building operates in a very dynamic and innovative sector. First and foremost, I must mention the numerous innovations and developments of existing products, that have already emerged in the process of digitalisation, or which are currently in the process of development. Current and future challenges in relation to increasing energy consumption and climate protection targets will only be met through the use of intelligent solutions for infrastructure and building services. It is in buildings in particular, that the progressive use of digital technology offers some of the most outstanding opportunities for implementing these targets.
At the same time, the shift to LEDs over the past few years has meant the biggest change in the history of lighting design. Because of the gradual ban on tungsten lighting, manufacturers and designers have been forced, in a relatively brief period of time, to adapt lighting provision, not only technically but also in terms of design. After a few years' 'transition period', LED is now the established standard and, from this new perspective on light and lighting, a host of creative approaches to design is now emerging, which would have been unthinkable a few years ago.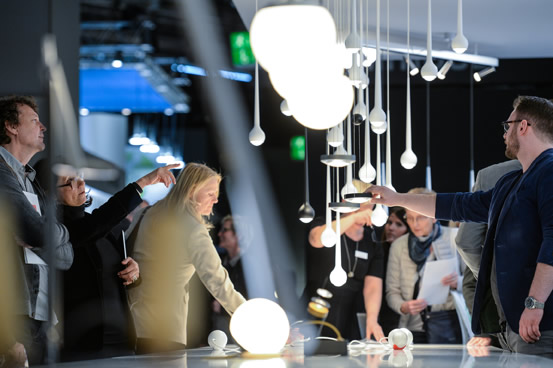 KNXtoday: What are your priorities for 2018?
IJM: The tagline for Light + Building 2018 is "Connected – Secure – Convenient". With this as its guiding principle, the focus will be on the two major themes: 'smartification of everyday life' and 'aesthetics and well-being in harmony'. All the market leaders have already signed up. In all, Light + Building will, this year, occupy a whole additional hall, and so continues along its path of growth.
KNXtoday: What is your involvement with the KNX Association, and what should those interested in KNX look out for at L+B 2018?
IJM: Right from the launch of Light + Building in 2000, KNX has been a fixed star in the firmament and has had an extensive exhibition stand and presence. Moreover, there is a large number of manufacturers at our leading world trade fair, all offering products and solutions based on the KNX standard. And KNX plays an active part in our extensive complementary programme, too. As it does, for instance, in this year's special show 'SECURE! Connected Security in Buildings' in Hall 9.1. This showcases innovative solutions for electronic security systems in real contexts, and the various skilled trades involved in security technology and building services, are networked together here across product and system boundaries.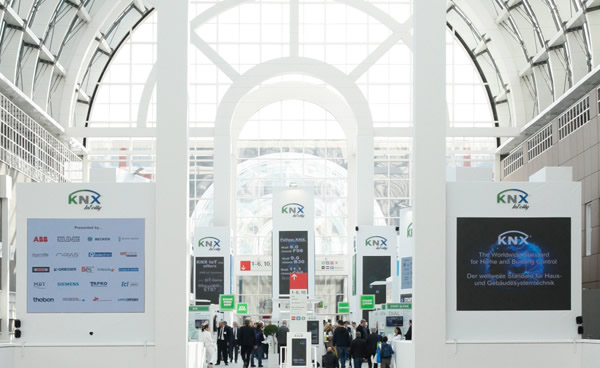 KNXtoday: What else should KNX professionals look out for?
IJM: One of the areas of emphasis in 2018 is security technology. The networking and integration of various security systems, such as video surveillance and access control, into the building's automation system are all very relevant to the sector. So, product groups relating to home and building automation and electrically-controlled security technology will all be brought together for the first time at Light + Building 2018 in Hall 9.1. This provides a meeting point, a centre for integrated building services technology. The range of products and services in the new hall will be reinforced with this year's aforementioned special exhibition 'Secure!', as well as the annual conference of the Intersec Forum, held for five days from 19 to 23 March, will deal, in greater detail, with networked security technology.
In addition, some of the market leaders in the field of security technology, as well as that of home and building automation, will be showcasing their innovations in the other halls of the Exhibition Centre. All in all, some 150 suppliers of security technology will be represented at Light + Building.
The market is currently in an exciting state of change and the need for security – specifically in buildings – has grown steadily over recent years. Topics such as the 'Smart Building', 'Smart Home', 'Smart Living' and even the 'Smart City' are becoming increasingly important and are finding their way into the spotlight at Light + Building. Hence visitors will, for instance, find a wide variety of 'smart living' solutions on the stands. Alongside presentations by the exhibitors, there is also the E-House – the 100m² show house of the ZVEH (Association of the German Electrical and Information Technology Industry) – which is all about this issue.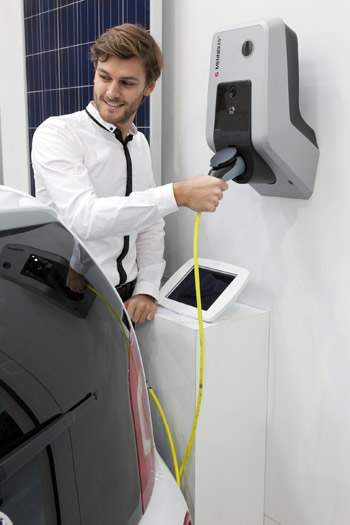 KNXtoday: What is your advice to anyone considering coming to the show?
IJM: We recommend all of our visitors – particularly if they don't have much time – to prepare well in advance, in order to get the most from their visit when they are here. Our website has proven to be extremely helpful in this respect. Under the heading 'Planning and Preparation' you will find everything you need to plan your visit. Of course, it is also well worth a look at the exhibitor search. And don't forget the very varied complementary programme, which picks up on some of the latest developments in the sector. Technical lectures with examples of best practice, special shows and displays, panel discussions, competitions and guided tours all offer visitors opportunities to get information, discuss the issues and make new contacts.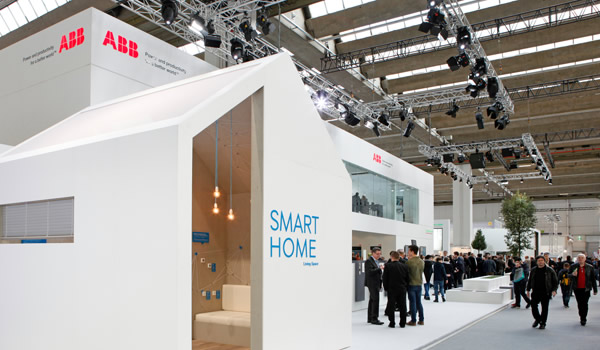 A new feature at Light + Building 2018 is the revised structure of the complementary programme. The division into the different categories of Emotion, Skills, Career and Selection will make it easier for visitors to find their way around by area of interest and to participate in those areas of the complementary programme that fit in best with their own aims for the show.
We look forward to seeing you in Frankfurt!
(Editor's note: The amazing Frankfurt Luminale is held at the same time as L+B as a supporting programme. It involves numerous lighting installations and events held across the city. Free roundtrip evening tour busses can usually be caught outside the main entrance to L+B).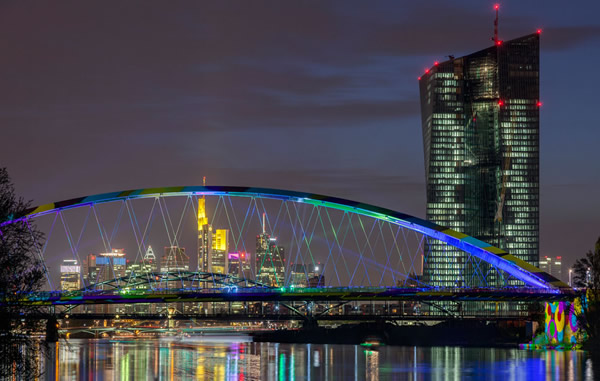 Iris Jeglitza-Moshage is the Senior Vice President of Technology for Messe Frankfurt – the world's largest trade fair, congress and event organiser with its own exhibition grounds. With over 2,300 employees at some 30 locations, the company generates annual sales of around €647 million.