Integrated Systems Europe (ISE), is the largest AV systems integration show in the world. As leading technology for home and building control, it is no surprise that KNX is again playing a leading role at the coming edition of this show from February 6th – 9th at RAI Exhibition Centre in Amsterdam, Netherlands. Like last year, KNX will have a booth in the Smart Building Hall 9 (H9F120) and for the first time a second booth at the residential solutions area in Hall 1 (H1N130). – There will be a wide range of activities, events, trainings, workshops and special actions!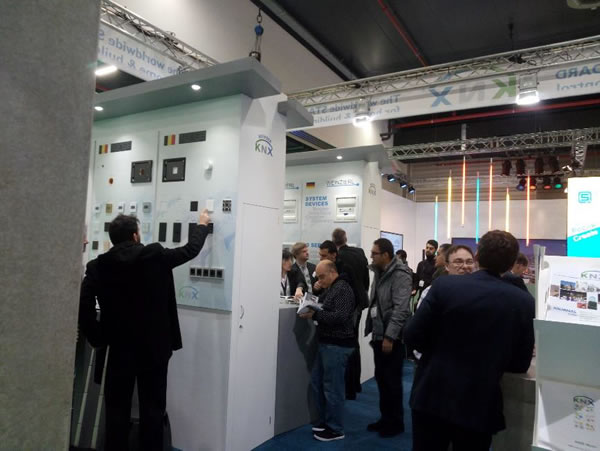 The KNX Association booth, located at hall 9 F120 covers 200m² and will be again one of the fair's highlights. 14 KNX manufacturers will be present at the booth, presenting the latest innovations in home and building solutions. Moreover, 25 KNX Members will be present with their own booths during the fair.
Needless to say that the current hot topics "Internet of Things" and "Smart Homes" are not missing. The KNX booth will highlight its leading market position with IoT solutions by KNX Association.
Get Training on ETS Inside, Discover Award- Winning KNX Projects and the Latest KNX Solutions at Hall 1 (H1N130)
For the first time at ISE, KNX will be present with a second booth, at the prominent hall 1 of the ISE exhibition. KNX Professionals will show their latest solutions and integrations possible with KNX. Award-winning KNX projects will also be shown as a reference of what you can achieve with KNX.
But personal development does not end here! At KNX booth Hall 1- N130 you will have the chance to learn about the new ETS Inside – the new ETS that allows you to commission your smart home and small commercial installations with your mobile handheld.
Join the Smart Building Solutions Theatre sessions next to the KNX Booth in Hall 9
Besides product presentations and networking opportunities, visiting ISE2018 will be more than just visiting an exhibition. KNX Association, its members and partners invite also to join a wide range of presentations at the Smart Building Solutions Theatre, located directly next to the KNX Booth.
The presentations, delivered by international market leaders, cover all topics about smart homes and buildings – The perfect opportunity to get in touch with new high-end contacts from every field in the world of KNX.
Starting on the 6th of February, 11:00am, the Smart Building Theatre will host presentations for four consecutive days. The full agenda can be found on the Smart Building Theatre page.
KNX Association invites you to visit ISE2018 totally free of charge! For more information and your free ticket, visit