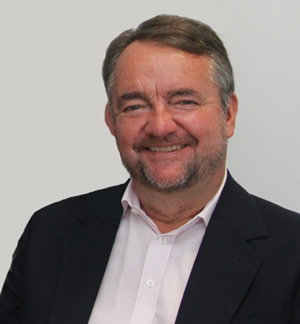 Graham Oliver has been involved with security for most of his career. He formed a systems integration company called Smart3 Intelligent Homes Ltd, not because AV was his passion, but because he saw a need for having high-quality security as an integral part of home automation. The company was a dealer for proprietary systems such as Crestron, Control4 and Lutron and master-distributor of Siedle door-entry products. The business grew rapidly, and Oliver sold the custom install side of it in order to focus on Siedle distribution. Indeed he must hold the record as the longest-serving Siedle distributor worldwide!
Meanwhile, Jung, as an active exporter, had found synergy with high-end Siedle products worldwide except in the UK, so having recognised that KNX is the way forward, Oliver struck up a relationship with Jung, which became official on 1 July this year when he became Director of Jung UK.
In this exclusive interview with KNXtoday, Graham Oliver explains why he is so excited by his new role, and why he thinks the future for KNX is bright.
KNXtoday: Why are you and Jung such a good match?
GO: Jung is such a nice company. It is family-run, over a hundred years old, makes excellent products, pays great attention to detail and is good at exporting. Typical of a 'Mittlestand' company, it operates in a 'flat' rather than hierarchical way in terms of responsibility, which means that decisions can be taken quickly. In addition, once it has decided on a course of action, it doesn't do things half-heartedly.
What I bring to the relationship is enthusiasm and experience – I absolutely love doing this! It's a project-based business that can often have lead times of up to three years, and you can't sell a premium product without going through specifiers, architects and mechanical engineers. So our plan is to build on the specification market – which is where I have the experience and contacts. Our Technical Manager, Paul Spicer, has done the KNX training, and Michael Seeland, who was looking after Jung UK, is now free to work on new, large projects, which is his forte.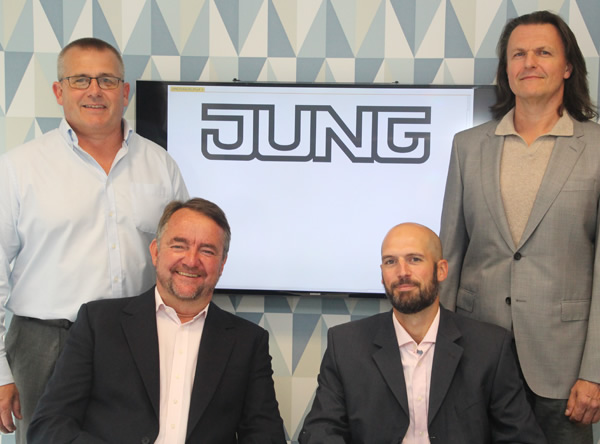 KNXtoday: What is the state of the UK market, and Jung's position in it?
GO: At this end of the market, the price of products is not such an issue – it's more about confidence. The Brexit referendum had a marked effect as people re-evaluated. Building work slowed right down – indeed we lost some projects – but then as the dust settled, things picked up again – until the Grenfell fire, thanks to which similar re-evaluations are underway. I'm sure the market will recover and continue as before as people adapt, but given the current circumstances, things are still pretty vibrant.
While most people I deal with have heard of Jung, thanks to our conventional switch range and the Le Corbusier colour options that interior designers love, our focus is on the KNX side, and in this respect, our share of the KNX market in the UK is quite small, but that will soon change. One of our many deal winners is the in-room temperature sensor which is very popular. It's a high-quality product that looks good and is available in a range of finishes, and it has helped us with some very large projects that are coming through next year.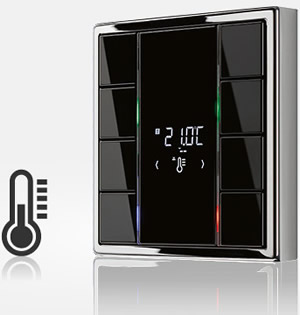 KNXtoday: What are the challenges facing KNX in the UK?
GO: Companies such as Bemco, whom we supply, and Ivory Egg, have done a great job in promoting KNX and helping to grow the UK market, but it still amazes me how many architects in the UK, and indeed even in Germany, don't know about the standard. While systems integrators are starting to do KNX projects, we need to get more of them interested and involved. That's why we are looking at offering CPD courses and developing marketing materials to help people understand the benefits of KNX. I'm also very excited about Light+Building next year. We have a new marketing drive from Germany, and our UK presence is not going to be the same as last time.
In general, I'd say ignorance and misinformation about KNX are the biggest challenges. Systems integrators dismiss KNX without understanding it – I should know, I used to be one of them! My 'lightbulb moment' came when I realised that KNX is an open standard that has been adopted by so many manufacturers that customers will never be left high and dry. They have the security of choice and are not dependent on any one company. That is surely the way of the future.
In the smart home industry, automation nearly always starts with lighting rather than A/V, but even if we were to approach the market from this end, there are misconceptions to be overcome. For example, I visited one of the larger AV distributors recently, and they dismissed KNX as being old-fashioned and superseded by the likes of Savant. I guess when they start losing big projects to KNX, they might think again.
KNXtoday: How can the industry help to develop the KNX market?
GO: We need to introduce systems integrators to specifiers to help get them involved with KNX and develop confidence in the technology, but it will be a long, drawn-out process. A sizeable KNX project with which I am currently involved, is going through a large contractor who recognises that KNX is the most cost-effective solution. However, they will install it themselves rather than employ a systems integration company because they don't believe that there is one large enough to handle the project. Instead, they will use their own methodology and structures, which they can then replicate in further projects. I expect this is the way that larger projects will go.
A lot of focus has been on high-end residential projects, but to be honest, customers in this market can be difficult. It is much easier to specify projects that require replication, such as commercial and large residential developments and hotels. So to help the market, I'd like to see training for larger commercial companies, pre-programmed and packaged systems for electricians, and generally more education. KNX is such a good route to follow – all that is holding people back is their fear of the unknown.
Graham Oliver is Director of Jung UK. Jung is a manufacturer of 'Made in Germany'-certified electrical switches and systems.