Let there be light
Developed specifically to work with LED lights, the HDL M/DRGBW4.1 KNX 4 Fold Driver can handle any RGBW diode for unparalleled illumination control.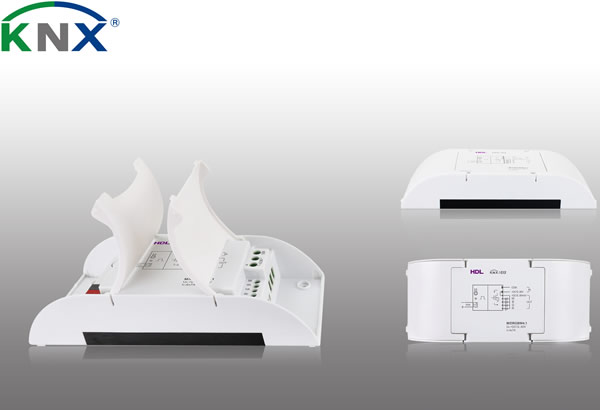 Delivering relative and absolute dimming, scene and sequence control, custom color palettes, and scheduled activation, your LED lighting solution can be tailored to meet your exact needs.
To provide an optimized experience four output channels are included, with each channel supporting seven amps. This allows a single HDL M/DRGBW4.1 module to control the entirety of an average rooms LED lighting installation with ease.
When you need to create the perfect ambiance, 50 scenes can be set which precisely control LED color and dimming values. Activated by simply pressing a button, everything from a party scene with brightly pulsating RGBW lighting, to a relaxed movie scene with subdued warm light can be generated instantly.
For hassle free installation the HDL M/DRGBW4.1 can be directly installed on any flat surface via four attachment points at each corner of the module. This combined with a width of only 39mm allows placement into floating ceilings, behind drywall, and inside or outside distribution boxes.
Taking advantage of HDL circuit protection technology a reverse polarity guard has also been integrated into the module, so even if it's incorrectly connected to a DC input power source it will remain undamaged.
Like any HDL KNX solution the HDL M/DRGBW4.1 is CE & RoHS certified, and fully compatible with any other KNX product.
With sophisticated features like scene control, sequence control, and PWM dimming, the HDL M/DRGBW4.1 KNX 4 Fold Driver makes LED management easier, more efficient, and truly flexible.
To find out more about the M/DRGBW4.1 KNX 4 Fold Driver, please visit