By Simon Buddle, Future Ready Homes.
Another ISE and another bumper year. The RAI Conference Centre is now officially full, with a large marquee erected in the central square to accommodate the overspill. Next year, they say, they'll be filling the front car park space with marquees. The event is now, effectively, a week-long event. More and more people are coming for a few days, dividing their time between show floor and taking in some CEDIA Education along the way. It's beginning to feel like the CEDIA Expos of old, with over 850 students attending training during the week.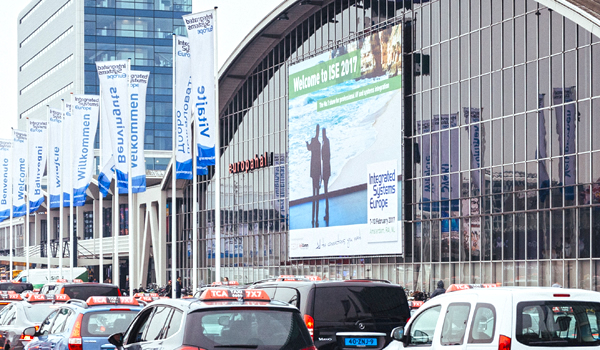 It is the information age, the amount of data available is truly astonishing. Some of that data is utterly useless to me, but I'll share one bit with you as I have it: 43km. That's how far I walked during my week at ISE! As Matthias said in Life of Brian, 'I'm just a poor old man. I have no time for law-breakers. My legs are grey. My ears are gnarled. My eyes are old and bent.' I agree. I'm getting too old for this!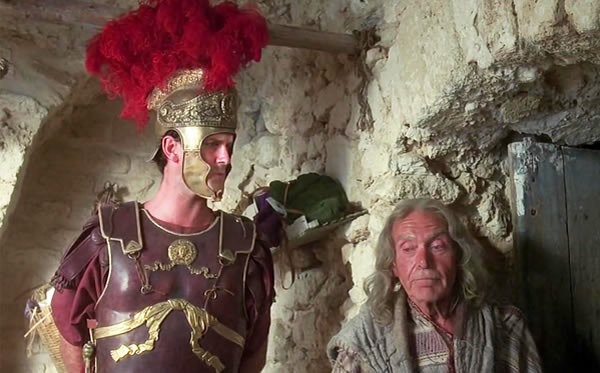 Alright, alright I'll get on with it. So, what new and interesting toys were there? Let's focus in on two specific areas: KNX visualisation and KNX voice control.
Visualisation
I think it's fair to say that user interface graphics haven't been a strong suit in the KNX world. But there are a couple of new and interesting players in the market. Comfort Click has introduced its new KNX-enabled Jigsaw controller and bOS (Building Operating System) visualisation interface. Supporting iOS and Android apps, large and small touchscreens, and customisable graphics, it looks like a great offering.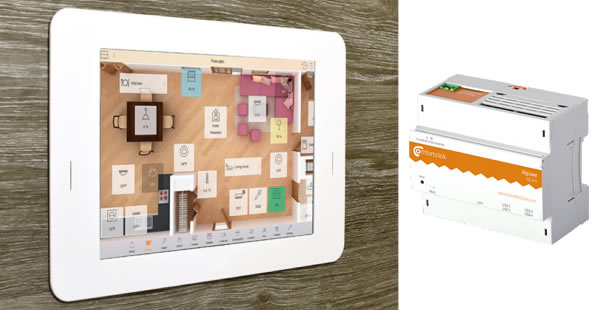 The equally-slick Thinknx range of products provides a gateway to multiple platforms such as Philips Hue, Z-Wave, Lutron and many more. The visuals look sharp and Thinknx's own screens are every bit as good as any smart tablet on the market.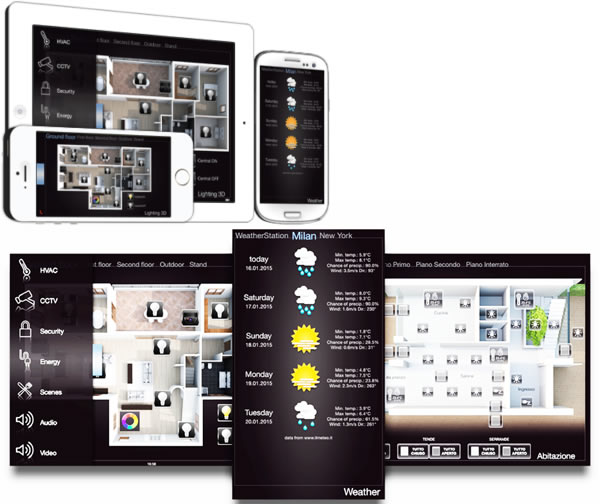 Both companies support web interfaces and all the usual controls, as well as energy monitoring and reporting, calendar and clock functions, audio controls and IP cameras. Very powerful offerings. I'm sure we'll be seeing a lot of them in the years to come.
Other visualisation products that caught my eye were the ABB ControlTouch KNX with iOS and now Apple Watch integration, and the Jung Visu Pro Server that was on display with iOS devices.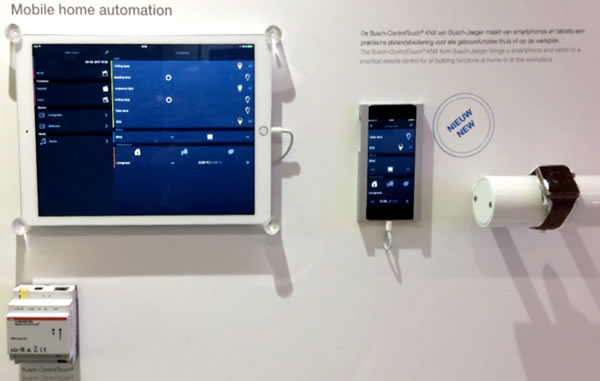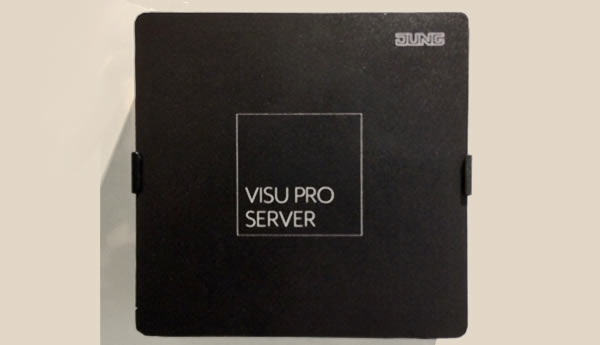 Voice control
Last year we were asking the question, 'Will voice control catch on?' This year we're asking which systems have voice control. Relatively speaking, it is still in its infancy, but already many manufacturers were showing off this technology. Thinknx, for example, had an Alexa unit on display that was operating the system via voice.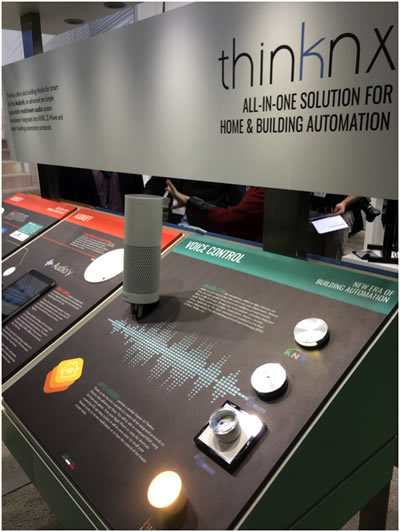 Siri was being used as the front-end for control on both the Bleu Comm' Azur stand and ProKNX stand. Indeed ProKNX once again showed its realKNX miniserver with augmented reality. Not only does it allow you to control your system using Siri, but you can also use the camera on your smart phone to simply point, for example, at a light, lamp, or air-conditioning unit whereupon the app identifies the correct controls and puts them on-screen for you.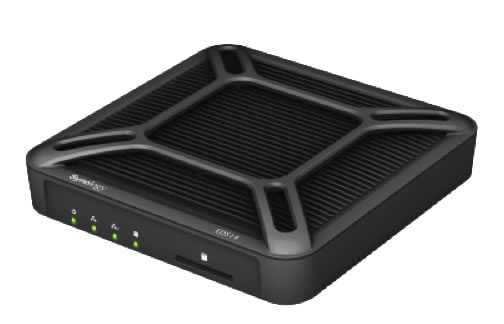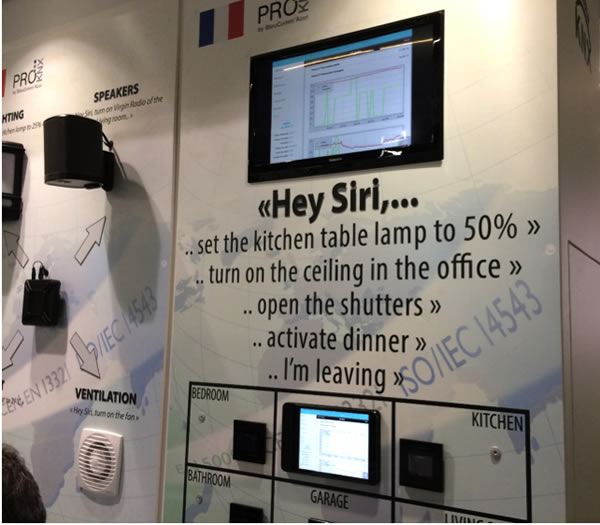 One interesting take on integration that I saw was the EMT Controls keypad, the HTP-DOT, with a built-in Amazon Echo Dot. The company is relatively new to the KNX market, as is the unit it had on display. It also has an interesting line in glass-fronted keypads.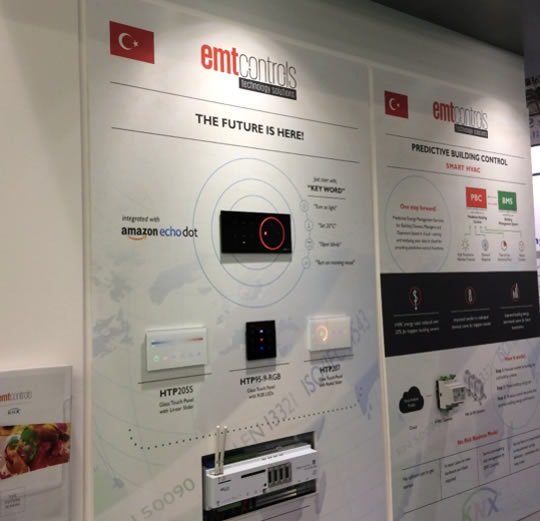 Conclusion
Whilst it is difficult to get excited about new actuators and the like, the control side of life is moving at a pace. One other little product that caught my eye was the Basalte PIR wall plate – perfect for corridors or hallways where you may only want the PIR to trigger if someone walks past it. This effectively gives you a much smaller trigger area compared with ceiling-mounted.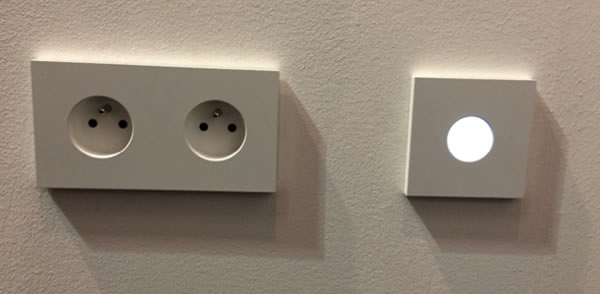 KNX has come a long way in terms of controls in recent years. It will, I'm sure, go a lot further too. Voice control is here and relevant and the new wave of visualisation devices can only be a good thing for the marketplace. As with all new product sets, there will be a fight resulting in some winners and losers, but these new products all sit squarely in the world of IP addresses, ports, MAC addresses and microprocessors, and there are a lot of people out there who know how to write code for them.
It's a great boon to KNX and our industry, that so many new faces are getting involved in the control interface side. It's time to place your bets folks. Which products are you going to use in your business?
Simon Buddle is a consultant for Future Ready Homes, a specialist in BMS and ELV services system design.