Weinzierl's successful BAOS family is growing with the KNX IP BAOS 773 and KNX IP BAOS 774 devices. These new models will be shown at ISE 2017 in Amsterdam and also ISH in Frankfurt.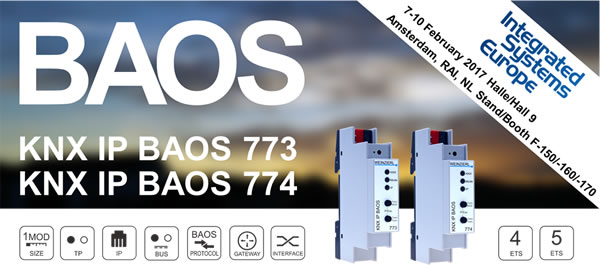 Features include:
– Extremely compact 1 module housing (18mm width)
– Power supply via the KNX bus – no external voltage supply necessary
– Integrated KNX IP Interface (KNXnet / IP)
– 250 data points (KNX IP BAOS 773) or 1000 data points (KNX IP BAOS 774)
– Free SDK available
– Ideal platform for connecting complex applications to KNX with ETS support
The new devices will be introduced at the ISE 2017 in Amsterdam and will also be shown at ISH 2017 in Frankfurt and can be ordered through our Sales Partners in Q2/2017.