Hall 9.0, Stand F03. Light Building 2016
The new Iddero Verso is a versatile room operating unit featuring a 4.3" capacitive touch display. This elegant, compact wall mounted device is available in white or black finish, and can be installed in portrait or landscape mode. Its attractive design, featuring a continuous glass front panel, makes it seamlessly blend with any environment.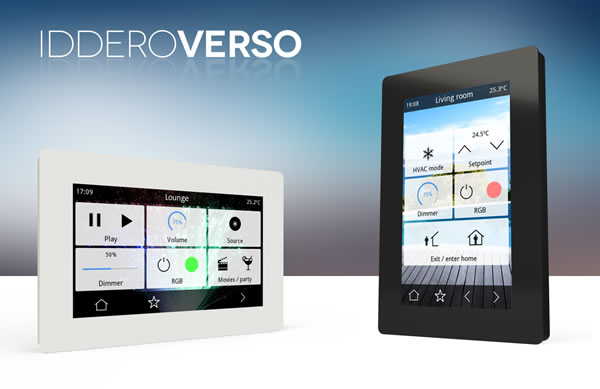 The Iddero Verso provides an intuitive, user-friendly visualisation with up to 48 configurable functions that can be arranged freely over 6 control pages. An additional "favorites" page makes it possible for the end user to select up to 8 commonly used functions for quick and easy access. Furthermore, touch gestures can be used to trigger up to 4 predefined actions even while the unit is in power saving mode.
A wide range of widgets can be used in the visualisation, including RGBW color pickers, regulation bars, rotary controls, and much more. The beautifully crafted user interface shows attention to detail in every aspect. UI themes and configurable background images make it possible to further adapt the look and feel to any interior design or ambience.
Advanced functions include weekly time schedules, alarm monitoring, an internal scene controller, and two independent thermostats. Additionally, the built-in temperature sensor, four multifunction inputs, and integrated KNX bus coupler make this all-rounder a perfect choice for all KNX projects.