The worldwide Standard for Home and Building Control KNX provides variable control of multimedia technology throughout the entire home and building. KNX manufacturers are developing solutions for so-called multi-room systems which are becoming increasingly simple and convenient – for both the user as well as the installer.
The show ISE, Integrated Systems Europe, is Europe´s no.1 show for professional AV and electronic systems integrations. At the fair, 13 KNX members are showing solutions for visualization on portable devices (smartphones, tables and PCs), remote communication as well as audio and video applications in home automation at the KNX joint-booth, which are becoming increasingly simple and convenient for green home and building automation. Moreover, in the residential and commercial theatres, as well as the KNX booth, presentations about several topics are given several times a day. Visit us at the booth 12 / C92.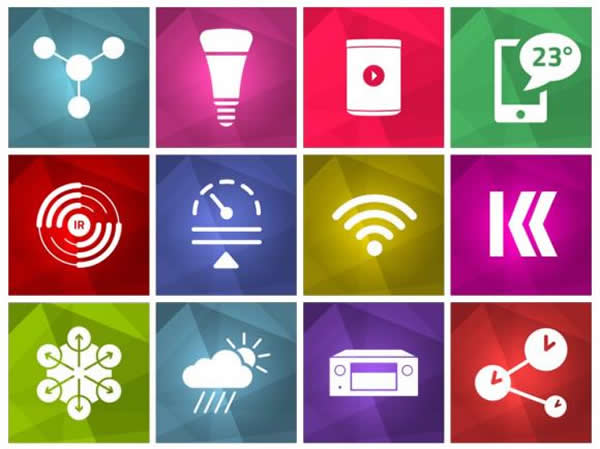 BAB-Technologie GmbH, Germany
The APP MODULE is equipped with a KNX/TP interface and is based on the proven, modular app concept: choose, install, get going. It does not have functionalities ready out of the box, but can be individually customized with apps. For example SONOS devices, Philips hue devices or BOSE components can be integrated into KNX installations in an instant. Here it does not matter if the components are controlled by push-buttons or existing visualizations. Various apps are available via www.bab- appmarket.de and can be combined in an APP MODULE as desired.
Bleu Comm' Azur SARL, France
KNX proServ, the first device for KNX smartphone control, configured completely with ETS software, can be expanded by an embedded mini server. The new application allows detecting objects in the environment using the smartphone's camera. Directly in the camera image, the controls are appearing to switch the devices and get full feedback: A button comes up for switching the standing lamp, upon detection of the window the controls for driving the shutter are displayed, when sighting the speaker, the current song is displayed and the volume can be adjusted. Configuration is done by assigning simple photos of the objects to the proServ functions.
CJC Systems, Belgium
CJC Systems, well-known for their Design Switches, will present their new 'flatline' range for their existing collections LARA & LOLA. The VICTOR collection is also available in this new 'flatline' range. As the name holds no surprises, the 'flatline' range stands for a thin design of only 2mm thickness! The LARA and LOLA collections are flat push- buttons, directly available on KNX, the worldwide standard for home and building control. These collections also exist as 24V push-buttons, making it available for use with impulse relays or any other home automation system. Both collections are available as single cover plates for 1 – 4 push-buttons but also contains a double cover plate up to 8 push-buttons.
Divus GmbH, Italy
The new OPTIMA shines in new splendor. The visualization of KNX CONTROL enables you to display your own-home or office building in a new attractive design with more features and possibilities. The creation of the visualization is easier than ever before. Basic knowledge of working with a graphics program and the ETS software are enough to realize the customer's wishes. In order to use OPTIMA, a graphic designer is no longer needed. New users feel as comfortable as experienced ones. Even the user himself can now create own scenarios with the intuitive software, collect and analyze energy data.
Elsner Elektronik GmbH, Germany
The KNX RF-MSG-ST motor control unit integrates the drive of a shading element or window into the KNX bus system via radio. The standard used is KNX RF S. The unit is easily plugged between drive and voltage supply with its STAK/STAS connectors. The integration is realized with the ETS. The application program of the KNX RF-MSG-ST offers automatic functions for shading and for window ventilation. The function of the control unit can be adapted to the drive in detail, for example by setting the mechanism dead times. The movement time of the connected drive is automatically determined by current measurement.
EMT Controls, Turkey
EMT Controls HTP700 Touch Panel combines the functions of video telephony, KNX home automation (with physical KNX port), security, energy management and concierge services. The complete flat touch panel offers a stylish sleek design. The elegant touch panel merges user experience of modern building visualization and media technology in a unique design that adapts in any interior conditions. Use free of charge Apps for Android and iOS for remote access and control of your devices.
iRidium Ltd., Russia
iRidium 3.0 is a platform with wide control and monitoring capabilities consisting of 2 products: iRidium pro for professional integrators and iRidium lite for installers. With iRidium pro you can create customized control projects with any interface. iRidium lite automatically finds KNX, other automation hardware, IoT gadgets and creates a control interface without programming right from your iOS, Android or Windows device. Both products support project update via cloud and storage in cloud and are compatible with iRidium Server. iRidium Server is a software agent that can be launched on different hardware platforms for keeping data on resource consumption, creating scenes and running logics.
Thinknx by Pulsar Engineering, Italy
ThinKnx introduces Audiofy, a complete multiroom audio solution which combines an audio matrix with an internal network player. The matrix is equipped with 4 to 8 inputs and 4 to 8 outputs with an inbuilt amplifier of 40W Stereo. Thanks to the internal network player, Audiofy can read from the common analog inputs but also from NAS, web radio and any network service. Audiofy can be controlled through a very simple and intuitive app, which allows to manage audio routings and command the internal player. The integration with KNX is bidirectional and all the commands and feedbacks are available on the bus. It is also compatible with ThinKnx supervision system which permits a full integration with the building.
Simon SA, Spain
Simon has sparked its imagination to create a new touch interface concept: the new Sense collection. The power of the senses inspires the first modular collection that manages to combine two concepts: touch interface and ergonomics designed for personal use. Sense allows users to mix and match various features for enhanced comfort and control: controls lighting, air conditioning and blinds in any space. It also offers interaction with users, alerting them of the action being performed: By tapping or sliding the finger, users receive haptic feedback through vibration or LED light. The collection offers three versions which allow users to customise the lighting, temperature and blinds.
tci GmbH, Germany
A glass front with white frame and a launcher with a white background – the ultra-flat 10- inch touch panels luna10 is presenting in a noble design. They are suitable for applications in building automation, home communications, conference room technology and digital signage. The completely flat surface in real glass emphasizes the timeless elegant design. The bright display in 16:9 format shows ambitious visualizations and product launches razor in sharp true HD resolution. A KNX interface is optionally available.
Yonnet, Turkey
Yonnet is introducing a new product in Interra touch panel series, Interra mini with unique abilities. Imini is developed on proven premium hardware that are used in 7″ and 10.1″ TouchPanels. Imini has a decent dual-core processor, abundant memory and storage, and highly optimized Android OS. Imini has 6,5″ high quality capacitive touch screen and a more flexible user interface. Moreover, Imini incorporates built-in temperature, proximity and ambient light sensors. Also, Imini can control split climates and other devices via Infrared by IR sender. As usual, all automation controls are supported. Imini can communicate directly with KNX bus and has also sockets for RJ45, external IR unit, hotel DND units.