50% early bird discount available until 17th of January
The annual Smart Building Conference is produced by Integrated Systems Events. It will take place at the RAI, Amsterdam on 8 February, the day before Integrated Systems Europe 2016 opens its doors.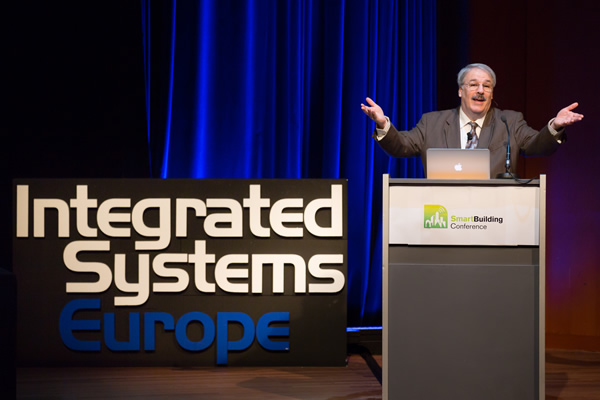 ISE is widely recognised as the world's most popular event for professional AV and electronic systems integration. With 1,000 exhibitors already booked into ISE 2016 attendance is confidently expected to rise above 60,000.
Over the past four years the Smart Building Conference has become a fixture of ISE's pre-show events package that also includes an Opening Keynote Address and Opening Reception and Networking event.
The Smart Building Conference will offer content in two tracks (commercial and residential) as well as a number of presentations dedicated to both. The Commercial Track will be chaired by Content Chairman, Bob Snyder, (Editor in Chief of Channel Media Europe). The Residential Track will be chaired by CEDIA EMEA Chair, Kris Hogg (founder of Konnectiv Technology).
As in previous years, the Smart Building Conference will stage a full-day's programme including expert speakers from across the smart building industry. This year's theme is The Network is the Building. The conference will explore how the IP backbone changes the way we work, the way we live, and the new connected services now possible with today's buildings.
Topics to be covered include: building and home control; wayfinding; cabling buildings for the future; the impact of mobile; multi-dwelling units; the Internet of things; audio-over-IP and more.
Bob Snyder commented: "Smart buildings, also known as intelligent buildings, are complex organisms whose information networks, like nervous systems, branch into all of their parts using state-of-the-art computer technology.
"As the way we live and work is being transformed by technology, our homes and our offices change to reflect those transformations. It is important for audio/video/IT integrators (and for any tech industry whose tech is used inside a building) to understand what rapid changes are occurring in the build and retrofit environments.
"The Smart Building Conference will explore these challenges and opportunities in equal measure across the commercial and residential smart building and smart home markets," he concluded.
Session highlights include:-
Smart… Above and Beyond Sustainability
Erik Ubels, Director Information Technology & Workplace Services, Deloitte
Deloitte's new Amsterdam headquarters (the Edge) achieved a landmark in the world of green building by scoring the highest BREEAM rating ever, making it one of the world's greenest office buildings.
Designed by London-based PLP Architecture, it features 4,100 square meters of rooftop solar panels, 28,000 sensors including a "digital ceiling" that wires the building like synapses in a brain, and Philips' Ethernet-powered LED connecting lighting. Bloomberg Business called the Edge "quite possibly the smartest office space ever constructed).
Ubels will discuss how this landmark building is smart- above and beyond its record-breaking sustainability.
From Office Design to Soundscaping…
Philip Vanhoutte, Senior Vice-President and Managing Director Plantronics Europe & Africa
This session will explore how an economic crisis generated the most productive UK Workspace with…
• Associate driven work topology design of an Acoustic Temple
• Unified Collaborative ITC infrastructure embracing wearables and contextual intelligence
• A respectful work philosophy that results in the most desirable discretionary engagement
With a 35+ year whirlwind career in the information and communications technology industry, Vanhoutte lives and breathes flexible working. Groomed at Accenture and Wang Labs as an energetic office automation consultant in the 80s and surfing the waves of the laptop revolution at Dell in the 90s, he has never used a professional desktop computer, forging the way for work via laptop on the road, and anywhere else his profession takes him.
His love for personal technology and wearables has matured into a passion for smarter working – one that he has manifested across the entire corporation. Over the past years he has researched and implemented radical new office changes globally to support the growing trend in agile working.
Technology and the Future of CRE
Tom Carroll, Head of EMEA Corporate Research at JLL
While technology is disrupting the competitive landscape across a range of industries, it will also profoundly change the way organisations work, their real estate needs and the functionality of the buildings they occupy.
This session will explore how: –
• Over the next few years, 'third platform' technologies will mean new devices will enter the workplace that will open up new ways of working, change how workplaces are designed, and create new management paradigms.
• How is Corporate Real Estate (CRE) adapting to this change?
• And how will technological change impact CRE strategy at a portfolio, building and workplace level as we move towards 2020 and beyond.
Head of EMEA Corporate Research, Tom Carroll, leads Research and Strategic insight for corporate clients at JLL (Jones Lang Lasalle), a financial and professional services firm specialising in commercial real estate services with 58,000 employees across 230 corporate offices serving more than 80 countries. Carroll is an author of many thought leadership papers on key issues including the Journey of CRE in Europe, CRE organisational models, offshoring and nearshoring and is currently leading new research on technology and the future of real estate. He is a member of JLL's Occupier Executive, UK Research Executive and EMEA Research Board.
Technology and The Home in the Year 2020
Dave Pedigo, CEDIA Senior Director of Learning & Emerging Technologies
What technology will be in your home in 2020? There is much reason for excitement in the home technology industry as significant innovations and product refinements now shape the home of the future. CEDIA's Senior Director of Learning & Emerging Technologies will gives an in-depth look into the home of 2020.
Topics to be covered in this session include:
• The new home cinema experience
• Contextual awareness and the intuitive home
• Delivering the life lived best at home experience
Dave Pedigo is the Senior Director of Learning and Emerging Technologies for CEDIA. He oversees CEDIA's Professional Development, Public Policy and Technology Council departments.
Previously he worked in the satellite industry, as the Senior Director of Education for SBCA, and as a Technical Training Engineer at Hughes Network Systems. He earned a Bachelor's Degree in Social Science from Towson University and taught in the Baltimore County Public School System for five years. Pedigo recently received a certificate in Executive Leadership and Management from the University of Notre Dame's Mendoza School of Business.
Other confirmed sessions include:-
• Integrating AV with IT Infrastructure: Graham Naylor-Smith, ARUP
• The Third Fix: Mike Brooman, Vanti
• What You Need to Know About Multi-Dwelling Units: Kris Hogg, CEDIA EMEA Chairman
• New Era of Data Driven Lighting Services: Marek Wierzbicki, Silvair
• SMART Research: How We'll Live in the Future: Gottlieb Duttweiler Institute / Daniela Tenger
The special Early Bird Offer of 125 Euros + VAT is valid until 17th of January 2016. Please register via: