ISE, Integrated Systems Europe, is Europe´s no.1 show for professional AV and electronic systems integrators. Whatever your level of interest in audiovisual technology, ISE has something for you and including a diverse range of education and networking opportunities available before and during the show. The fair will take place from the 9th until the 12th of February in Amsterdam (The Netherlands) at the RAI Exhibition Centre. Once again, the KNX Association will have a booth during the fair in hall 12 booth C92 comprising over 160m².
KNX Members at ISE 2016
At the KNX stand, 12 KNX Members and 1 Certified Training Centre will each have two panels where they will show their latest innovations:
bab-Technologie GmbH
Bleu Comm' Azur EURL
Busch Jaeger Elektro GmbH
CJC Design Switches
DIVUS GmbH
elsner elektronik GmbH
EMT Controls
Instaver Systems B.V.
iRidium Mobile
ise GmbH
Pulsar Engineering srl
tci GmbH
Yonnet
In total more than 40 KNX Members will be exhibiting at the ISE fair: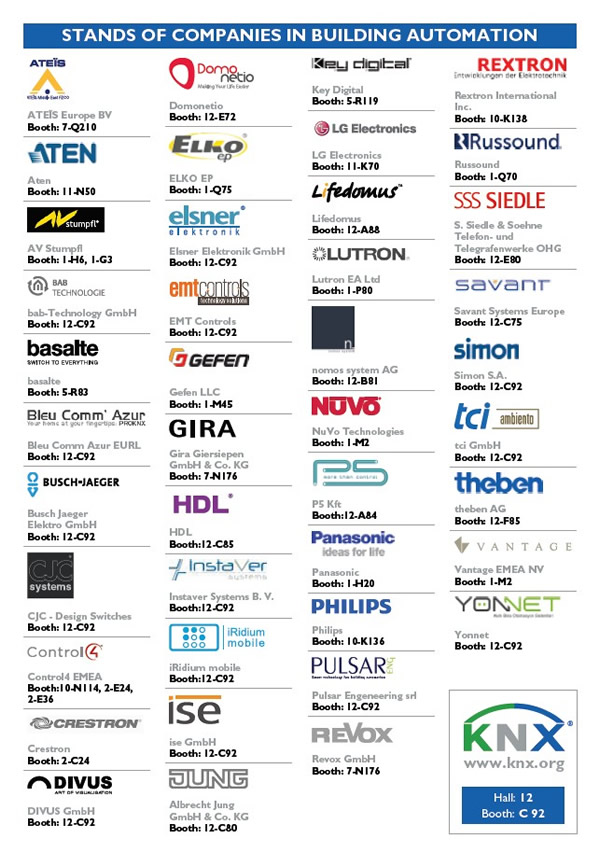 KNX Training and presentations at ISE 2016
There will be a large offering of KNX presentations and training during the fair, both at the residential and commercial solutions theatres. KNX will fill 8 presentation slots with the following topics:
KNX and the Internet of Things
10 reasons why KNX must be in any residential project
KNX: One system. One market. The world
10 reasons why KNX must be in any commercial project
Furthermore companies Instaver and Domonetio will deliver KNX Training sessions at the KNX booth throughout the fair.
For further information and free admission code visit: