ISE 2016 will return to the Amsterdam RAI on 9-12 February 2016 for the 13th edition of the largest AV tradeshow in Europe. This year will see the show format expand to include a fourth day for the first time. With more show time comes the promise of even more visitors than the 59,000 attendees who flocked to see over 1,000 exhibitors at ISE 2015.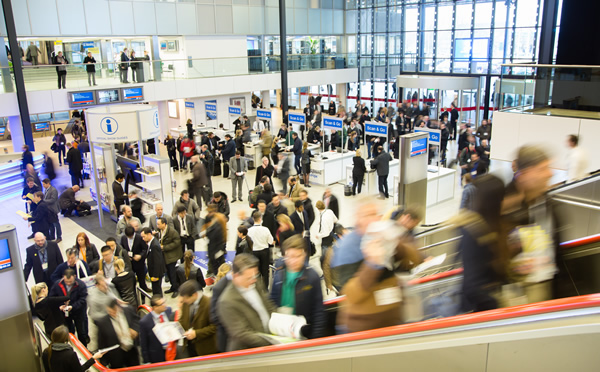 ISE 2016 will once again occupy the entire Amsterdam RAI – Including halls 1-12, plus the Diamond Lounge and the new Amtrium building. The show floor has sold out, resulting in 43,000 square metres of exhibitions space – an increase of 11% on the 2015 edition. The increase in sold floor space at the show supports the decision to extend the exhibition to four days, as exhibitors look to embrace the development by maximising the networking and business opportunities.
"The fact that the four-day ISE is sold out indicates that it was the correct decision to expand the show and it is a vote of confidence from our exhibitors and partners," explained Integrated Systems Events' Managing Director Mike Blackman. "We are certain that it will deliver a richer experience for everyone who attends," he concluded.
ISE 2016 will attract professionals from every link in the systems integration value-chain, including manufacturers, distributors, dealers, contractors and consultants. The show is also a key event for end-users, from a range of industries, including education, sports, corporate facilities, hospitality and live events.
Professionals from over 150 countries will attend the show looking to network, pursue new business opportunities and see over 1,000 new product launches. The show floor will once again be split into themed areas covering Audio, Digital Signage, Residential Solutions, Unified Communications, and Smart Building.
Pre-show and at-show events
ISE is recognised for the high standard of its pre-show and at-show events. Prior to the Opening Keynote and Opening Reception, held at 19:00-21:00 on Monday 8 February, visitors have an opportunity to attend the Audio Forum or the Smart Building Conference.
The Audio Forum, presented by one of ISE's media partners Connessioni, is returning to ISE 2016 as one of the pre-show events. The full-day event will include seminars hosted by qualified audio professionals. This year's theme is 'Theories, Technologies, Legends and Myths' about audio'. The keynote speaker is Donato Masci, an acoustic designer and consultant from Studio Sound Service in Italy.
The Smart Building Conference – a joint venture between ISE's co-owners InfoComm International and CEDIA – returns to Amsterdam on the eve of ISE 2016. As in previous years, the Smart Building Conference will stage a full-day's programme, including expert speakers from across the smart building industry. It will be chaired by Bob Snyder, Editor in Chief of Channel Media Europe. Delegates can expect to discover key insights into emerging trends, energy savings, home automation solutions, as well as the best practice approaches needed to meet Smart Home and Smart Building design and efficiency objectives.
The second annual ISE Capital Summit, which takes place on 11 February, will bring together AV and IT industry entrepreneurs and executives with financial professionals and business experts from the world of investments, mergers, and acquisitions. The event will include a discussion co-moderated by John Bowen of MediaBridge Capital Advisors and John Stiernberg of Stiernberg Consulting, featuring leading European financial experts, equity funds and strategic investors. Neil MacTaggart of Media Asset Capital is the returning panellist and gadfly for the event.
The Sport Venue Integration Summit will also be held on 11 February. SVG Europe, in conjunction with RH Consulting, will explore a day in the life of the contemporary connected stadium. Topics to be covered include new approaches to fan engagement, AV/IT integration, event preparation and temporary overlay.
New on the show floor
An exciting first for ISE 2016 is the Drone Arena. Hosted by Stampede Global, the new area located at Park Foyer (outside the back of Hall 8), will welcome leading manufacturers and the latest product innovations, and will cover professional, commercial and consumer opportunities. It will feature education sessions and live demonstrations on every day of the show. There will also be a competition to win a drone.
As the unmanned aerial vehicle category expands away from its foundation in military, suddenly a world of opportunity opens up for the AV industry. Stampede's President and COO Kevin Kelly comments: "We're on the front side of a very large innovation cycle that our industry hasn't seen since the cell phone went from the military battlefield to the construction site."
ISE 2016 will see the addition of a fourth Show Floor Theatre. The Audio Solutions Theatre (sponsored by Tannoy), joins the already established Residential Solutions, (sponsored by KNX); Commercial Solutions, (sponsored by KNX); and Unified Communications (sponsored by Crestron) Theatres.
The four Show Floor Theatres will provide a unique opportunity for attendees to hear industry experts, consultants and manufacturers present the latest in workflow solutions, case studies, technology innovation and business analysis in an innovative and intimate setting situated in the halls of the RAI. Sessions are free to attend and registration is not required.
IT will continue to grow its prominence at the show. Research has shown that ISE is increasingly becoming a 'destination of choice' for IT professionals operating within the AV industry and for those looking to gain entry or secure partners within the international installation and integration marketplace. For IT vendors, IT professionals and the IT channel, ISE brings together the world's largest gathering of display and digital signage manufacturers and service suppliers under one roof.
Professional Development
In addition to the Show Floor theatres, ISE's co-owners CEDIA and InfoComm International will present an even wider range of courses at ISE 2016. Both associations will offer more of their popular technical and business education, with offers in place for early bird discounts, as well as on-site certification, allowing attendees to gain globally recognised qualifications without leaving the show venue.
More news on pre-show events, professional development and new features taking place at the show are expected to be announced in the coming weeks.
Register now for ISE 2016 online, saving the €80 on-site registration fee, by using the following invitation code 379569.
For latest updates on the shows development, check the Integrated Systems Europe website on a regular basis: