In 2015, the Anhembi Park in São Paulo accommodated the "WorldSkills Competition". The competition of the best international trainees, aged below 23, takes place every two years and is the biggest vocational education and skills excellence event in the world. The Competitors represent the best of their peers and are selected from WorldSkills' Member countries and regions. From 11 to 16 August 2015 technical abilities, both individually and collectively, were demonstrated, and specific tasks, for which the competitors prepared themselves and will perform in the future, were executed. With more than 1,000 Competitors from 52 countries, the 2015 edition of the WorldSkills Competition was the biggest international competition of its kind ever held.
For the discipline of Electrical Installation (Skill18), KNX was again selected as the only technology to be used. Thanks to the thorough preparation from all institutions involved, the competitors showed excellent handling with the certified KNX devices, they had to install, as well as with the Engineering Tool Software, ETS5. The participants were easily able to show and feel the whole potential of the worldwide STANDARD for home and building control, thanks to the simplicity of the used KNX push buttons, switching energy and shutter actuators, weather station, dimmers, etc.
"Today's youth is adjusting quickly, which is extremely important in these fast moving times, we live in. We are proud that KNX highly contributed to the worldwide biggest skills competition and underlined the importance of the international STANDARD for home and building control.", said Franz Josef Kammerl, President of the KNX Association. "Understanding the importance of international standards is leading the way to a more successful future."
Different from the previous editions of WorldSkills in London and Leipzig, the competitors had to show extra skills, since the competition included the installation and the wiring of the devices to working stations as well as the configuration. Thanks to the support of the KNX Technical Expert team, every participant had the opportunity to get support and comfort at any time.
After 4 exhausting days, the winners emerged. KNX Association would like to sincerely congratulate all participants for their great achievements during competition. Special appreciation for the flawless competition is delivered KNX Technical Experts on site, the KNX Members and Partners, the KNX Training Centre Amaysis and Eurodomotica, as well as KNX National Group Brazil.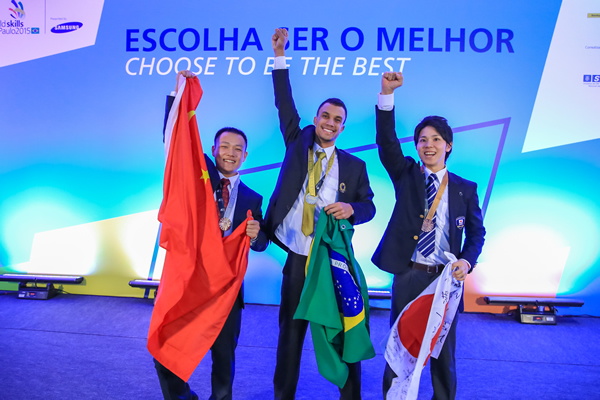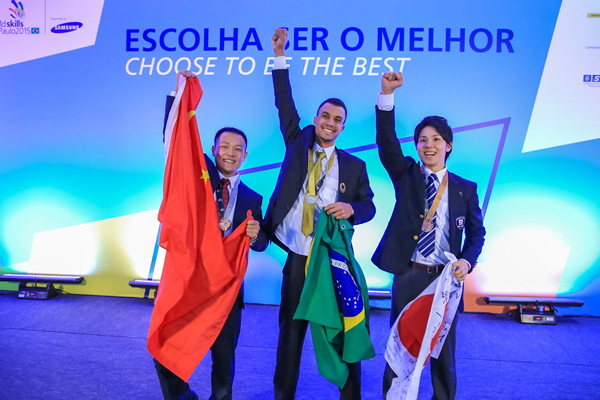 "To set standards, that is connecting KNX and WorldSkills São Paulo 2015", said Per Svensson, Chief Expert of WorldSkills. Due to the growing importance of skills, KNX Association is looking forward to supporting the next skills competition all around the world.