At ISH, the leading international trade show for building, energy and air conditioning technology and renewable energy sources to take place in March 2015 in Frankfurt, Germany, Siemens will exhibit its current portfolio of products, systems and solutions for energy-efficient rooms and buildings as well as heating, ventilation and air conditioning (HVAC) technology. Highlights will include the Desigo CC building management platform, web-based systems for remote maintenance of HVAC equipment, new compact controllers for room automation as well as new products from the Acvatix range of valves and actuators.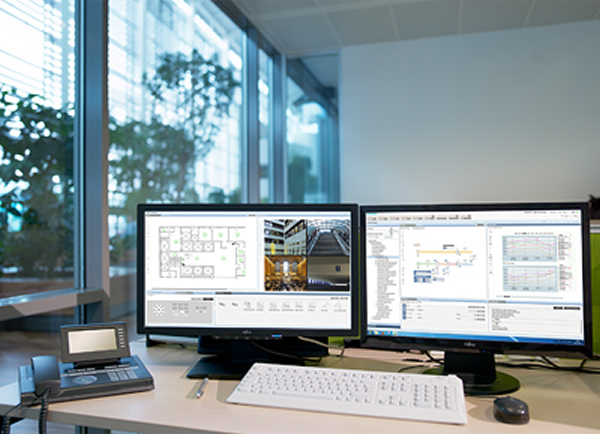 Siemens will present its Desigo CC building management platform at ISH.
To facilitate the management of multiple building disciplines, Siemens will introduce its Desigo CC building management platform. This system is one of the first on the market to bring together different disciplines so they can be displayed and controlled from a single user interface. This management platform can integrate some or all disciplines ranging from building automation (heating, ventilation and air conditioning) to security and fire safety to lighting. As a result, Desigo CC ensures maximum building performance when it comes to energy efficiency, fire detection and security.
Siemens has expanded its range of room automation products for HVAC, shading and lighting and will present Desigo DXR2, its new compact room controller series. These compact controllers come with standard applications for HVAC and electrical equipment and are very easy to install. The preloaded applications include control of heated and chilled ceilings, air volumes and fan coils. In addition, control of electrical disciplines such as lights and blinds is easy to add. Depending on the variant chosen, system communication is based on BACnet/IP or BACnet/MSTP.
Siemens will also present the Climatix IC and Synco IC platforms, which enable the web-based remote maintenance and operation of HVAC equipment. Using these platforms, service technicians, end customers and original equipment manufacturers (OEMs) of heating, ventilation and air conditioning (HVAC) equipment can check the status and efficiency of all connected HVAC components at any time. They can diagnose issues, optimize settings and perform system updates, all without a technician needing to be present on site. The data is encrypted and transmitted securely via a web server; access to the data can be custom-configured based on the user's area of responsibility and role. Access to the web platform is optimized for tablets and smartphones.
From its Acvatix portfolio, Siemens will present new valves and actuators for HVAC and chiller systems. New products in the expanded range include control ball valves with outer threads, combi valves with nominal sizes up to DN 150, short-stroke actuators and flanged valves. The weight and flow behavior of the flanged valves has been optimized; they are compatible with all major pressure ratings and applications. All new valves and actuators offer superior handling and improve the energy efficiency of HVAC systems. In addition to its valves and actuators, Siemens offers aids and tools that help planners and installers with their daily work.
In line with its trade show motto, "Power up your efficiency," Siemens will show how its products, systems and solutions can create an optimal balance between energy efficiency and room comfort in commercial buildings. Beyond the highlights described above, Siemens will also present integrated applications based on its Gamma and Synco portfolios. Integrated applications are standard solutions for energy-efficient, demand-based control of electrical and HVAC equipment in rooms, with room devices communicating directly with the primary system using the KNX protocol. Siemens will also showcase its offerings for manufacturers of variable air volume (VAV) boxes.
To round out its trade show appearance, Siemens will present its consulting and service portfolio, its special offerings for technical designers as well as the training program of BT Academy, which offers around 100 basic and expert building technology courses every year.
For more about ISH, please visit