Every year the heating bill is a vexed issue. The energy for heating is becoming increasingly expensive, and 2014 is no exception. In fact, the cost of heating accounts for the largest share of costs in private households. So for homeowners and tenants being able to see their energy consumption at a glance means they can take advantage of savings.
To recognise these potential savings, continuous automatic monitoring of energy consumption values ​​is recommended. JUNG's KNX Facility Pilot can show a graphical display of oil, gas and electricity consumption – even over extended periods, such as months or years. This makes optimal consumption control easy. These results can be used to optimise the heating energy for every room in the house.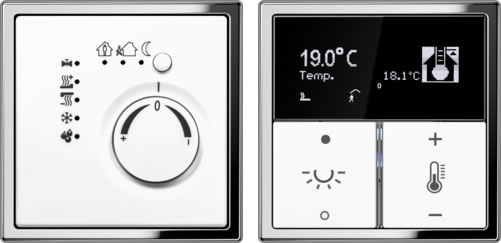 KNX control supports the efficient heating in each room. Continuous monitoring, room controls and touch sensors in JUNG's diverse switch range provide the optimum comfortable temperature. Thanks to individually adjustable operating modes and scenes, the desired temperature can be programmed individually for each room, for example, depending on the usage times. The general rule is that lowering the room temperature by just one degree saves about 6 percent of the heating cost, but it is almost impossible to manually make the adjustments at each separate heating zone. JUNG's solution can make the adjustments automatically, and can also be used to avoid the excess heating of unused rooms by simply not heating them if they are unoccupied or not heating them in the night. Such intelligent economies with energy consumption pays off, because no one wants to 'burn' their money unnecessarily!