By Simon Buddle, SMC.
There is a plethora of electronic systems being installed in the home these days, and an even greater number of installers vying for the business. From the client's perspective, there is increasing value in choosing a single company to design and install the low-voltage systems. From concept design through the build phase, commissioning and ongoing maintenance, the integrated nature of the systems requires layers of knowledge and expertise that are difficult to bring together when many companies are involved.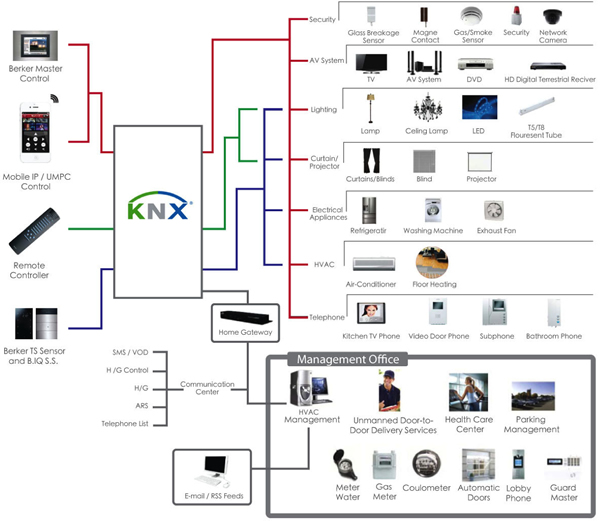 A project manager who understands the KNX TCP/IP requirements on both sides of the gateway along with an understanding of how to bring the door intercom signal onto the telephone system is becoming increasingly sought-after. It should therefore be part of the sales pitch in this day and age, to extol the virtues of a single point of contact coupled with expansive knowledge in multiple fields.
The Importance of the Client's User Interface
It ought to be a fundamental part of our system design strategy, to place at the forefront of the concept, a strong set of form and function values for client system interfaces. 'Wall acne' has been the scourge of many a house in the past; heating controls adjacent to light switches, air conditioning displays and a video intercom handset thrown in for good measure, almost a metre of nicotine-yellow face plates all roughly in a line, that no custom paint mix will ever match.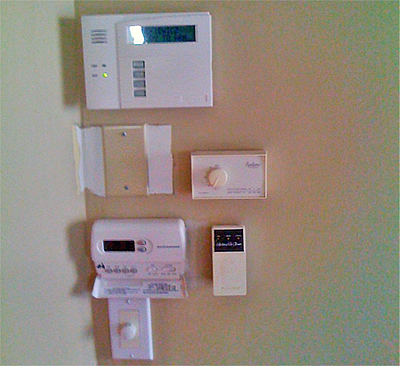 The function element of on- or in-wall controls should, in my view, largely be used for operating the building – the building management system. I see little value in, for example, TV or music controls being in the wall, unless of course you've got infrared connectivity – but even that has its pitfalls. People are used to facing the TV to operate it, and indeed they are watching the TV, not looking at the remote when they use it.
I like to 'set my room up' when I enter it, and rarely will that change over the course of the following few hours. Blinds, lights, heating and air-conditioning coupled together on a single elegant keypad should be a prerequisite for any new home. Gone are the days of a separate underfloor heating controller, radiator thermostat and towel rail switch for the bathroom.

In order for one simple switch to be the point of control, ideally one company should design and install the systems. The placement of entry phone units and touchscreens should be appropriate to their use and the client's needs. Alarm panels should typically be on exit routes and probably one in the master bedroom for night-time setting. However, I'm sure you'd agree that in most instances, none of these is required in every room.
Most likely a large screen, such as the Gira Control 19 Client, will operate almost as a master control unit for both control and feedback from smart meters, heating systems etc. Maybe this device is best placed in an open space such as the kitchen/dining area or hallway, or possibly your client may just wish to access the Gira interface via a tablet or PC device. No need for one in the downstairs WC I guess – just fit a presence detector and the WC switching problems are solved (as well as a hygiene issue).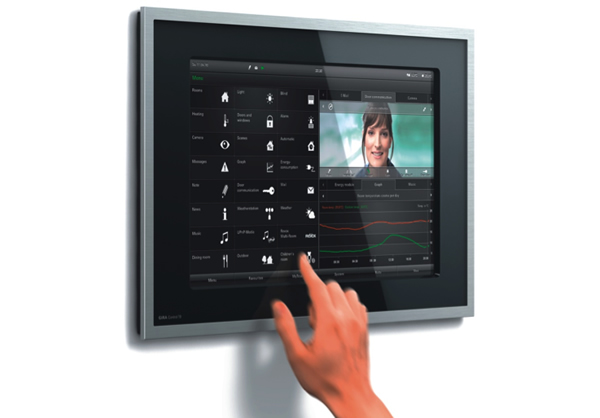 KNX Means Choice
The quantity and quality of great keypads has never been better for KNX dealers, so if you are designing a control system, take advantage of the ever-growing range of elegant controls, but ensure that what you choose is appropriate in terms of form and function for the rooms in which it is to be used.
Conclusion
Bringing together many low-voltage systems onto a single control platform would be difficult without KNX, but impossible without dealers who can design and install across the multiple systems.
It's time to tell clients exactly what our skills are, why they are invaluable and most importantly, why we actually offer good value for money. The money-saving element of integrated systems cannot be overstated, with significant savings to be made on energy bills and maintenance. Perhaps more importantly, but potentially hidden from the client, are the costs and headaches involved when too many companies are dealing with the services. Surely we should be shouting about these costs from the rooftops!
Simon Buddle is the Technical Director of SMC – systems integration consultants and installers. Simon is also a regular contributor to KNXtoday.
You are welcome to comment on this article. See below.