New restaurant also features 24 state-of-the-art Niles in-ceiling speakers.
Successful restaurants run like clockwork, so it's important for owners to streamline as many processes as possible. Renowned Irish interior designer Kris Turnbull recognized the overwhelming importance of this truth when he installed an ELAN g! system to automate music and TVs in his design studio last year, so when he recently opened his new restaurant, Saphyre, attached to the studio, he installed the g! system to make the lighting and music stress-free and easy to control.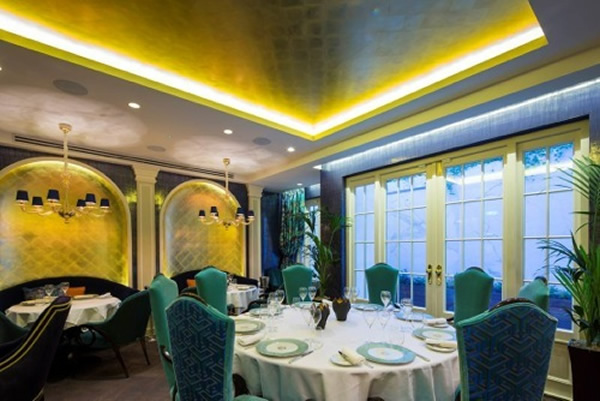 "I'm blown away by the popularity of Saphyre just three months after opening," Turnbull said. "We've gotten great reviews so far, and we're booked three weeks in advance so it's been a huge success. One thing that made the launch a bit easier was having the lights and music run through ELAN g! so we can adjust all the lights and speaker volumes from an iPhone as we walk around the restaurant. It saves us time when setting up or closing the restaurant because we can turn every function on or off with a single button, and set all the lighting and volume levels from an iPhone while walking through the restaurant. What the g! system really does is allow us to focus on our guests and their experience, and immediately respond if anyone wants more light or quieter music at their table."
Working with Matthew Booth of Indigo Distribution, Kris helped design the lighting and audio systems to maximize the upscale ambience of the restaurant. The Belfast Telegraph described the dining room at Saphyre as "part Faberge egg and part Fifth Avenue apartment as might have been occupied by Jackie Onassis." In addition to the audio and lighting, everything from the flooring to the tables to the server uniforms was carefully considered to create a stark contrast to Belfast's flourishing hyper-casual dining scene.
According to Booth, any restaurant, from a sports bar to fine dining establishment, can benefit from automated system control. "Whether it's the ability to dim all the lights at once, manage 15 TVs with 15 different channels, or simply lower the music a bit, having full control of everything right on your smartphone is a huge time saver and is impressive to guests as well. People love getting special attention, so when a manager walks over and makes adjustments right in front of their eyes it brings customer service to a whole new level."
Using 24 of Niles nearly invisible in-ceiling speakers, Booth was able to provide premium audio while maintaining the design of the restaurant. In fact, one section with a step ceiling had such little space that Booth had to get creative: he took one of Niles' new Cynema Soundfield soundbars, removed the three small individual speakers, and put all three in the ceiling! That's a truly custom installation, and an inventive use that even Niles itself hadn't considered. Using an ELAN S1616A multi-zone amplifier/controller, the speakers can be individually adjusted so that music in the bar area can be louder while the dining area is quieter.
According to Booth, "The speakers are so well placed and calibrated that we can run the system at a very loud volume, and people can still carry on conversations. So the guests can be surrounded by sound, but not feel drowned by it. This continues into the bathrooms, the attached boutique that sells high-end housewares, and even the outside the building with Niles OS6.5 outdoor speakers. "
The KNX lighting system helped eliminate wall clutter, as there is no need for light switches in each area or room. The lighting controls, which handle 14 lighting loads, are consolidated in an equipment room and can be quickly controlled through the ELAN g! Mobile app.
Turnbull has become so enthralled by simple system control that he's installed the ELAN g! system at his home and his parents' home. He's become an early adopter among design professionals, who have traditionally been hesitant to consider technology when creating their designs.
"Technologies for homes and businesses are advancing at an incredible pace, and I feel it's absolutely necessary to keep up with new developments as an interior designer," Turnbull said. "What ELAN has done is make the technology seamless, so you don't even notice it's there. The in-wall touchscreens they make are minimal and easy to use, and using the g! system allows homeowners and business owners to simplify all their systems. If someone doesn't want light switches, thermostats, cable boxes and other technology components cluttering up their rooms, a control system allows them to put everything in a central location and control it from an iPhone or tablet. I think designers who resist learning about these systems will have trouble in the coming years as more and more clients request high-value added technologies when designing their homes or businesses."