The recent surge in energy prices is likely just the beginning of a trend that is here to stay. And everyone, from individual households to entire industries, is affected. We are at a historic turning point, and smart energy management systems will be crucial to navigating the transition toward sustainably-powered buildings.
Today's homeowners want to use less energy, but they need a simple solution to know which habits and behaviors to change to effectively lower their energy bills and reduce their impact on the environment. They also want to make informed decisions about investments in renewable energy equipment like solar panels and heat pumps for their homes. Gathering energy data from the installation is an important part of giving homeowners this information. But making that data easy to access and use is just as important.
This is where smart energy systems like the Wiser KNX Home Energy Management System come in.
Energy awareness and energy history data play an important role in increasing energy efficiency and lowering consumption
The Wiser KNX App, part of Schneider Electric's Wiser KNX Home Energy Management System, can be used to control the home's entire KNX installation, but it also transforms energy data into actionable insights that homeowners can use to reduce their consumption and increase energy efficiency.
The app's PowerFlow screen shows how much energy is being produced and consumed in real time by the different loads monitored.
The history screen features a detailed period breakdown of all production sources and loads.
Energy costs in the installation can also be tracked through tariff management.
For systems with solar panels, the system can integrate PV inverters and batteries.
For homeowners with electric vehicles, it can also integrate Schneider Electric's EV Link Pro AC charging station.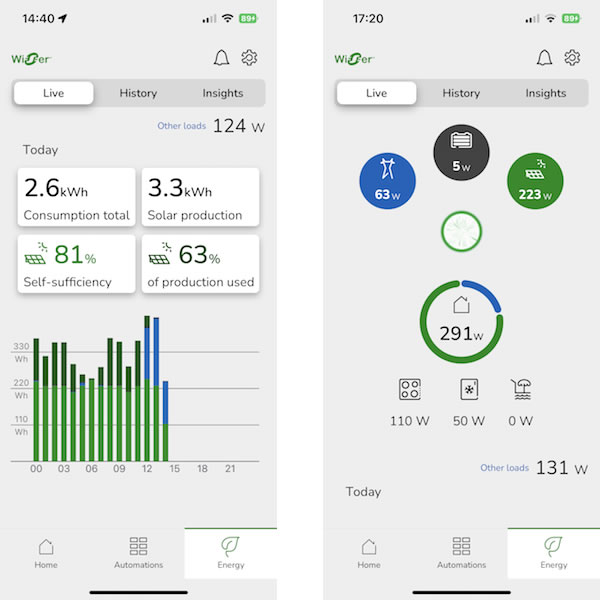 Another step toward converting consumers into prosumers
Given today's volatile energy market, consumers are now taking proactive steps to reduce their consumption, and they are already seeing the direct impact of their efforts on their energy bills. Consumers now have detailed energy data they can use to manage their devices more effectively, reduce stand-by mode, and upgrade home heating systems, domestic hot water heaters, and major appliances. For consumers just starting their journey to becoming prosumers, this means investing in solar panels, storage batteries, and electric vehicles, which makes having detailed real-time data even more important for decisions like when to charge an EV or run appliances off a full storage battery.
The Wiser KNX App lets users make the most out of their Smart Homes for greater comfort, safety, and energy efficiency.