Optimise energy consumption and save up to 30% on energy bills with xxter's Smart Energy Manager. Now more than ever, with global warming, other climate changes and the geopolitical situation, the energy transition is becoming more important every day. In this unprecedented energy crisis, energy management has become a high priority for building owners. xxter has a solution that both maximises energy efficiency and grid capacity.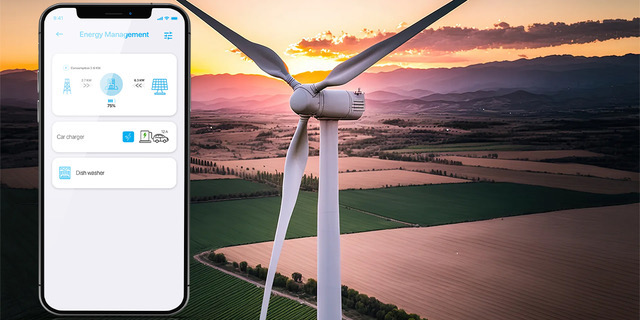 The xxter Smart Energy Manager combines all available data to manage energy smarter in a building or home. It ensures energy is used during the moments the demand for energy is low, resulting in a more distributed energy demand and thereby lower costs. By combining user preferences and data from many sources, like solar production, weather forecast and dynamic pricing, a schedule is made for the energy endpoints. For example, the Smart Energy Manager uses weather forecasts to predict the output of solar panels, dynamic prices to schedule smart charging of your car, and much more.
By actively managing the use of solar panels, smart charging of electric vehicles, and running of appliances when energy demand and prices are lowest, the installation is more self-sufficient and energy costs can be reduced by 30%.
There is huge potential for energy usage optimization with the proliferation of renewables and smart devices in homes and businesses. Our Smart Energy Manager fills that gap by smartly using data and automation to enable households to use cheaper energy, while at the same time supporting energy suppliers in managing the grid. We are pleased to launch this innovative solution for a more sustainable energy future." Says Harm Elzinga, CEO of xxter. "The Smart Energy Manager from xxter is KNX compatible. KNX is the most reliable standard for an electrical installation, hence offering the best quality and the greatest continuity possible. However, with some small adjustments even a building without a KNX installation can make use of our Smart Energy Manager and take advantage of the benefits."
The benefits at a glance:
Reduce energy costs by up to 30% by optimising energy consumption
Maximise the use of self-generated (solar) energy
Automatically charge your electric vehicle and other devices when energy demand and prices are lowest
Run appliances automatically when energy demand and prices are lowest
Reduce your carbon footprint
The Smart Energy Manager is implemented free of charge in every xxter. Currently, you also get a free KNX recorder with your order, so order quickly at sales@xxter.com. 
Discover more at: