Top innovation from Engelskirchen
Always on the pulse of time and with the needs of the customers in mind: the German KNX manufacturer MDT technologies GmbH from Engelskirchen, near Cologne, belongs to the innovation elite of German medium-sized businesses. In February 2023, the company was awarded the TOP 100 Innovation Award of the German SME sector for the eighth time in a row.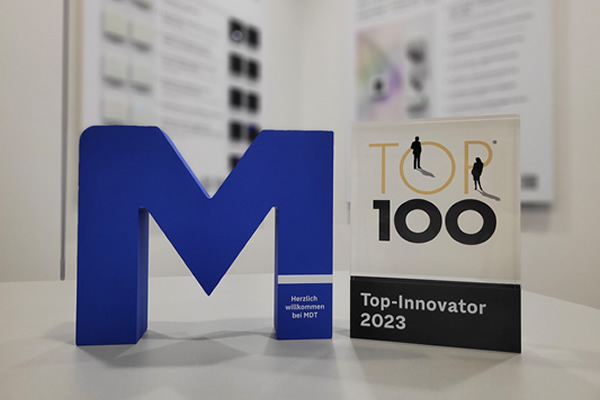 MDT technologies has been manufacturing electrotechnical products for almost 40 years, and since 2009 the company has specialised in KNX technology for smart building automation. As one of the leading manufacturers of KNX products for the automation of commercial and private buildings, MDT offers one of the most comprehensive KNX product ranges on the market with 300 different KNX products.
"TOP 100 is about the question of how important the innovation target is within the company," says Prof. Dr. Nikolaus Franke, scientific director of the competition. "Do routines and habits dominate or is the company capable of questioning the existing, thinking creatively and in new ways and successfully implementing them in the market? We analyse this ability using more than 100 test criteria," he explains.
This year, MDT was able to convince with new products such as the two energy meters, EZ-0320.01 and EZ-0363.01, and with further innovative development of the new series Glass Push-button II Smart, BE-GT2XX.02. The team's main focus is on the added value for system integrators and the future consumers. As an example, the new series of the Glass Push-button II Smart with the new "mapping function" offers a significant simplification of programming. A clear advantage for the system integrator. Another new feature is the possibility to display of up to six values in standby mode, giving the consumer an immediate overview of the yield of a photovoltaic system, electrical consumption, temperature, air quality these being important values related to energy efficiency, and other values.
CEO Roger Karner is excited about the 8th Top 100 star in a row: "Companies have no future without innovative strength. Particularly in the fast-moving field of building automation, we must be on the pulse of time in order to be able to offer customers what they require. Today, the main theme is the energy efficiency of buildings, and that's exactly what we make possible for the broader spectrum with our products. With a KNX system, with our components, customers can create a smart building that only uses energy when it is really needed. This is how we are contributing to the energy transition."