KNXAssociation is stepping up its efforts in the fight against climate change and has announced the first KNX Hackathon on the topic of sustainability for this year. The two-day event will bring together the global KNX community to share experiences, ideas, best practices and effective solutions for reducing the energy consumption and the carbon footprint of homes and buildings by using KNX technology. The winners of the competition will be awarded the prestigious "KNX Hackathon 2023" trophy and prize money. Registrations can be made at Hackathon.knx.org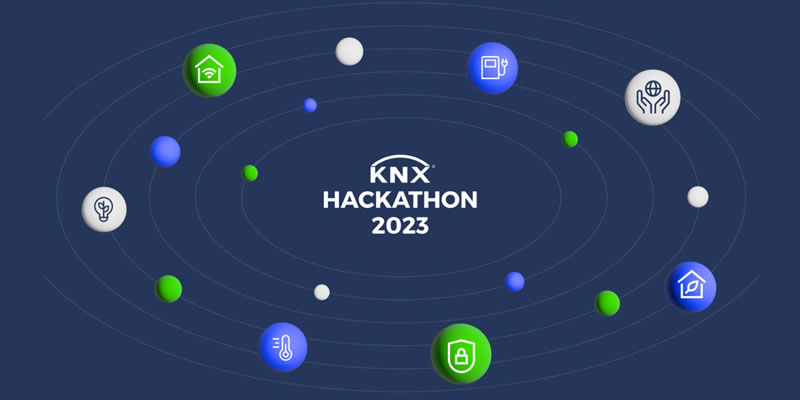 Joining forces to create a more sustainable future with KNX
Sustainability has been one of the most important topics for KNX. Thanks to its ever-evolving features, versatile applicability and broad interoperability, the world's leading technical standard for smart homes and buildings has been the foundation for the most innovative and ground-breaking energy management solutions in the residential and commercial building sector. And while KNX is already widely recognised for improving people's lives and positively impacting the climate, the KNX Hackathon will once again demonstrate how powerful KNX technology can be when it comes to energy savings and to the reduction of the carbon footprint of smart homes and buildings.
Proving that KNX makes an impact in saving energy and reducing carbon footprint emissions
The competition is open to anyone from all over the world who is able to demonstrate how to save energy using KNX. Any individual or team can participate, including students, hobbyists, professionals, scientific partners, manufacturers, etc. KNX will bring all participants together at in-person and virtual events to deploy how to solve the challenges set by KNX experts. There are different challenges to solve already available from which participants can choose one or more.
All challenges at a glance
Find the best configuration for a specific KNX device selected from the universe of smart products to achieve the most energy savings.
Create the best solution that combines various KNX smart products like sensors, actuators, interfaces, monitors and screens to reduce the use of energy of different devices.
Develop a KNX energy management application that integrates one or more renewable energy sources into a smart home project in the most efficient way.
Build KNX solutions that can deal with excess energy generation by enabling the proper use of this extra energy in smart homes and buildings.
Set your own challenge to create KNX solutions for saving energy or measuring the reduction of the carbon footprint.
Free promotion for every valid submission
A submission to the KNX Hackathon – be it a single device, a solution, or a complete project – must prove that it saves energy by using KNX in order to be valid. Every valid submission will be promoted via different communication channels, and it will be assessed by a specially appointed jury of industry experts that will choose the finalists and winners of the KNX Hackathon 2023. The jury will base its decisions on how and to what extent the submitted KNX solutions or KNX projects contribute to the reduction of the energy consumption and the carbon footprint of smart homes and buildings.
Registration is now open!
The KNX Hackathon itself will take place as part of the KNXperience on the 26th and 27th of September. However, participants can already apply for their participation and start on the various challenges to get their submissions ready in time. The winners will receive the prestigious "KNX Hackathon 2023" trophy and prize money.
For more information about the KNX Hackathon 2023 and to register for the competition, please visit: