In this last article of her four-part series on Light + Building – the world's leading trade fair for home and building automation, Yasmin Hashmi gives a flavour of what's new in the world of pushbuttons, touchpanels, gateways, servers and tools.
Pushbuttons and touchpanels
Whilst plenty of new product announcements have been made since 2018, it was great to be back at Light + Building in Frankfurt to see what's new, in the flesh. Zennio had the new Tecla range of polycarbonate capacitive touch wall panels on show, as well as the Flat range of capacitive touchpanels, all of which are customisable. A new addition to the Zennio Z series of touchscreens that support intercom and voice control, as well as allowing the user to program their own scenes, is the forthcoming Z28 that will support 36 control points in a 70mm x 70mm frame.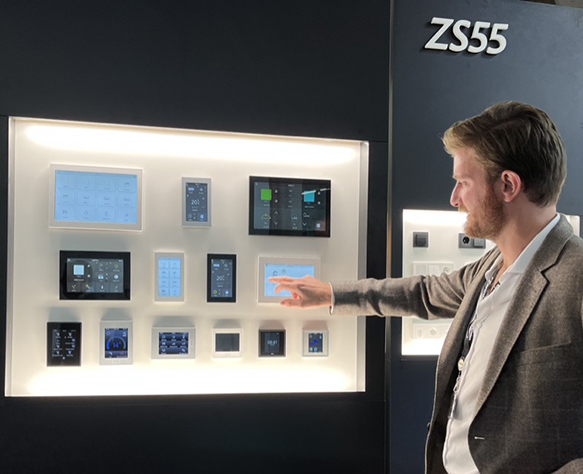 New from MDT is the Glass push-button II Smart controller with display surrounded by pushbuttons that can easily be assigned to groups of functions through ETS. Also on show was the new Combisensor 55 CO2/VOC sensor that can be connected to displays and controllers for immediate visual feedback as to whether the air is good quality; the EZ Energy Meter for measuring a specific device or the whole home for load management; updated VisuControl Easy II visualisation; a leakage sensor that can be put next to a washing machine for example; and a twilight sensor.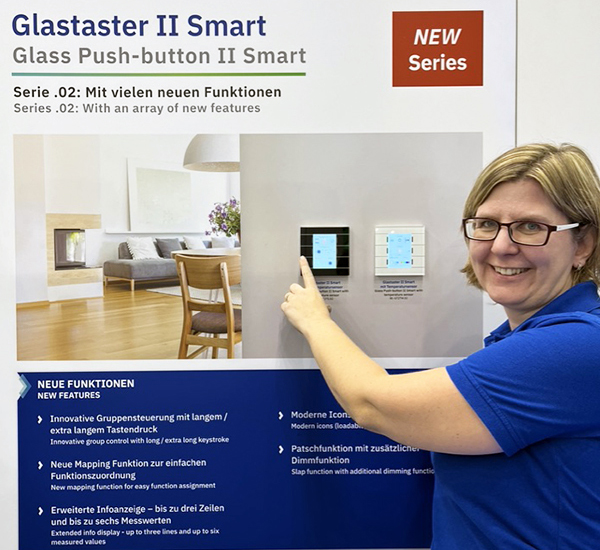 Big news from Ekinex was the Signum touchpanel with integrated thermostat and audio control. It has a proximity sensor to wake up the screen, and offers three swipeable pages, each with a maximum of 4 keys that can be customised with a choice of symbols and languages. It also has a QR code that can be scanned by the installer using a dedicated app, for making post-installation changes. It has the same design aesthetic as the Ekinex 20VENTI series, which itself has a new chrome finish in different colours.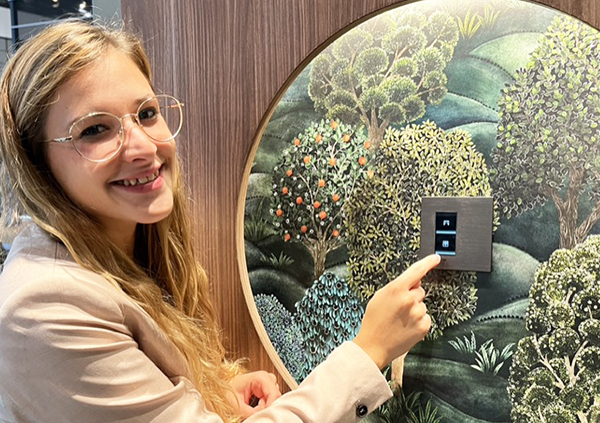 As part of its Basalte Home system, Basalte offered the new Fibonacci keypads with proximity sensors, backlit labels and night light; Plano in-wall speakers; the Miro remote control; the Lisa touchpanel; the Lena touch display in various finishes; and the forthcoming Adelante columnar modular door phone with an e-scan badge reader, screen, doorbell, and two types of camera.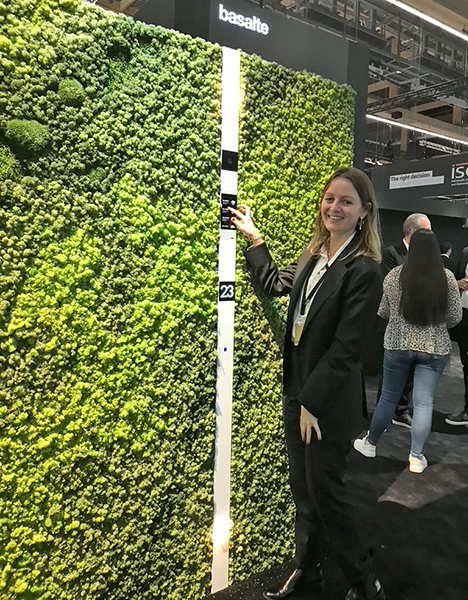 New from, iluxus is the Athene B4 KNX 1-4-gang pushbutton in full brass; the B4 Square room controller in full brass with changeable frame colour; new hotel doorbell units in brass; a room number plate; and card holders and room controllers. The company is also offering new air-conditioning gateways for various brands.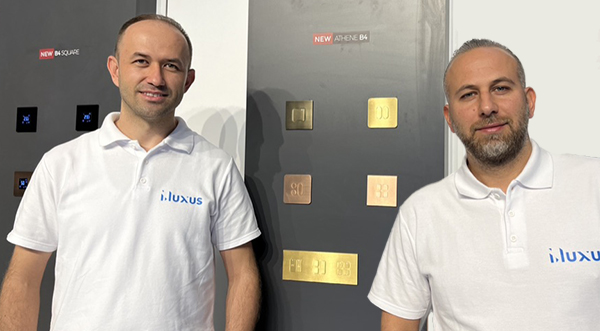 Lingg & Janke is keen to stress that all of its products have been switched over to KNX Secure, and all of the microcontrollers in its products have been changed in order to mitigate for the global microcontroller crisis. For older KNX installations, the company offers a new pushbutton interface with an extra feature to prevent downloading/hacking of other device data on the bus line.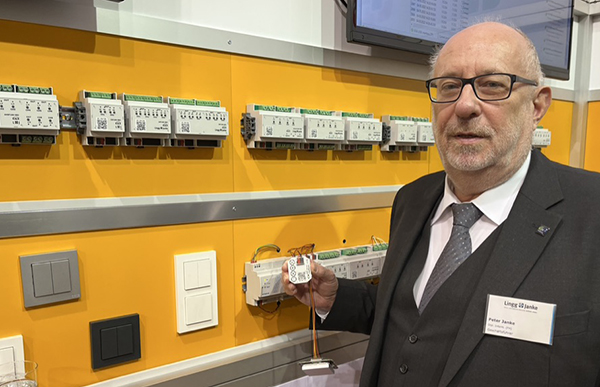 Known for its self-powered energy-harvesting wireless switches, ZF was showing the KNX-RF Switch Module that supports 6 functions and can be used with lights or blinds. Also available is a pairing adapter that provides battery power to the switch module and allows it to be configured directly using ETS, plus a media coupler that is powered by the KNX bus, connects KNX TP to KNX RF, and can act as a receiver for the switch module and other KNX RF devices.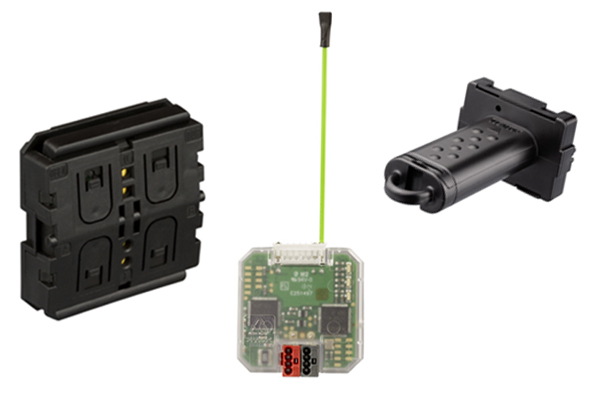 Gateways
Weinzierl Engineering was showing a range of new KNX Secure interfaces and gateways, including the MODBUS TCP gateway with a very high level of integration; a one-unit-wide KNX-to-IP interface that can be used to connect charging stations, photovoltaic inverters and HVAC; and wired and wireless IP routers. The company also highlighted new one-unit-wide KNX Secure KNX TP and KNX RF LED drivers in constant voltage and constant current versions; plus the battery-driven KNX RF/ENO Push Button 440 Secure that can be switched between EnOcean mode and KNX RF mode that is available in single and double rocker versions, with optional standard and glass frames. A useful tool for KNX ETS programmers is the new KNX USB stick that provides an interface to KNX RF, plus the KNX RF/TP coupler.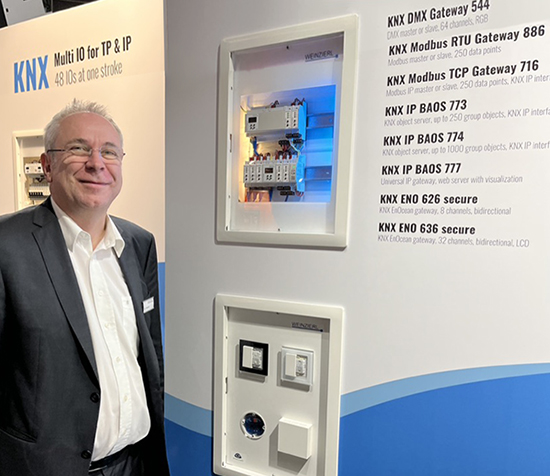 New from HM Networks is the 700series platform for Intesis protocol translators that allows multiple protocols to be combined in one hardware platform. This reduces the number of SKUs (Stock Keeping Units) that a distributor requires, optimising their lead times, and also means that the systems integrator can carry out late configuration by simply selecting the ideal application for their project using the Intesis MAPS configuration tool.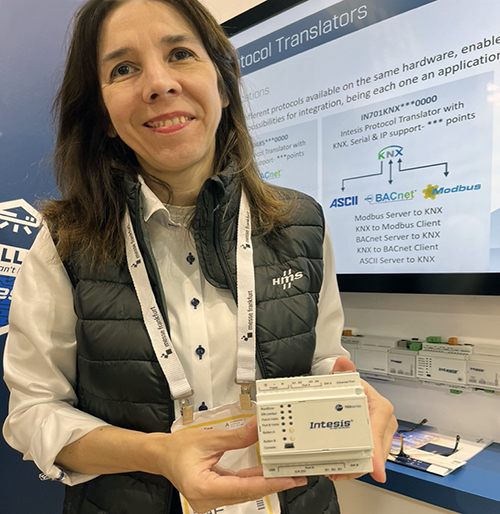 Ise, best known for its gateways, previewed the KNX RF Multi range of RF of products with KNX Secure. This included the KNX RF Multi radiator thermostat – its first battery-operated KNX device which is ideal for retrofit as well as new build; the KNX RF Multi/TP Media Coupler or RF Repeater; and the KNX RF Multi USB interface that can be used in conjunction with ETS to program, control or service an RF installation. Ise was also showing the Smart Connect series, including the Remote Access gateway with VPN, a range of heating system gateways, and the e-charge II that can coordinate up to five charging points from different manufacturers per gateway and includes dynamic load management and the ability to prioritise one charging point.

In addition to a range of new sensors, Eelectron was promoting hotel solutions. These included a KNX Data Secure card reader, and the forthcoming e-virtual key card reader that can Bluetooth with a guest's phone in order to open the door. It also supports mobile payment and security.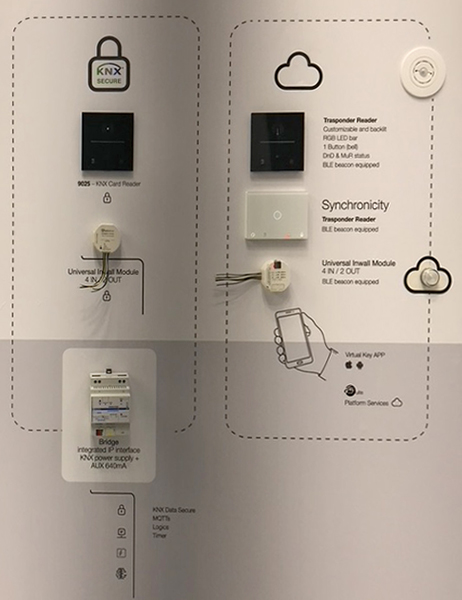 Servers
PEAKnx presented three smart touchpanels, namely the Controlpro 18" and Controlmini 11.6", both with customisable frames, plus the Controlmicro 8" in black or white. Each touchpanel has a KNX server built-in, so a separate server or IP router is not required, and each also includes a smart home app and the PEAKnx Youvi visualisation for standard home control functions plus modules for video door communication, bus monitor, camera, IP router, voice control, logic, and device bridges.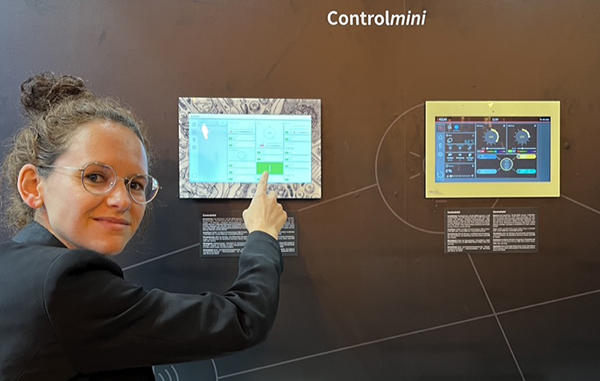 Gateway manufacturer Interra was previewing the IoT Edge server that is designed to communicate with multiple protocols using Node-RED-based drag and drop flow editing. To provide a gateway between, for example, MQTT (an OASIS standard messaging protocol for the IoT) and a KNX TP output simply requires and drag and drop action. The drag and drop method can also be used to create a user interface.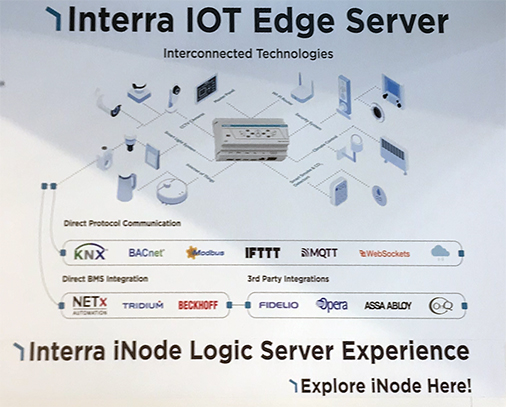 OEM developer Tapko is experienced in both whole-device and software-only development. Its SIM IP is a device that can connect third-party IoT systems to KNX bi-directionally, and the company also develops customised application programs for it. For those wishing to develop their own products, Tapko offers the I2C stack interface module for KNX and the KAIstack-secure evaluation board with KNX Secure functionality.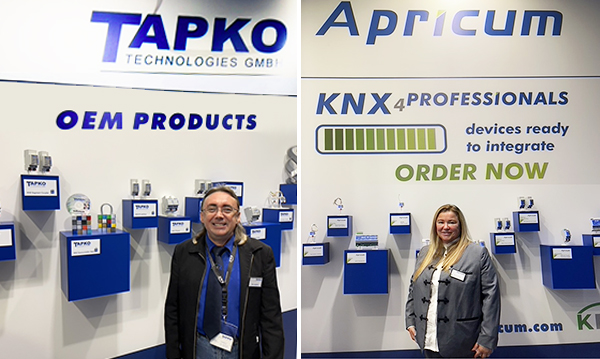 NETxAutomation presented the new NETx Cloud Portal that can remotely manage stations running the NETx BMS Platform multiprotocol gateway. The company also previewed the new release of the NETx BMS Platform, a highlight of which will be the new LaMPS app – a web interface for managing KNX/DALI devices.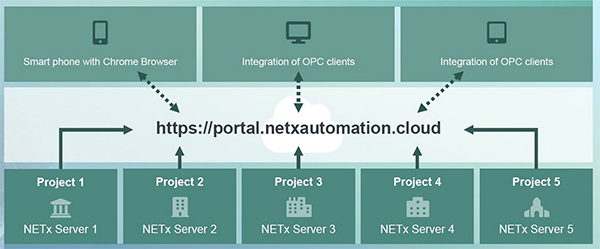 And finally, Pulsar Engineering had the new ThinKnx Micro, Compact and Rack servers on show, as well as its Envision touchscreen, and Trendline touchpanels. ThinKnx provides a gateway to numerous automation, security, VOIP/Intercom, home entertainment, HVAC and energy management protocols, with customisable user interfaces and a configurator tool.
The company was highlighting a range of residential and commercial applications including energy management and optimisation, and hospitality with integrated GRMS (Guest Room Management System). This included using the Trendline touchpanel in hallways and in-room to provide room number and pin code functions that could be useful for AirBNB for example, as well as in-room control of lighting and HVAC.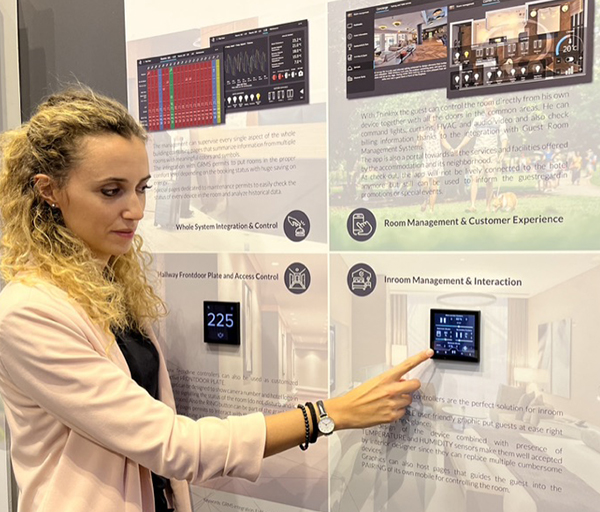 Conclusion
Whilst this article can only provide a flavour of the more than 120 KNX exhibitors at Light + Building 2022, some trends are clear to see. There are certainly more KNX Secure devices available, and more RF products. Furthermore, the user interface is becoming ever more beautiful and powerful. There is so much to choose from for the architect or interior designer, and many more built-in features, often including sensors, for the systems integrator to take advantage of. Congratulations to everyone who exhibited at Light + Building 2022. You have shown that the industry is not only resilient, but continues to offer ever-more excellent technology with which we can build a better future.
Yasmin Hashmi is the Editor of KNXtoday magazine.