Among the recent KNX Awards 2022 winners were some outstanding projects that showed just how versatile and flexible KNX is for installations in the home. Yasmin Hashmi gives an overview of two of these winners, with quite different project briefs.
Winner of KNX Award for Smart Home – Africa, America, Australia: JMS Villa in Iguaçu Falls, Brazil
After having survived a near-fatal infection of COVID-19 at the beginning of the pandemic, the client in this project realised that the most important thing in life was his family. He therefore wished to share his best moments with them in this new-build home in Iguaçu Falls, Paraná, Brazil.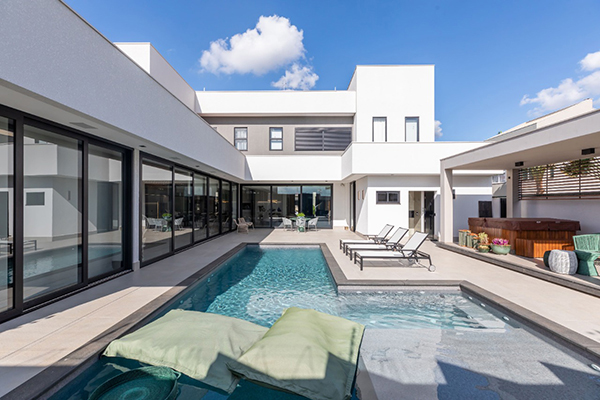 The client is a successful farmer, has companies overseas and travels a lot with his family. In addition to quality of life and comfort, it comes as no surprise that his priorities include security, especially since the house is located in a popular tourist area, bordered by two other countries.
KNX for the home
The client's previous experience with home automation involved a proprietary system, which had not been a success, and although he was already aware of KNX in commercial buildings, he didn't realise that he could have such comprehensive, modern and flexible technology in his home. He was therefore delighted to commission Arqtech Automação to provide a secure and comfortable automation system using KNX technology.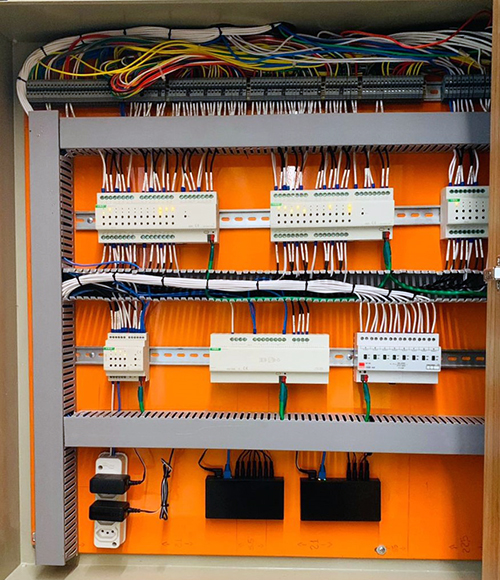 Custom control
The client had several system integration requests, one of which was that the solution did not involve numerous apps. Arqtech Automação therefore proposed their own custom interface which can be displayed on mobile devices including iPads and smartphones. It includes a 2D-floor plan adapted for each room, with different and exclusive icons for each type of control using LogicMachine by Embedded Systems. It also provides a dashboard to monitor power generation through the photovoltaics inverter.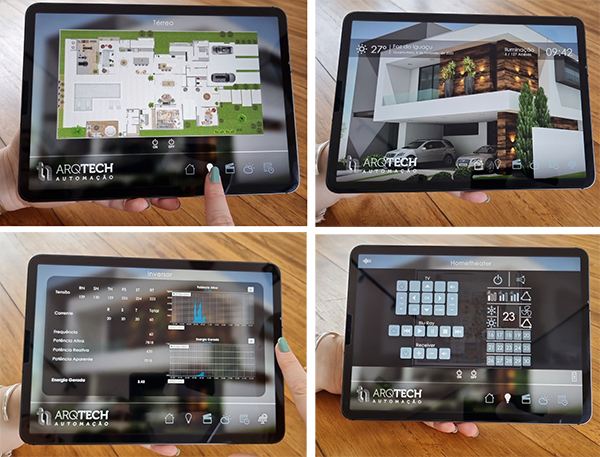 Using KNX integrated with iPad and smartphone controllers, voice assistants, keypads and thermostats, the system provides control over functions such as security cameras, dimmable lighting, underfloor heating, an electric car charger, air conditioning, an irrigation system, an outdoor hot tub, towel warmers, mirror demisters, RGB pool lights, pool pumps, and the home theatre system. In addition to a weather station, the automation takes advantage of sensors for presence, brightness, smoke, CO2, water leaks, and open doors, windows, closet doors and lockers.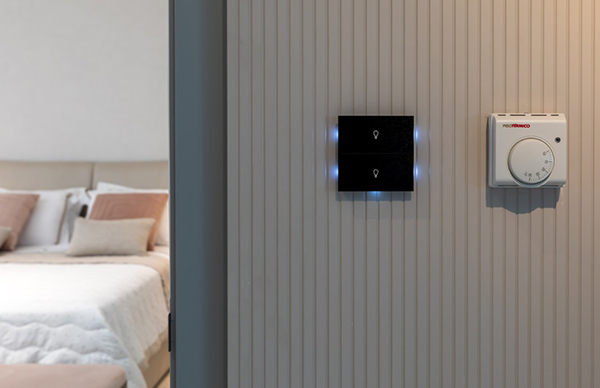 Why use KNX?
Form Arqtech Automação's point of view, KNX is a joy to work with because it allows them to work with a wide choice of brands and manufacturers from different countries and continents, whilst also giving them freedom as integrators. All of this greatly benefits their clients.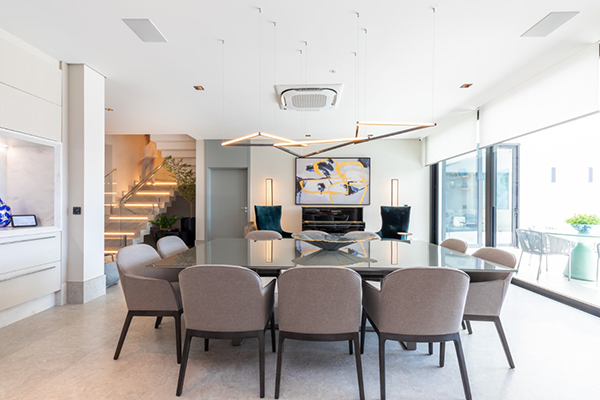 Winner of KNX Award for Smart Home – Asia: The Baku White House, Baku, Azerbaijan
The Baku White House is an extraordinary high-tech home covering 700 square meters. It is owned by a client who requested that everything be fully automated and require minimal user input – the most they would be required to do is activate scenes for the whole house or various rooms, as simply as possible.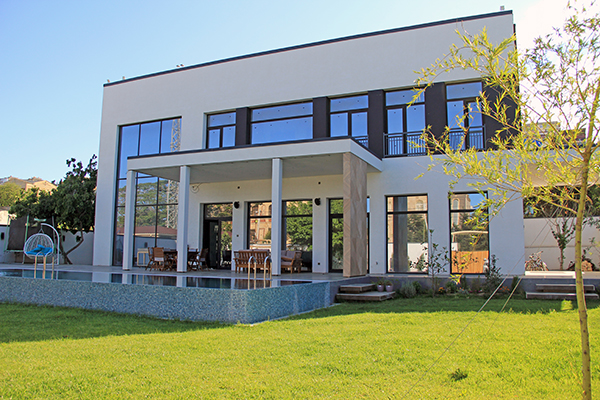 Complete home automation using KNX
Okal Electric designed a system controlled entirely using KNX, including the BMS (Building Management System). For Okal Electric, the main reason for selecting KNX is not being beholden to any single manufacturer, rather, products from different manufacturers can be mixed and matched, yet all work seamlessly together.
As their CEO, Sharif Karimov puts it, "KNX is preferred in most commercial and residential buildings as it provides high-level quality control and comfort. The KNX system has lots of advantages such as flexibility and high-level efficiency. The system can be expanded, reprogrammed or adapted to user requirements, and as a de-centralised system, KNX is the most sustainable protocol for residential automation."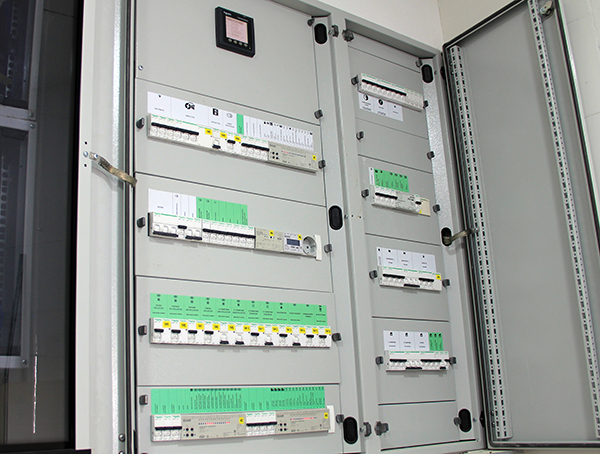 Total control
The BMS controls the water supply and treatment, irrigation, pool filtration and level, boilers, pump room, the AHU (Air Handling Unit), the VRF (Variable Refrigerant Flow) system, energy metering, the solar panel system, alarm systems etc. All systems work completely automatically according to weather conditions, light and twilight level, occupancy, and time of the day, based on data from a weather station as well as temperature, humidity, CO2, presence and light sensors.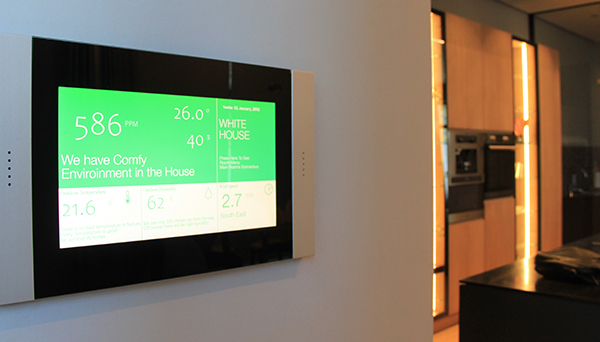 Integrated climate, shading, music and lighting control with dimming and light-temperature functions are designed to create a comfortable environment. The lights in the main areas turn on as cool white on weekdays in the morning, and as warm white the rest of the time. Lights switch on with minimal brightness during the night for comfort in bathrooms. The homeowner has almost no need to control anything separately – the most they do is press buttons 5-6 times per day, and/or use the integrated voice control.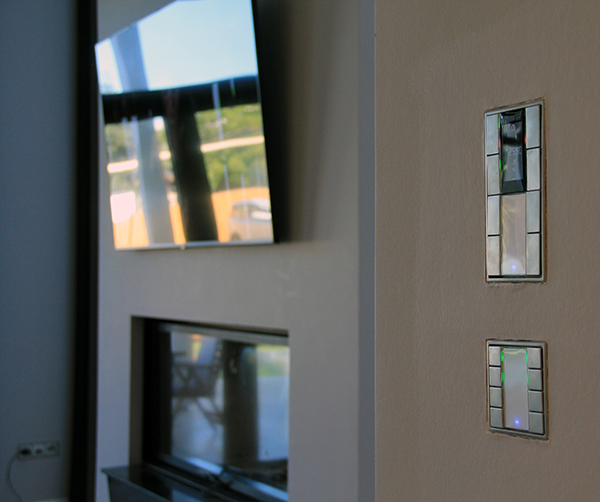 KNX is a mark of quality
Okal Electric chose KNX because, as their CEO, Sharif Karimov puts it, "Products that carry the KNX logo are a confirmation of high quality – these devices will communicate perfectly together and I don't have to worry about working with inferior products."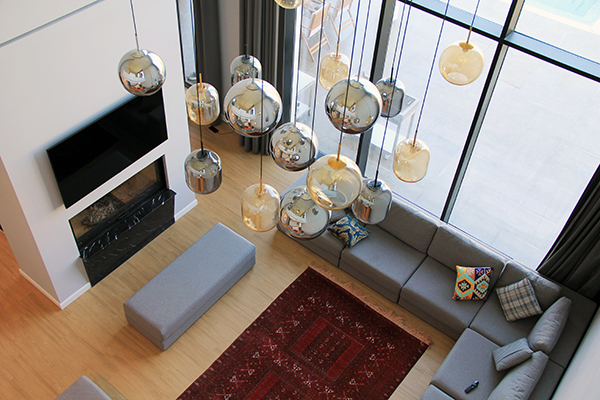 Conclusion
Nowhere is personalisation of control more important than in the home, and as these two award-winning projects show, KNX offers exceptional versatility when it comes to designing customer-sensitive systems. Whether the desire is for a hands-on or hands-off approach, the choice of product that KNX provides means that the KNX professional can create the ideal home control system for every client, whatever the brief.
More information on these projects and many others, including the products used, can be found at the KNX Association website under Projects.
A full list of Award winners can be found here.
Yasmin Hashmi is the Editor of KNXtoday magazine.