An unforgettable online celebration with proud winners from around the world
Day by day, ambitious, creative and innovative smart home and building projects are realised with KNX. After the application period for the KNX Awards 2022, 55 top quality KNX projects were selected and nominated from the large number of applications by a top-class jury. Twelve of them and 1 KNX Member received the globally coveted trophy after being introduced by renowned representatives and then announced as the winners during the online celebration. The event was watched by thousands from the worldwide KNX Community, and for the first time, the audience could cast the deciding vote for the People's Choice Award live.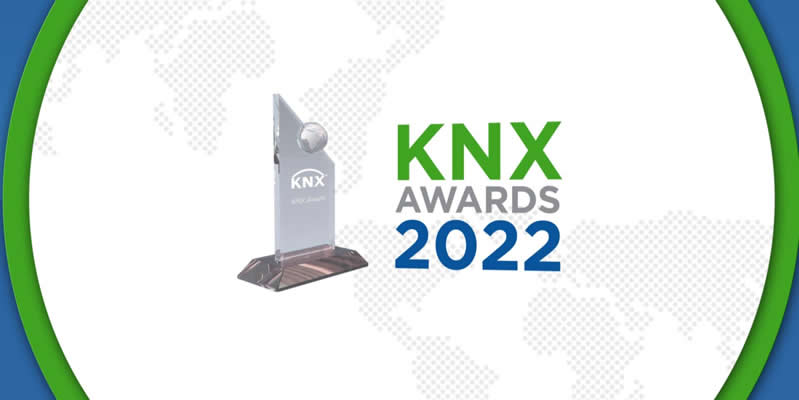 13 KNX Awards handed out by international VIPs of the industry
The award nominees in the thirteen categories were introduced by several prime figures of the home and building industry, who had then the honour to reveal the KNX Award winners: Craig Chapman, President of KNX Australia, Siew Peng Wah, President of KNX South East Asia, Rob van Mil, Marketing & Communication expert for KNX Belgium & KNX The Netherlands, Julie Beaufils, Secretary General of EuropeOn, Roger Bou, Founding Director, IoT Solutions World Congress, Yasmin Hashmi, Editor, KNXtoday magazine, Franz Kammerl, President KNX Association, Joachim Goeminne, Professor & Researcher Building Automation & IoT/ KNX Tutor of Odisee University of applied sciences Ghent and Charles Chi, VP of Consumer Testing South China, DEKRA APAC.
New categories, more nominees and more winners
With the KNX Awards, we put the hardworking KNX installers in the picture that portrayed their excellent knowhow in smart home and building automation with KNX. By dividing our international categories in Smart Home and Smart Building subcategories, even more diverse achievements could be awarded. In a fast-moving and ever-more digital world, we are proud we could nominate very strong projects for another new category, innovation. It clearly shows that our KNX community sees the importance of IoT and secure solutions. For the first time, we could also hand out a trophy to a KNX Member, without their efforts in development, the KNX technology could not exist. The winner was entirely chosen by the KNX Community and we hope that this encourages our KNX Manufacturers to keep introducing their latest KNX solutions to the market.
Worldwide projects from all types and sizes
The 2022 KNX Award projects are located in Algeria, Azerbaijan, Belgium, Brazil, France, Germany, Greece, Mexico, Portugal, Spain, Switzerland and the UAE. In addition to extensive installations (such as a the pavilions of the Expo 2020 Dubai or the Martinhal Residences in Portugal), intelligent residential buildings and educational projects are also among the award-winning projects. These include the Spanish IKNX Prime video platform and the best home projects in different continents around the world.
The 14th KNX Award ceremony took place online on the 27th of September. In addition to the trophy and certificate, each 2022 KNX Award winner received a prize of 1,000 EUR.
The KNX Awards 2022 can be viewed on-demand on the KNX Association YouTube channel
KNX AWARDS 2022: THE WINNERS
Smart Home Award – Africa, America, Australia: JMS Villa in Iguassu Falls with KNX Technology by Arqtech Automação (Brazil)
During the early construction phase of this home near Iguassu Falls in Brazil, COVID-19 struck and the future homeowner was hospitalized. Because of the high uncertainties of the future, all focus was put on maximum comfort and automation inside the smart home. For being an atemporal protocol that offers freedom to choose and flexibility, KNX was paramount to the client's standard requirements.
Key features are:
Full integration of KNX in and around the house
All special requests of homeowner could be integrated, like towel warmer, mirror demister, car charger, -voice assistants, etc.
Integrations to different systems with personalised interface
Control of all functions per rooms with 2D visualization for tables and smartphones
Smart Building Award – Africa, America, Australia: Hotel Seybousse Annaba by DTEK (Algeria)
The Hotel Seybousse in Annaba, Algeria is certainly not a small building, with its 14 floors including guest rooms and suites, conference rooms, spa and fitness areas and car parks. For the renovation of this hotel, KNX was chosen as an automation system because it could be used for all needed applications. With KNX less cable was needed and ensured scalability.
Key features are:
Full KNX integration in a multi-story hotel
Unique lighting scenes of the different rooms and façade make it a sight to behold
Individual room control and a central system supervision
Huge number of devices to control the building functions
Smart Home Award – Asia: Baku White House by Okal Electric (Azebaijan)
Named by the integrator as the most complicated villa integration in the whole of Azerbaijan, this Smart Home needed a system where the homeowner wouldn't have the need to control anything manually. This was solved by creating a fully automated KNX installation where only scenarios needed to be selected for the whole 700 square meter villa or per room. KNX was chosen here for its flexibility and selection of devices of choice independent from the manufacturer.
Key features are:
A fully automated KNX home with scenes per room, for several rooms or for the full house
Voice control of all scenes is integrated
Automation takes weather, temperature, humidity, light level, occupancy and time of day into account
Building Management systems like water supply and treatment, irrigation, boilers, energy metering, pool filtration controlled using KNX
Smart Building Award – Asia: Expo 2020 Dubai Pavilions by Controlium Building Technology (UAE)
The Expo 2020 in Dubai linked innovation and technology to offer a great experience for its visitors. KNX fits greatly in this philosophy and thanks to its flexibility, can be easily adapted for future requirements, when the site will be transformed to district 2020, a sustainable human-centric smart city. The Expo site. Controlium Building Technology implemented KNX system in 10 Pavilions with seamless integration with other systems
Key features are:
10 pavilions of the Expo 2020 equipped with KNX
Integration with systems such as DMX, DALI & BACnet and interfaces for future expansion and central control
Up to 60% energy savings for lighting and heating were achieved
Cost-effective and future-proof use of the technology on the expo site
Smart Home Award – Europe: La Folie Boulart by Lionel Armand (France)
La Folie Boulart project answered a simple question: how to integrate technology such as KNX into a historic monument in order to transform this jewel of French architecture into a connected building that meets current digital and environmental standards. This castle in Biarritz now shows that, thanks to KNX, historical buildings can be hi-tech, while preserving their original beauty and charm.
Key features are:
A refined technical implementation in a historical building
A combination of IP and RF lines to connect devices without unnecessary cabling
Each room of the castle is equipped with a tablet to control KNX automation functions, audio and video
Technical supervision and energy metering engine
Smart Building Award – Europe: Complete Automation of the Administrative Centre of the Province of Namur by Prelude (Belgium)
The province government of Namur in Belgium needed a durable and stable system in their administrative offices, that is why they set KNX as a mandatory requirement when looking for a system integrator to convert their building into a smart one. The project was carried out by Prelude, not only integrating nearly all building functions with KNX, but also training the technical staff on site to take control of the building themselves.
Key features are:
Seamless use of different KNX brands and technologies
The building is a first phase in interconnecting 5 government buildings with KNX
Everything is automated in this government building
Local government is aware of the benefits of KNX and made it a mandatory requirement in the public contract.
Energy Efficiency: Smart Residence in Leon by PROGENIUM (Mexico)
This residential project is located in Leon, Mexico and is a true example of how sustainability and energy management can be achieved in homes with KNX. All integrations were possible with the KNX technology, which was the most important argument to use KNX in this project. The distributed system helps to separate different boards in the home. The use of renewable energy in this project ensure. sustainable living.
Key features are:
Solar harvesting to generate electricity
Solar power to generate hot water
Generated energy is managed with logical functions and regulated with gas boilers and the circuit's transfer to the electrical supplies
Integrated DALI light, DMX scenes, intercommunication and security system
Innovation Award: Martinhal Residences by Projecdomus (Portugal)
Martinhal Residences is a luxury apartment development and hotel located in the heart of Parque das Nações, in Lisbon. The system needed to be scalable and ready to integrate with the most diverse communication protocols used in buildings. IoT is used to make the implemented solutions more efficient. KNX was the obvious choice due to its versatility, compatibility, various media options, and variety in the choice of design of equipment visible to the user.
Key features are:
Hotel and apartment complex combined in the KNX installation
All systems are integrated and can be controlled through a visualization interface for building users.
Energy and water use is measured in the whole building to be able to take action and reduce consumption
Use of weather API, API integration between KNX and property management system and maintenance platform
Publicity Award: Lebensräume Smart Home Experience by Alexander Bürkle GmbH & Co KG (Germany)
In autumn 2021, the 68th Lebensräume showroom for SmartHome/KNX solutions opened its doors in Villingen-Schwenningen. The showrooms are part of this concept, together with a Smart Home configurator for end-users, 300 partners with KNX knowledge to carry out projects, a website with manufacturer-neutral consultation and planning platform. The configurator and the Terminal planning software has an interface to the ETS software.
Key Features are:
A showroom where end-users to show what a smart home has to offer
A whole concept easily help end-users achieve a smart home with KNX
Interactive ways of customers to see KNX in action
Specialist partners linked to the system
Special Award: A Medieval Castle at the Sea by GDS Digital Systems ltd. (Greece)
In this Greek castle by the seaside, KNX was successfully implemented, despite the challenge of implementing all the functions with minimum cabling, because of its classic structure and narrow halls and lack of space. The house is operated with very few buttons to the shape and color of a stone. The majority of the control functions are possible only via smartphones and tablets and a use of green energy and efficiency was taken into high regard.
Key features are:
A green castle with geothermal energy, solar heating and solar panels.
Electrical energy is stored in the grid and the system calculates the available "free" energy
Minimal wiring and only few and subtle switches used to maintain the character of the castle
Smart home control via smartphones and tablets
Education Award: IKNX Prime Video by IKNX School (Spain)
IKNX Prime video is a video content platform to teach design, installation, programming and everything related to the KNX world to students and teachers from technical schools. This educational project is helping students and teachers from schools without financial resources to learn KNX in an easy and simple way. With all sorts of lessons, tutorials and tips freely available on YouTube, a whole knowledge base of content is available for a very broad audience.
Key Features are:
Hundreds of videos to teach the Spanish speaking community about KNX
Versatile videos and topics like lessons, short tips, tutorials
Teaching how to set up projects for real projects as well as fun fictional projects like a KNX installation in the Black Pearl or the Millennium Falcon
Offering KNX knowledge to all who do not have the financial means
People's Choice Award: Sports Centre Kerenzerberg by Soltris GmbH (Switzerland)
At the People's Choice Award, the audience has the final say. With an area of over 125'000m2, the Kerenzerberg sports centre is the third largest sports centre for mass sports in Switzerland and includes 9 sports halls, 1 indoor swimming pool, various outdoor sports facilities, 94 rooms, 2 restaurants, 9 theory rooms, fitness centre and physiotherapy. In the project, all energy efficiency measures were realised by integrating the building automation with the hotel reservation system. All sensible automatisms were realised, which resulted in a significant cost reduction in the operational maintenance.
Key features are:
Coupling of business process with building automation
Lighting: 80% energy savings were achieved
HVAC: 40% energy savings were achieved
Maintenance costs reduced thanks to the combination of KNX and EisBär
KNX Product Award: Touch Control TC5 by Siemens AG
For the first time, the KNX Community could also vote on their favourite new KNX Product, with the Touch Control TC5 as a clear winner. The new KNX Touch Control TC5 unites elegant and modern design with intuitive operation and extensive customisation options in a 5" touch panel. The elegant combination of high-quality aluminium and glass panel together with the sophisticated and slim design make the TC5 the perfect match for any room situation. But the TC5 comes with more than just good looks: an integrated temperature sensor and the huge range of KNX room control applications provide users with exactly the options they need to create optimum room conditions. The password protected device uses embedded proximity sensors for automatic screen activation or deactivation and an LED indication bar as orientation light and to inform about alarms or when the device is in KNX programming mode.