KNX tops the rankings of communication protocols known by smart home professionals and leaves its competitors behind
KNX remains by far the most popular technical standard for home and building automation compared to other communication protocols. That is the central result of an industry survey carried out by the specialist magazine Hiddenwires. According to this, KNX is included in smart home projects by 62 percent of all industry professionals surveyed and is therefore used significantly more frequently than even Wi-Fi (53%) or Bluetooth (31%) in the automation of homes and buildings, and three times more often than technologies from direct competitors. Hiddenwires surveyed more than 8,000 industry professionals, mostly from the EMEA region, including largely system integrators (69%) but also designers, manufacturers, distributors and architects.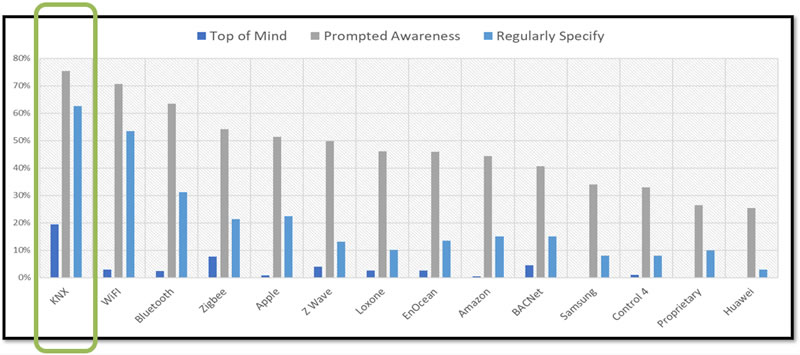 3 out of 4 industry professionals are aware of KNX
In the growing smart home market, KNX is perceived as being particularly well positioned and accordingly has the highest level of awareness among the technologies and communication protocols for smart homes. According to the Hiddenwires market study, three quarters of the industry professionals (75%) are aware of KNX as a technology for building automation. KNX's next direct competitor, with almost 54 percent awareness, is far behind the world's leading standard in fourth place in the ranking.
KNX ranks first: Three times ahead of the direct competition!
No other communication protocol is integrated into smart home projects as often as KNX. 62 percent of the industry professionals trust KNX and have already automated homes and buildings using the technical standard. KNX thus achieved first place in the Hiddenwires rankings for smart home ecosystems and is almost three times ahead of all direct competitors, who only achieved results of 21 percent or less in this category of the industry survey. Even conventional standards such as Wi-Fi (53%) and Bluetooth (31%), in second and third place, lie well behind KNX.
The variety of functions and products make KNX number 1
It is especially the wide range of products that makes KNX the most popular communication protocol in smart homes. More than 8,000 devices from numerous different manufacturers use KNX technologies and are therefore compatible with each other. Industry professionals can combine products from various brands in such a way that the needs of end users in smart homes can be perfectly met. "With KNX, we deliver an open and highly secure ecosystem for smart home and building projects, combining a high degree of flexibility and simplicity with maximum comfort. We are pleased that these advantages are recognised and appreciated by industry professionals", explains Franz Kammerl, President of the KNX Association, in view of the excellent performance of KNX in the industry survey by Hiddenwires.
Growing interest in smart homes and energy management: A perfect match for KNX
Interest in smart homes has continued to grow in recent years, as 59 percent of those surveyed by Hiddenwires stated. According to an estimate of 29 percent of the industry professionals, the interest in their respective region has more than doubled. They see the increasing awareness of the advantages of smart home technologies (71%), higher demands on energy management (53%) and so-called "whole home" solutions (43%) as the greatest growth drivers. The latter shows how many end users are already looking for automation solutions that connect everything in their home as far as possible in order to simplify their own lives in the sense of smart living and to save energy. Numerous KNX devices and solutions for energy management were launched in 2021, and many more will follow this year.
www.knx.org
hiddenwires.co.uk/case-studies/article/state-of-the-smart-home