Paul Foulkes looks at the way we must adapt buildings to provide safe, healthy and energy-efficient environments for living and working, and outlines why KNX technology offers the ideal choice in terms of space flexibility, adaptability and maintainability.
Covid has affected almost every aspect of our lives, and how we work has been a key area that has changed. Initially, we worked from home, and a lot of us struggled with this new dynamic, but as we slowly return to our offices, we find that the workplace has changed. Even with the most recent relaxation of Covid measures in the UK, the office is very much different to how it was in early 2020.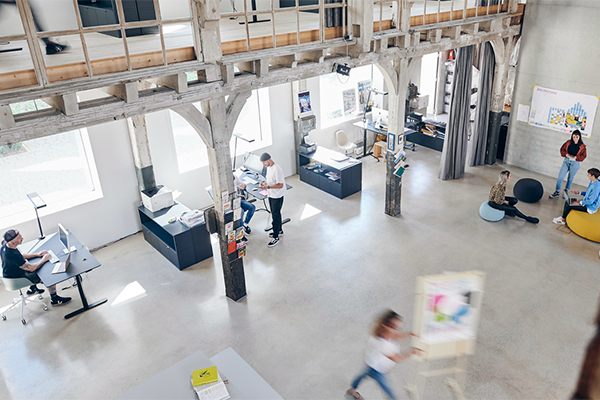 All of these changes have led us to be much more aware of our working environment – for 'work space' read 'social distancing', for 'room temperature' we now also think of 'ventilation' and 'air quality'. Even at home, these are things we now consider.
In the commercial environment, we have learned that flexibility isn't just about linking a sensor with the HVAC or some lights – it's about being able to tailor the building for new layouts and ever-changing levels of occupancy. With continuing rises in energy costs, maintaining optimum energy efficiency is another factor that we all must consider.
These new issues will be of concern to us at all levels of interaction, whether we be end-users, managers, or facilities management (FM) teams. This means as constructors and integrators, we must consider these elements in our new building designs, as well as see if we can deal with them in our existing buildings.
Changing spaces
The office space is changing – we were used to hot-desking, but Covid has forced us to re-assess shared space. It has to be flexible but also easily cleaned to keep it healthy. Social distancing means space is at a premium so businesses are exploring the possibilities of contactless work environments. At the same time, working from home, for many of us, will remain in some form, and mixing this work environment with our home life will require new approaches to residential buildings.
A lot of offices will have some form of BMS, so changes may be possible. We know that KNX has the full capabilities, across multiple commercial and residential building topologies to effect the changes required. Ensuring that new buildings include this flexibility, adaptability and maintainability will come from design collaboration that can be driven by the KNX integrator. Existing buildings can adapt if KNX is already at the core of the BMS installation.
Real-time space management
Space management linking to real occupancy usage and ventilation adaptation is essential. The control solutions must factor in energy management, with lighting control and efficient, comfortable heating. Thanks to a choice of sophisticated presence detectors, KNX offers a perfect solution to this by integrating intelligent lighting control with multiple types of HVAC. There are pixel-based sensors that go a step further by keeping count of how many people are in a space in real time. This can be used to provide feedback to restrict access when an area is full, or to increase the ventilation to ensure fresh, clean air is provided in more confined spaces when more people arrive. This is pre-emptive control rather than reacting to already high levels of CO2.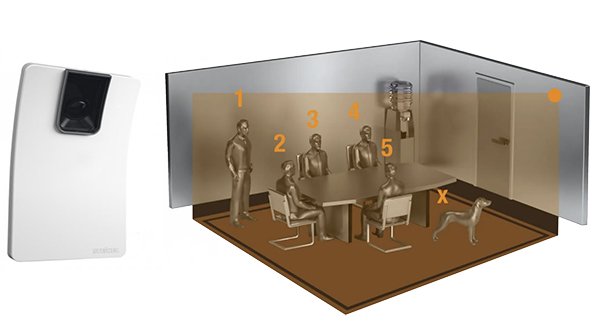 Using KNX to integrate motorised doors, it would be simple to create a completely contactless environment as people move through a building and use different spaces. A scenario could be as follows: in a high-rotation office space, a group of people have booked a meeting room. This booking was carried out remotely and logged on the building system. When they enter the room, it has been brought up to temperature for them ten minutes before the meeting was due to start. The lights turn on as they enter, dependent on ambient light levels. They log in so their presence is recorded, and the system adjusts based on the number of people actually using the room. The system monitors CO2, temperature, light and shading, and adjusts heating, lighting and ventilation accordingly, in real time, exactly dependent of the prevailing conditions and use case. This is truly effective real time space management.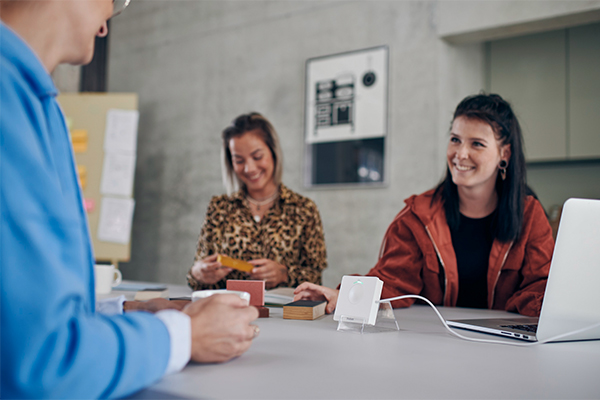 KNX in the home
At home, things are slightly different. The same requirements exist, namely adequate ventilation, suitable lighting and the correct heating, all managed to the highest levels of energy efficiency. Modern housing should be able to fulfil this from outset, rather than by having to add Internet-dependent gadgets. KNX can play the central role in residential development and, for instance, help to achieve the requirements set out in the recently-revised and updated UK building regulations.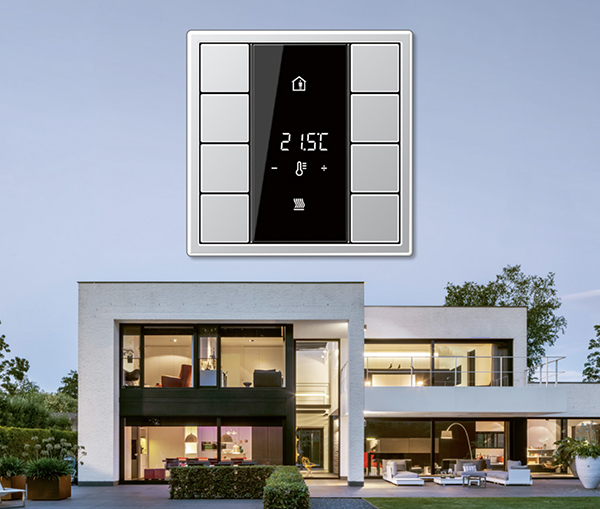 Conclusion
It is only when we treat whole buildings as a single environment that we can really achieve the level of control needed to meet the evolving requirements of building design. Ideally this should also be a system that can be adapted over time, or even pivoted quickly to provide a completely different type of functionality. Open-platform functionality removes the risk of hardware lock-in, and leads to collaborative industry-led solutions, that communicate freely. KNX supplies that functionality. The holistic collaborative design approach to control systems, with systems sharing a single secure infrastructure, ensures that valuable data from a sensor can be used across the whole system regardless of the application.
The construction industry must learn lessons from Covid and the lockdowns. This will ensure that the systems we specify, design and install provide the highest level of adaptability and control. With KNX, we know that these systems are suitable for the commercial sector, but now we need to ensure residential mass-market construction embraces them too. New housing must offer the flexibility, healthy environment and energy efficiency that we all deserve post-Covid and moving into an era of rising energy costs.
Paul Foulkes MSc MIE is the KNX Business Manager for Theben UK and KNX UK Association President. Theben provides intelligent solutions for energy-efficient time, light and climate control for all buildings.