Official world premiere of ETS6 on the opening day of this year's digital KNX trade show on the 28th of September 2021
After its successful debut in 2020, KNXperience is returning this year to present the latest innovations from KNX and the KNX members. From September 28th to 30th, all participants will be able to enjoy a 3-day online conference programme, top-class speakers and numerous digital exhibition booths to experience the most recent KNX developments and solutions. The focus and special highlight of the unique KNX trade show will be the official release of ETS6, the new version of the popular professional KNX tool for planning, configuring, commissioning, controlling and automating smart homes and buildings. KNXperience 2021 will once again be held as a purely online event in English and German. Registrations are now open at www.KNXperience.org.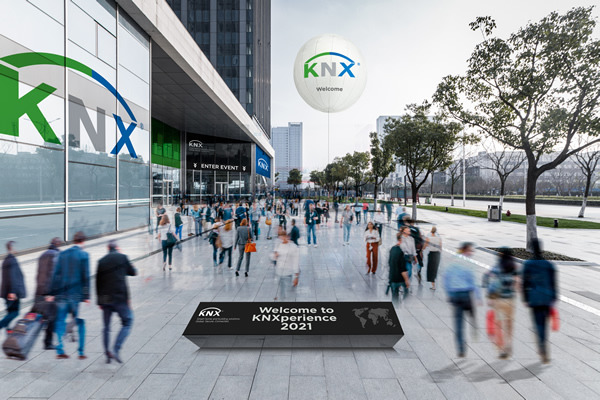 The KNXperience 2021 conference programme: Three days of KNX know-how and innovations
KNXperience will offer a comprehensive and informative 3-day conference programme with top-class speakers from KNX Association and the KNX members, all proven experts from the KNX universe. On each conference day, presentations will be held from 9 a.m. to 5 p.m. and will be available afterwards on-demand. The first conference day will bring the new ETS6 into focus with different presentations of the tool's numerous features and use cases. The second day is all about efficient and sustainable energy management with KNX, while KNX IoT will be the central topic of the last day of this year's KNX trade show.
Celebrate the ETS6 release & win free licenses
With the presentation of ETS6, KNX will celebrate the beginning of a new era on the opening day of KNXperience 2021. The official launch of the new generation of the popular KNX automation software is the central highlight of this year's digital trade show. ETS6 makes building automation with KNX even smarter, more secure and more open than ever through numerous innovations. The new version of ETS6 fulfils the needs of its customers and their feedback by offering, amongst other main features, a better user experience through an optimised user interface. This makes it even easier for users to enter the world of KNX. What is more, and in line with the needs of the industry, all KNX secure functions and a security proxy functionality have been implemented. ETS6 also fully taps into the potential of KNX IoT: with the option of exporting all relevant semantic data to the KNX IoT third-party API, KNX systems become more interoperable with any third-party client. Participants of KNXperience have the chance to win free ETS6 licences thanks to a variety of real-time activities, like games and interactive lotteries with special KNX prizes.
Visit the booths and extend your network contacts like at real trade shows from your office or home
KNXperience organised by KNX Association is comparable to a presence event: visitors to the digital KNX trade show can experience the latest KNX solutions and products in a digital exhibition hall, full of virtual exhibition booths with real experts from the industry. Each visitor can decide if he or she wants to have a one-to-one conversation with the representative of a booth. Furthermore, KNXperience offers a special networking area in which trade show participants can also exchange ideas. All interactions and activities are generally carried out via PC, smartphone or tablet.
The digital trade show concept has proven itself
Last year, the concept of KNXperience aroused great interest among the over 7,600 participants. 71 conference sessions with over 18,000 views and more than 200,000 page views from 148 countries for the digital exhibition offerings at www.KNXperience.org made KNXperience a success. "The KNXperience concept has proven itself. The large turnout in 2020 and the overly positive feedback that we received from participants indicates that KNXperience is valued as a modern platform for the interaction of users, manufacturers, members and partners of the global KNX community. This year, we want to build on this success with KNXperience 2021", explains Franz Kammerl, President of the KNX Association.
KNXperience 2021 is open to everyone who is interested in smart home and building solutions. For more information and registration, please visit: www.KNXperience.org