Yasmin Hashmi reports on the first KNX AV Conference, with useful summaries of presentations and panel discussions, and links to the online videos.
Building on the momentum generated by the recent ISE show, KNX Association hosted the first KNX AV Conference on 8 and 9 June 2021. The online experience was a rich mixture of presentation and interaction, comprising a reception, English and German stages with chat and Q&A, and areas for 1:1 networking, games with prizes, and an expo comprising promotional videos.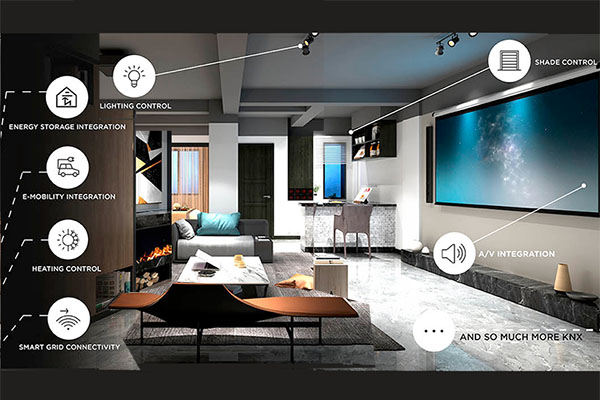 This article provides highlights of the presentations, with links to the videos for those who wish to catch up in full.
Keynote Speech: KNX futureproofing technology for a sustainable world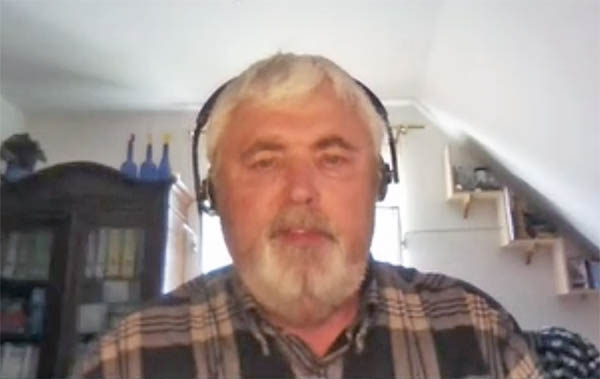 Franz Kammerl started with some facts and figures, confirming that KNX is now present in every country, and that there are now more than 8000 KNX-certified products available (plus versions thereof) from more than 500 companies. He noted that digitalisation is happening, that KNX technology is IP, and IP is the future of our common infrastructure in buildings and homes. As he put it, "We expect the first KNX IoT devices this year – it will be our core technology and our other technologies will be continued." He added, "Our technology is cyber secure. KNX has a double secure system, and there is already a portfolio of KNX Secure devices." On the big theme of sustainability, he said that KNX will contribute to this through energy management, and concluded that "KNX has the possibility to grow into new areas in homes, areas and cities, creating simplicity of control and reducing energy bills. You will always be state of the art by using KNX."
Panel Discussion: the state of AV in the smart built environment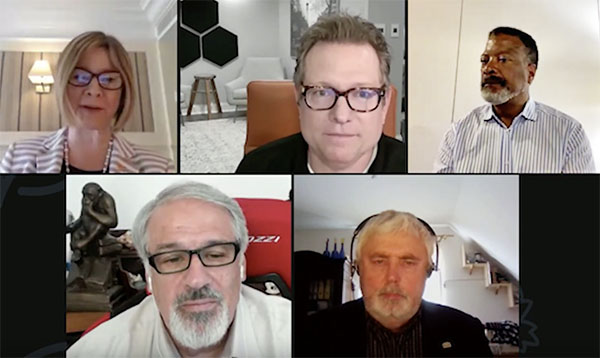 This panel discussion, chaired by Bob Snyder, Editor-in-Chief of Channel Media Europe, provided a great overview of the direction of travel for AV in the smart built environment in terms of technology and skills. Mike Blackman, Managing Director of ISE started the discussion off by stating that we have to adapt to the new reality and embrace technologies such as touchless control. Sarah Joyce, Chief Global Officer of Avixa stressed that the importance of data-driven business is what is affecting Avixa members most, and that the market is seeing a rapid proliferation of unified communications. She pointed out that in dealing with commercial AV technology, the skillset required by systems integrators not only includes essentials such as engineering, design, project management, and safety, but also IT and networking skills, as well as good communications skills with clients in order to combine "the magic and the science."
Walt Zerbe, Senior Director of Technology & Standards for CEDIA said that enterprise-grade networks have become paramount in the home, as well as robust Wi-Fi. He is seeing the adoption of more wired technologies, an explosion of IoT, and a resurgence of media including streaming and first-run movies with immersive audio. For those wishing to get involved, he suggested taking advantage of the educational resources provided by organisations such as CEDIA and Avixa. He added, "Get a bunch of gear and play with it. Media management is going to be the most challenging – you need to know all the services and assist the end-user with everything. You need to know it inside out. You will need to know how to deliver what the customer wants. Our industry is guilty of focussing on the tech. It's not about the tech – it's about the experience. Focus on the human side of things and improves people's lives."
Franz Kammerl, President of KNX Association stated that there is no reason why KNX integrators and AV integrators cannot cooperate, as KNX also offers integration with AV systems. He pointed out that the advantage of using KNX is that it covers all aspects of home and building automation and all KNX devices have to interoperate. KNX systems are also highly secure and that KNX IoT takes this into a new level. He also talked about IP-BLIS, an initiative by a number of communication standards organisations which aims to reassure building owners that they can rely on a secure IP network infrastructure.
KNX IQ – the KNX stand alone panel for every application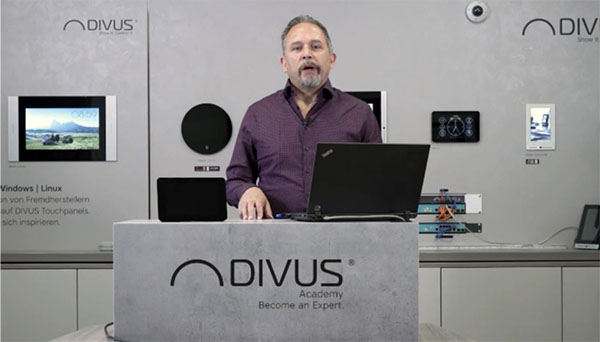 Federico Leverato, R&D Engineer of DIVUS described the DIVUS KNX IQ as a powerful yet cost-effective entry into the world of KNX building visualisation. It is a stand alone 8″ capacitive touch display that manages and controls an installation and through which the entire visualisation of the home can be displayed.
Busch ControlTouch – KNX and Sonos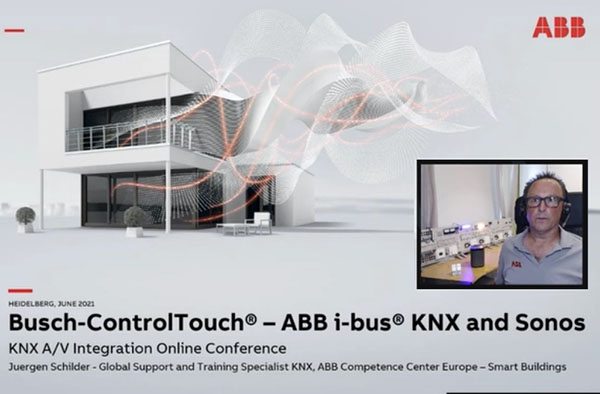 Juergen Schilder, Global Support and KNX Training Specialist for ABB gave a detailed demo of the Busch-ControlTouch KNX with a focus on audio applications. This visualisation server for mobile iOS and Android devices and Window computers not only allows you to visualise and control your complete KNX installation but also includes a built-in Sonos bridge with a complete integration of the Sonos sound system. Examples of audio functions with KNX devices included various Sonos speaker playback control functions, the ability to create speaker groups and text-to-speech features.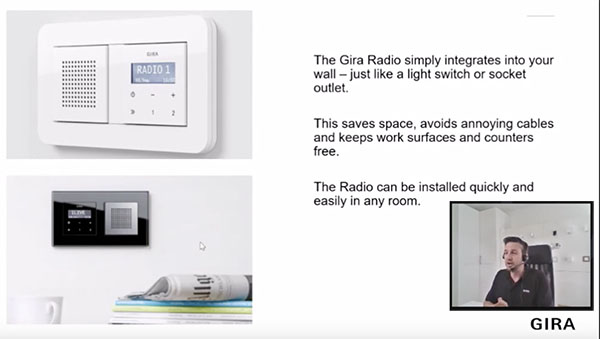 In this session, Marco Strelow, Area Sales Manager for Gira gave an overview of new Gira products and how they can be integrated with AV systems that support KNX. Products included the Gira Radio, the Gira X1 compact mini server that is Sonos certified, The Gira Project Assistant software, the new Gira push button sensor 4, Gira KNX push button, new actuators, the Gira G1 and KNX Secure devices.
Using Offline Voice Control for AV Solutions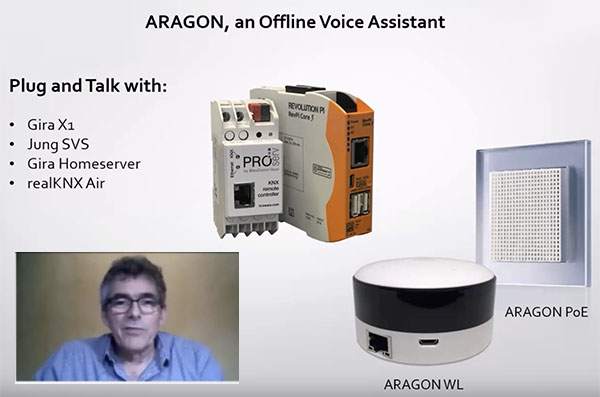 Christian Kiefel, CEO of ProKNX described the benefits of using an offline voice assistant with AV systems, in the form of the ProKNX Aragon, which is available in wireless and PoE versions. These include privacy for the user, faster response as it does not rely on Internet servers, and no problems due to unexpected updates. When using one of the KNX visualisation servers supported by Aragon, the KNX installation is loaded automatically and can be used without any further configuration. An installed multiroom Sonos system is also recognised automatically and can be used immediately. Furthermore, there are templates to enable integration of TV using 'NodeRed.'
Panel Discussion: why KNX and AV are the perfect match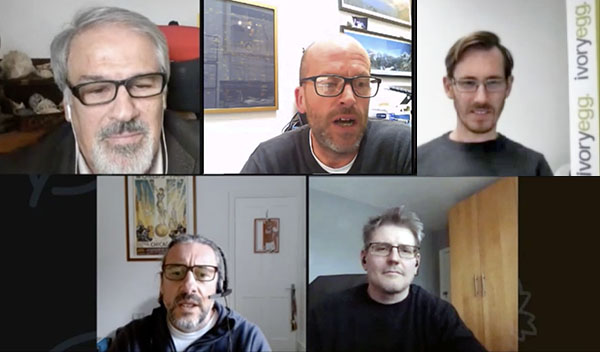 In this inspiring panel discussion chaired by Bob Snyder, some well-known industry experts gave their views on why professionals should consider integrating KNX with AV systems, and how they can get involved. The main advantage is being able to control everything from one interface. Another is that intelligent automation can be programmed to complement certain actions.
Iain Gordon, Managing Director of GES Digital Ltd explained how he has been involved with KNX for many years and that it is robust. Jeremy Aston, KNX Tutor for Bemco agreed, "KNX is robust. KNX has given us the opportunity to deliver a solution at every point, including AV. KNX can move into AV and vice versa." Simon Buddle, Principle of Future Ready Homes said, "There's never been a better time for KNX to take control of ALL the low-voltage systems in the building. It's a perfect time for KNX professionals to bring AV into their business." Mark Warburton, Director of Ivory Egg pointed out that there is something for everyone, from a Sonos with a couple of speakers to complete multiroom AV and home cinema.
In order to get involved, Iain Gordon suggested, "You need training; firstly in the programming tool ETS, and then with manufacturers to find out how their products work. These days it's expected and provided. During the pandemic there has been a plethora of free training available with fantastic opportunities to upskill." Mark Warburton suggested, "You've got to think about the user. KNX is a control system, whereas AV is entertainment, so think about the environment you are creating. Training is critical, especially for more advanced systems such as home cinema." Simon Buddle stressed that integrators must have data networking as part of their business. He added, "AV is all about content these days. You must know about what is available and where it comes from. Making a robust product set for your business is an essential thing to do. In that lies a bit of profit." Jeremy Aston gave examples of how proprietary AV systems can be integrated with KNX through gateways, and even directly now, and he underlined the need for data networking as part of the skillset. As he put it, "Get your network right, because it's going to be really important in the delivery of not just data, but your audio and video as well."
KNX and AV Integration – an overview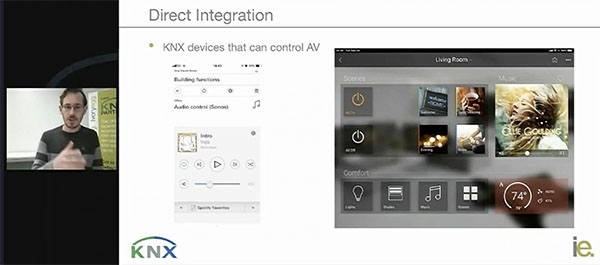 Mark Warburton, Director of Ivory Egg looked at the differences between AV and KNX systems, and what the benefits are of integrating the two. He also gave some practical examples of how to integrate them. He suggested that to bring AV under central control, ideally it should be put into a central rack and be easy to update, because AV changes all the time, whereas KNX systems tend to remain the same. He gave examples of underlying automation whereby when something happens, something else happens automatically, and he provided some practical examples of KNX devices that can control AV, as well as AV systems that support KNX integration either natively or via gateways.
Smart Home: AV integrated with KNX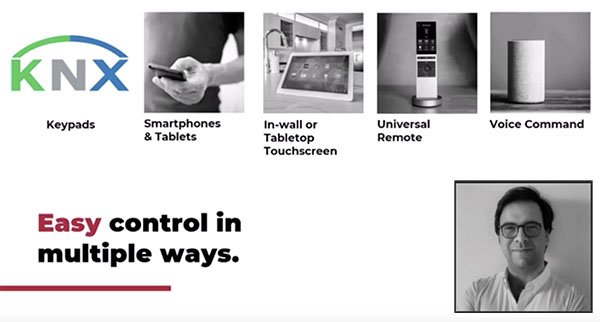 Joao Pinto, Area Sales Manager for Western Europe for snap AV + Control 4 provided an introduction to Control4, and how AV can be integrated into KNX. He explained the company's concept of 'My home is my castle: helpful, personal, secure and private', as well as the Control4 Smart Home OS, with examples of user interface customisation and how to control different functions, plus the ability to remotely monitor and control the home through mobile devices.
Basalte Home: the benefits of a native KNX AV integration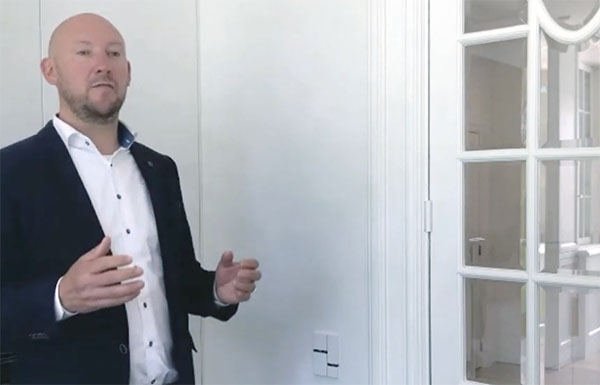 Koen Dekyvere, Export Manager for Basalte highlighted the various benefits of a native Basalte AV integration with KNX by means of a tour of the Basalte products range in the Basalte Concept house. This included KNX keypads, premium speakers, amplifiers and other music solutions for the home, such as the Asano multiroom audio system that works natively with KNX.
Integrating AV Applications into KNX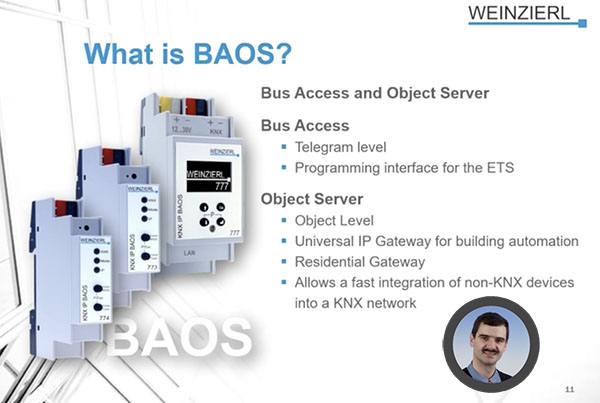 Johannes Geiss, Software Development for Weinzierl Engineering explained the Weinzierl KNX BAOS architecture that is used in a broad range of KNX modules and gateways to allow manufacturers of non-KNX-based products to add KNX connectivity to their offerings. The session also gave an overview of the development process, starting from selection of technology via ETS integration up to KNX certification.
ise Gateways for Multimedia with KNX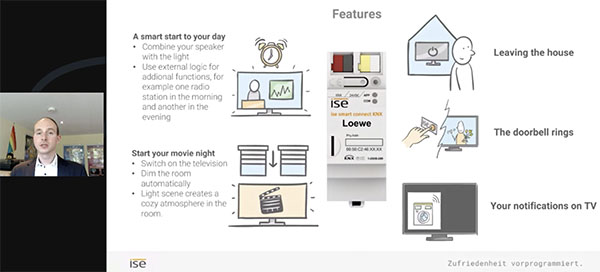 Robin Geide, Technical Advisor for ise (Individuelle Software und Elektronik) gave an introduction to a selection from the ise Smart Connect series of gateways, aimed at AV applications. These included gateways for Sonos, Panasonic, Loewe and world's first KNX certified app for Axis devices. He went through each product and how it can be configured to integrate the AV device into a KNX system, with some great examples of practical applications.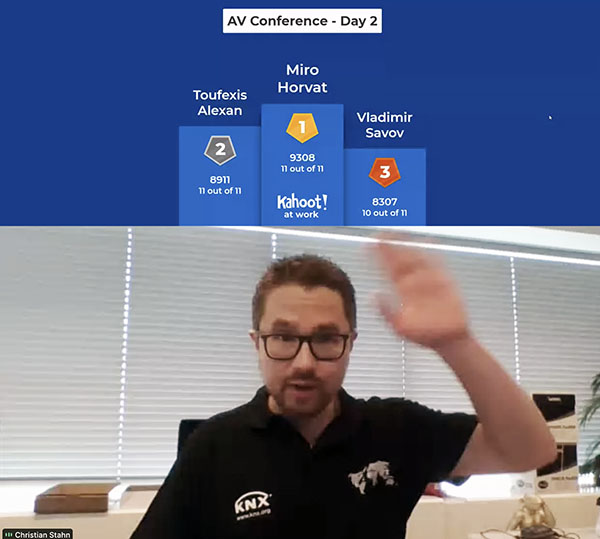 Conclusion
Whether you are heavily into AV and looking to get involved with KNX, or vice versa, there was something for everyone at this online conference. The combination of a varied programme ranging from guidance on market trends, through introductions to principles and technologies, advice on how to get started and what approach to take, to in-depth product demos, plus Q&A and chat opportunities, showed just how much interest and scope there are for systems integrators to combine building automation and entertainment into their businesses. Well done KNX Association for providing a great mix of information, fun and the chance to network with new and old acquaintances.
Yasmin Hashmi is the Editor of KNXtoday magazine