ISE Digital goes live (1-2 June), bringing the AV community together again for the first time since February 2020. Whether joining online or in person at ISE@Barcelona, you can expect to leave with the tools you need to build a roadmap for success in the post-pandemic era.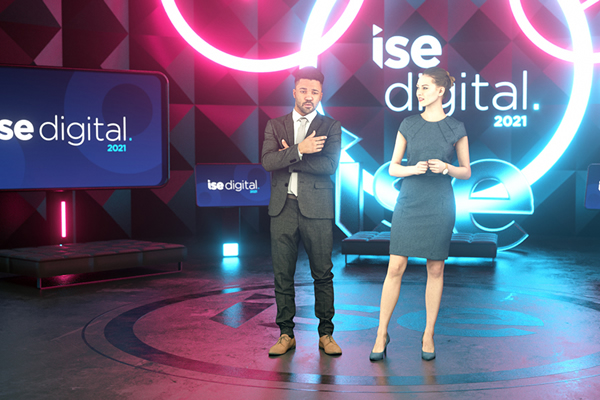 ISE Digital – The Future of AV: Live 1-2 June / On Demand for 2021
Running concurrently with the Barcelona event, ISE Digital is a two-day festival of content where you can create your own playlist from the sessions that interest you the most. Powered by Cisco technology, ISE Digital is curated by The Next Web, AVIXA, CEDIA and ISE partners. Discover all the latest news and innovations from the world of AV – from names including Presenting Show Partner KNX, Headline Partners Bosch, LANG, Panasonic and Shure, plus other leading brands including Canon, Datapath, Genelec, Lenovo, MA Lighting, Savant, Sennheiser and WolfVision. In addition, courtesy of Headline Partner ACCIÓ, you can meet some exciting start-ups.
KNX as Presenting Show Partner
As exclusive Presenting Show Partner at ISE Digital, KNX Association will have high visibility throughout the event and will be on the Main Stage on Day 1 with a KNX guest to participate in the Reporter Roundtable. There will also be an interview with KNX Association's CEO/Spokesperson for the Keynote on the Sofa interview.
Additionally, KNX will be the lead partner for the Smart Building 'Tech Track' channel, with two 20-minute episodes plus a short interview with a VIP, to be broadcast and pushed through ISE social media campaigns. All episodes have the option to be streamed live or pre-recorded and available on demand throughout 2021.
Lastly, KNX will be branded in the Partner Hub on ISE Digital, where KNX will be able to host content, company information, updates and articles within a personalised destination page. The KNX-branded hub will also act as a virtual meeting room. Additional KNX partners that run content as part of the Main Stage or Tech Track will also receive their own branded Partner Hub.
KNX Presentations
MAIN STAGE – DAY 1 – 20 min
Type of session: Interview with Bob Snyder
Speaker: Franz Kammerl
To cover: the future of KNX, the evolution of smart home/building, digitalisation with common IP infrastructure, the importance of cyber-security; the focus on KNX IoT; why KNX IoT enables Services with KNX and why the most important Service with KNX is energy management.
MAIN STAGE – DAY 2 –20 min
Type of session: Reporter Roundtable
Speakers: Joost Demarest + 2 more people from KNX Community (to be confirmed)
To cover: the importance of KNX IoT; the possibilities that this enables such as Services with KNX; 2 specific projects.
SMART BUILDING TRACK – DAY 1 – 5 min
Type of session: Interview with the CEO
Speakers: Heinz Lux
Bob Snyder will be asking some questions about KNX: current focus, the future…
SMART BUILDING TRACK – DAY 1 – 20 min
Type of session: Recording
Speakers: Casto Cañavate
To cover: the evolution of smart homes and buildings; KNX IoT; Services with KNX.
SMART BUILDING TRACK – DAY 2 – 20 min
Type of session: Recording
Speakers: Christian Kiefel, ProKNX (to be confirmed)
To cover: voice control and augmented reality in times of cyber-security.
Register today
The ISE Digital platform will be available to view from 25 May and the event will be live on 1-2 June. Registration is free, quick and simple, so register today!