In the first of this two-part series, Yasmin Hashmi summarises the presentations given on Day 1 of the recent online KNX HVAC Solutions Conference, held on 30 and 31 March 2021.
KNX is a future-proof standardised technology that works in all areas of home and building control automation, including HVAC (Heating Ventilation and Air Conditioning). To help inform the market about how powerful KNX is in this area, the KNX Association hosted the KNX HVAC Solutions Conference online over two half days during 30 and 31 March 2021. The event comprised an expo area featuring promotional videos for sponsors, a reception, a networking area, the main stage and a session area. Chat and Q&A facilities for each session were also provided. The following summarises the presentations given on Day 1.
The Future Landscape of HVAC Integration with KNX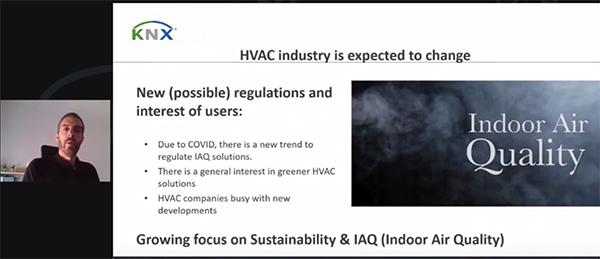 In this keynote, KNX Association Marketing Manager, Casto Cañavate, acknowledged how HVAC integration has always been a complex application to include in smart home and building projects, but that it is more important than ever to provide a more sustainable approach to smart homes and smart buildings as HVAC moves away from the use of fossil fuels to electrification. The presentation explained important concepts such as KNX IoT, services with KNX and energy management.
KNX Energy Management with KNX Classic and KNX IoT in Relation to the EN50491-12-2 Standard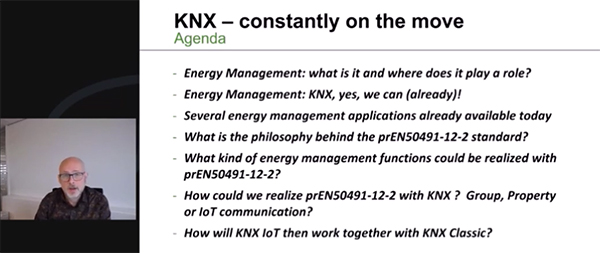 KNX Association CTO, Joost Demarest, explained how KNX Classic has been controlling HVAC since the 1990s, and went on to provide an insight into the objectives of the EN 50491-12-2 standard. This aims to standardise energy flexibilities between a central customer energy manager (CEM) and devices or systems in a home or building. Joost explained how these concepts could be realised with traditional KNX system features and with forthcoming KNX IoT features, and how current and future KNX devices will then interact. He also clarified that KNX IoT is an extension built upon KNX Classic, does not replace KNX Classic and will not be included in ETS6 when it is released (expected Autumn 2021).
KNX Solutions for Integrated HVAC Control and Monitoring in Residential Buildings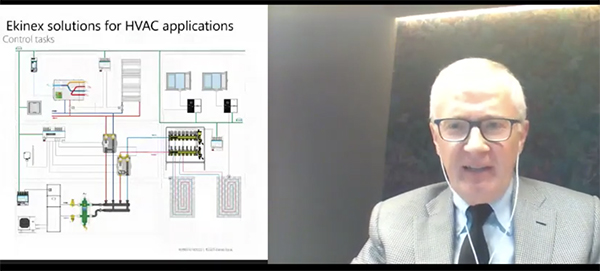 Roberto Rocco, Business Development & OEM Account in Building Automation at Ekinex, explained that the case for KNX smart solutions is becoming ever more compelling as the focus intensifies on indoor environmental quality (IEQ), sustainability and energy-efficient integrated HVAC systems. Among the topics covered in his presentation were air renewal with energy recovery, demand-controlled ventilation and dehumidification. He gave examples of control using voice as well as Ekinex KNX pushbutton interfaces with temperature sensing and thermostatic functions.
HVAC Solutions and KNX Sensor Control Elements

Thorsten Reibel, Global Support and Training Specialist at ABB, discussed management, generation, distribution and consumption using ABB and Busch-Jaeger HVAC solutions for commercial buildings. For smaller or less complex buildings, he gave the ABB ClimaECO as an example of a configurable, water-based HVAC solution using KNX. For more advanced requirements, he showed how the company's recent acquisition, Cylon Controls, provides freely-programmable, comprehensive HVAC and building management solutions using BACnet. Among the products covered were a valve drive controller, fan coil controller, heating/cooling circuit controller, boiler/chiller interface, and interfaces with non-KNX devices. Busch-Tenton flush- and surface-mounting pushbuttons controllers with integrated, CO2, and humidity and temperature sensing were also discussed, as well as the Busch RoomTouch touch display and a freely-programmable building automation controller.
Full HVAC Integration by Airzone

Airzone's Project Engineer & Key Account Manager, Daniel Nuño, and Engineer & Training Specialist, Aarti Khemlani, presented the company's latest Smart HVAC Control KNX Gateway and controller for small- and medium-sized residential and commercial projects. They discussed control of different types of HVAC technologies including direct expansion, fan coils, air-to-water heat pumps etc. They also looked at how integration with KNX can be done via two Airzone devices, namely the Aidoo KNX controller for individual VRF units, and the KNX Communication Gateway that allows all Airzone systems to be integrated and controlled with KNX.
The ION App Remotely Controllable Room Controller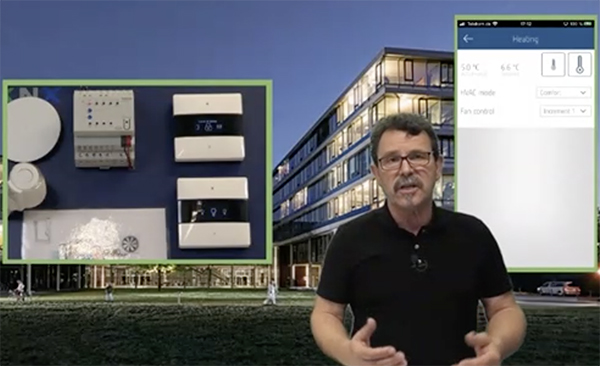 Elmar Löffler, Head of Technical Support & Services for Theben AG entreated everyone to be excited by the fact that the room controller solution he demonstrated for heating, ventilation and lighting could take advantage of smartphone apps without the additional cost of a visualisation server. Among the Theben products discussed were Ion controllers for air quality and comfort. These include a temperature sensor, allow external probes to be connected for dirty industrial areas and can control actuators such as the flushmounted Theben HMG 6T for heating and the Theben FCA1 and FCA2 for fan coils. With decades of experience, Theben includes standard settings in its products, that can then be customised.
Siemens HVAC Use Cases with the Touch Control TC5 Room Unit

Global Product Manager at Siemens Infrastructure, Jorge Sanchis Barcenilla, presented several HVAC applications using the new Siemens Touch Control TC5 room unit. Whilst the product can be used for lighting, blinds, energy efficiency and display of metering values, the focus of this session was on HVAC applications, including control of radiant ceiling, floor heating and radiators; control of 4-pipe fan coil; operation of VRF systems; and control of ventilation.
HVAC Control to Reduce Covid-19 Spread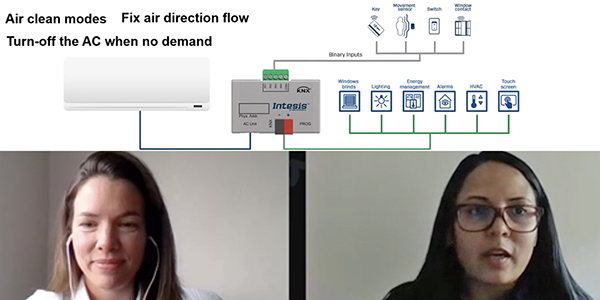 Intesis Marketing Team Leader & Brand Development Manager, Maria Elena Cabello, and Product Management Director at BU Intesis, HMS Networks, Sofia Oses Moreno, began by pointing out that Intesis was acquired by HMS Networks and is now the brand name of the products. They discussed how the pandemic is affecting all of our businesses, how clean air is required in public buildings and how the increased use of the home office means greater need for comfort and energy savings. The session looked at Intesis KNX technology and tools to help systems integrators to control all parameters of an HVAC system, including integration of mechanical ventilation with heat recovery, controlled mechanical ventilation, and maintenance and filter cleaning schedules. It was also pointed out that Intesis collaborates with at least 40 major AC manufacturers, and offers gateways to outdoor units.
Conclusion
Day 1 of this conference went very well. The presentations gave a good introduction to KNX and why is it so suitable for HVAC applications. It also included plenty of practical examples of how KNX products can be used in HVAC applications, ranging from the simple to the complex, whilst saving energy and maintaining simple control for the user. Plenty of time was given over to Q&A sessions, which took place via the chat facility, and there was also the opportunity to network with other participants at the end of the day. A summary of the presentations on Day 2 of this conference can be found in my article KNX HVAC Solutions Conference: Day 2.
Recordings of the above presentations can be found at the KNX YouTube channel
Yasmin Hashmi is the Editor of KNXtoday magazine