By Yasmin Hashmi, KNXtoday.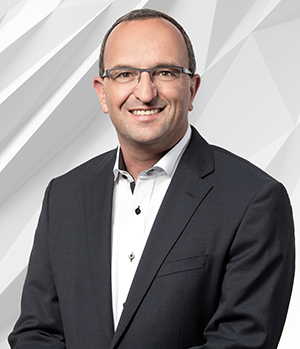 ABB and Busch Jaeger have a very long history with KNX. ABB was one of the founding members of KNX Association thirty years ago, and launched its first KNX product three years later. There have been many innovations since. The company's products now range from electrical installation with switches, socket outlets, special connector systems, dimmers and movement detectors, to door communications systems and electronic, high-end products for building automation for smart buildings. ABB believes that the future of electrification is safe, smart and sustainable, and ABB Electrification stands proudly behind its Mission to Zero ambitions to develop solutions which use less and cleaner energy for its own facilities and those of its customers.
In this exclusive interview with KNXtoday, Oliver Iltisberger, President of ABB's Smart Buildings division, explains ABB's current focus on smart buildings, what its mission is in light of the climate crisis, what current trends he sees and what opportunities there are for the KNX community.
KNXtoday: How is ABB Smart Buildings addressing the climate crisis and what is the ABB Electrification Mission to Zero initiative?
Oliver Iltisberger: We believe that if you have a mission, such as eliminating your building's carbon footprint, you can make this happen over time by introducing the right technologies. The Mission to Zero initiative provides a path to reduce emissions over time. Indeed, we have already put this into practice with our own buildings, where we have introduced rooftop car parks with PV and e-charging infrastructure. The Busch-Jaeger factory in Lüdenscheid for example, has been operational for 1.5 years now, and is a proof of concept, combining solar power, smart energy management and a highly-efficient cogeneration plant that delivers enough energy to power a whole factory and save huge amounts of CO2.
E-mobility is a growing sector for which we provide both commercial and residential e-chargers and fast chargers. When you are planning e-charging infrastructure, you have to make sure you have sufficient load not only now, but in five years' time, and you have to connect it to a building management system so you can balance demand and supply.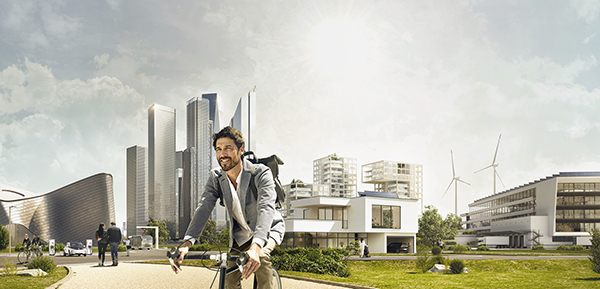 KNXtoday: What is ABB's current focus regarding KNX?
Oliver Iltisberger: KNX was created as an energy-efficiency solution to make buildings more intelligent using one standard for all manufacturers, and ABB truly believes that standardised solutions are the best thing for the customer. Over the past five years or so, the top priorities for our customers have been increased comfort, security and energy efficiency, so this has been our focus. In addition to providing integration with the likes of Sonos as well as Apple and Google voice assistants, the last part of our Innovation Roadmap is to integrate our recently-acquired building automation and HVAC control solutions business, Cylon Controls, into the ABB Smart Buildings product portfolio.
KNXtoday: What technological trends have you noticed recently?
Oliver Iltisberger: During the past couple of years, the digitalisation of buildings has been accelerating rapidly whilst the cost of connected devices, i.e. IoT devices, has become more affordable. Now customers can say 'yes' to investing in comfort, security and sustainability. There has been a big move to reduce the carbon footprint of buildings by improving energy management, both in residential and commercial buildings, and there is much more renovation and retrofitting of buildings to improve their energy efficiency and make them future proof.
KNXtoday: What demographic trends to do you see, and what effect has the pandemic had?
Oliver Iltisberger: The growing trend in urbanisation has resulted in space being at a premium and having to be optimised. At the same time, we have seen a growing need for improved transport and e-mobility, however, whether these trends continue as before, remains to be seen. Since the pandemic and the new home-working environment, more people are trying to move to the countryside for a better quality of life. Although people may be going into the office less frequently, there is still the need to meet with others and interact, safely, and this presents opportunities for buildings to be reimagined and adapted.
The last trend I would like to talk about, and something which ABB has been looking to work with partners on, is in the area of assisted living. Using technology, we have an opportunity to make sure people can extend the time they live at home, ensuring they get the medical support they need whilst feeling secure.
KNXtoday: Any final thoughts?
Oliver Iltisberger: No one can remain untouched by what they have seen and experienced over recent years, whether it be catastrophic climate change or the pandemic. Neither respects borders and both require a global response. Given that buildings generate nearly 40% of annual greenhouse gas emissions, our ability to make them more efficient, as well as safer and more comfortable, means that we can be a force for good and make a real difference to people's lives and the well-being of the planet. What an exciting and beautiful industry to be in right now!