Save the date and join the party on Tuesday, 20 October 2020 from 10:00 CEST until 20:00 CEST
The hashtag #KNXis30 has been accompanying us for the whole year of 2020, but the big party is yet to come!
KNX Association and KNX National Groups would like to invite you to celebrate the 30th anniversary of KNX with them!
Join the worldwide KNX community on the 20th of October for the first whole-day event marathon in the history of KNX.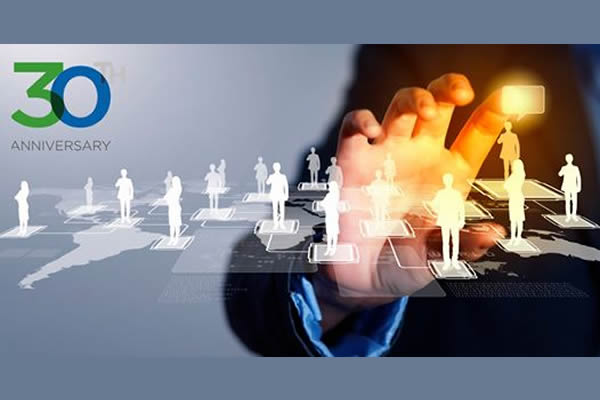 A quick history lesson
Born in 1990, KNX first saw the light and the whole industry saw a new era of smart homes and smart buildings growing with it. Once the technology was born, it was clear that the founding members had created something of beauty, which had to be made available to the world – and the world agreed!
KNX can now proudly say that it is not a technology among many others, it is the first choice, when it comes to smart homes and smart buildings. This was also acknowledged by international standardisation bodies, such as the CEN/CENELEC, as well as ISO/IEC. KNX, being approved as an international standard and used by more than 500 manufacturers in their devices, has paved the way to be the first real future-proof technology in the world!
Is age really just a number? Not in the case of KNX!
KNX did not get to be where it is after 30 years just because it entered the market as first open technology for smart homes and smart buildings. The early focus on training, certification and worldwide availability has distinguished KNX ever since its beginnings. Today's results are 45 KNX National Groups on every continent, almost 100,000 certified KNX installers all over the world and more than 8,000 available KNX devices, which never have a single glitch in compatibility.
KNX, now with 30 years of existence, has never felt old! On the contrary! With the passing of time, KNX has always developed faster than any other technology in the market and led the way to new opportunities and developments. Age might be just a number, but each year passing with KNX as a leader, is another year that confirms the success of the whole KNX Community
30 Years as the leading technology – a reason to celebrate for the whole community!
To not only take a look back at the many achievements, but foremost to thank the KNX Community for making this success happen, the KNX Association would cordially like to invite you to the biggest anniversary celebration in the history of KNX. Join the whole-day online session at knxis30.knx.org and learn from KNX Association and KNX National Groups about:
Achievements in the last 30 years
Ongoing projects of KNX
A Sneak Peak of ETS6
And much more!
The event will start at 10:00am CEST and finish at 8:00pm CEST.
No registration is needed to be part of the celebration, join at