The smartest home and building projects were celebrated online for the first time.
The world is becoming more and more digital: KNX, as the leading global standard for smart home and building automation, is a key player in this digital transformation process. Day by day, ambitious, creative and innovative smart home and building projects are realised with KNX. After its new KNXperience online trade show, KNX IoT and "Services with KNX", KNX Association breaks new digital ground with its KNX Awards, too. For the first time in their long-standing competition, the KNX Awards were celebrated as a digital event and the main highlight of the KNXperience.
Top-class presenters for top projects
The award nominees in the eight categories were introduced by several prime figures of the home and building industry, who had then the honour to reveal the KNX Award winners: Hans-Georg Krabbe – Country Managing Director of ABB Germany, Martin Herms – CEO of Albrecht Jung GmbH & Co KG, Christian Feltgen – CEO of Gira Giersiepen GmbH & Co KG, Daniel Hager – CEO of Hager Group, Franz Kammerl – President of KNX Association International, Joost Demarest – CFO/CTO of KNX Association, Nicolas Berg – Head of Marketing of Sony Professional Solutions Europe, and Dr Wolfgang Weber – CEO of the German Electrical and Electronic Manufacturers' Association (ZVEI).
Digital future shaped by KNX
"The ongoing digital transformation of the world affects all areas of our lives, including our homes and workplaces. It is driven and shaped by technologies full of potential. Smart home and building solutions based on the KNX standard were, are and will be an important part of this development. And regarding the projects that are awarded this year with the KNX Awards, it's great to see how the future of living and working in smart homes and buildings will look like", says KNX President Franz Kammerl.
An broad array of projects from around the world
The 2020 KNX Award projects are located in Argentina, Iran, Germany, Belgium, Austria, Egypt and Brazil. In addition to extensive installations (such as a smart city project in Egypt, a theatre building in Argentina), intelligent residential buildings and educational projects are also among the award-winning projects. These include an off-grid smart home in Belgium, a home improvement for an ALS patient to increase independence.
The 13th KNX Award ceremony took place online on the 29th of September. In addition to the trophy and certificate, each 2020 KNX Award winner received a prize of 1,000 EUR.
KNX AWARDS 2020: THE WINNERS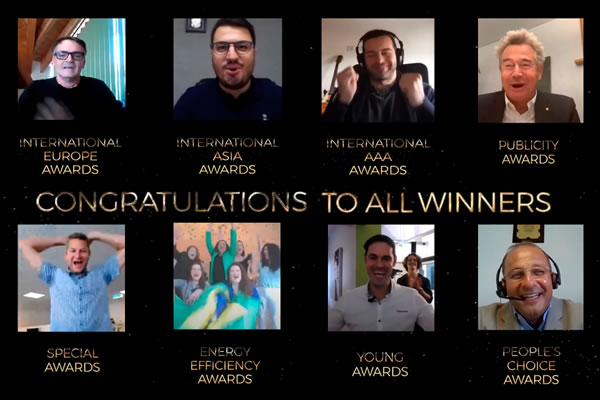 Category: International Europe
For this project, a 1970s house was completely remodelled for a Parkinson's patient in Mannheim, Germany. With the help of modern smart home technology, the homeowner can continue living independently in his own home. A complete set of automation functions are easily and intuitively set up for the homeowner and visiting nurses. From heating, multimedia, to watering of the garden, camera functions and even the toilet flush, all is controlled by KNX to increase the quality of life. Klaus Geyer Elektrotechnik deserved this prize for making an excellent installation to help maintain the patient's independence at home.
Category: International Asia
The Nobakht Building is a luxury commercial complex in Tehran, Iran. The hi-tech building of 10 floors consists of 12 offices on 6 floors and 4 floors of parking. The construction of the outstanding new building was finished in 2019, and truly every building function is smart. Due to the complex combination of smart building integration, office employees can enter their workspace without even touching a button. A great job from company Delham Tabesh to put this project on the KNX map in the Iranian landscape.
Category: International Africa, America & Australia
The Teatro del Libertador General San Martín, built-in 1891, is a stunning theatre, opera house and concert hall in Córdoba, Argentina. It is one of the most famous of Latin America for its architecture and history. The restoration of this theatre demanded high-quality materials, specific products, and cutting edge technology in its new features and functional updates. The King and Queen of Spain inaugurated the building last summer. The new array of lighting functions installed in this historical building were what made the project of Agustín Abdala truly stand out.
Category: Special
FH Technikum Wien is no beginner in the smart home business and carries over 10 years of experience. They are, however, more than just another training facility and specialised in assistive technologies. Their new Smart Living lab consists of 250m² of different living spaces, all used for training and research purposes. The project truly stands out as student education of traditional KNX integration is combined with finding new ways to make smart homes easy to control for people with disabilities.
Category: Publicity
The e-Haus from the ZVEH has been a trendsetting example of the KNX system at regional and international fairs in Germany for many years. The functions shown in the e-Haus are always based on the latest technology and innovations and are updated regularly. In this way, visitors of the various fairs can experience the latest trends in home automation first hand. The e-Haus is supported by 60 partners from the electrical industry. The latest focus of the e-Haus edition is on the success story with energy management, sector coupling and charging management, including electric vehicle data connection. The 2020 KNX Award for Publicity goes to ZVEH for their smart implementation of KNX in the concept.
Category: Energy Efficiency
The administrative headquarters of Sanepar, the Brazilian water and waste management company is located in Curitiba and needed a boost in energy efficiency. This was carried out by Arqtech Automacao in an optimal way and therefore received a Gold LEED certification. KNX was considered as the ideal choice, with as main benefit the ability to integrate multiple technologies. All different technologies were integrated into a BMS workstation SBO server. With this KNX project, the system integrator Arqtech Automacao made his winning application.
Category: Young
The Young Award honours experimental projects coming from young people or educational instances to let youngster explore the world of KNX in an innovative way. The Odisee college in Ghent, Belgium has been holding KNX in high regard for over a decade as a KNX Scientific Partner as well as providing certified training. Their 2019 project of the energy technology education program was to make a house with an existing KNX installation off-grid. This project was carried out in the home automation simulation house at their premises by the professor of energy technology and 4 research students with as main focus the optimisation of and awareness about sustainability.
Category: People's Choice
At the People's Choice Award, the audience has the final say. The selected KNX project, AL-Masa Downtown, is known as the heart of the New Alamein City. It is the first smart city in Egypt made for a population of about 2,500,000 citizens. The city uses KNX IoT solutions to increase energy efficiency in the residential areas, commercial buildings, hotels and street lighting. A central system connects all digitally into a state-of-the-art city project. The KNX community recognised the excellence of the project from Egyptian for Intelligent Buildings-SMART by making them the People's Choice winner.