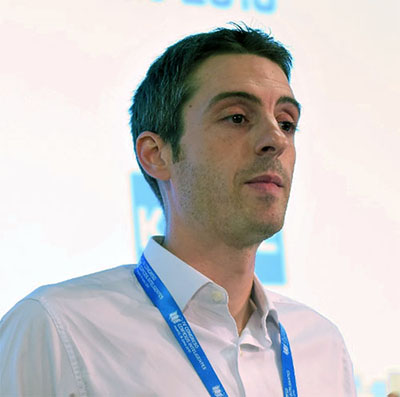 The KNXperience is a new online trade show organised by KNX Association, scheduled for 28th September to 2nd October 2020. It will serve as a central platform for presenting and experiencing the latest KNX products, solutions and tools created by KNX Association and its participating KNX Members. In addition, KNX Association will be running a week-long conference programme to run alongside the show.
In this interview, KNX Association Marketing Manager, Casto Cañavate, explains the thinking behind the event, what it offers and how it will work.

KNXtoday: Why did you decide to do an online trade show?
CC: Against a backdrop of the cancellation of the industry's leading trade fair, Light + Building 2020, due to the coronavirus pandemic, KNX Association has responded by hosting a digital KNX trade show for the first time ever. The pandemic has had a dramatic effect on all walks of life, but we are used to adapting to an ever-changing market and are determined to find a way through this to help the ever-resourceful KNX community stay in business and undertake important future work, including making public spaces safe and saving energy. We all know that KNX is ideally suited to this, so we will do everything we can to promote this to the world and help keep everyone as up-to-date as possible.
The KNXperience will take place from 28th September to 2nd October 2020 as an exclusively-online event in English and German at www.KNXperience.org. It will be a great opportunity for the global KNX community to come together and learn about the latest product developments from a range of well-known manufacturers, as well as share ideas and inspire each other. An accompanying full-week conference will present the latest news, developments and forthcoming plans to the KNX community as well as anyone interested in smart home and building solutions. Everyone is welcome!
KNXtoday: What will be the highlights and major announcements?
CC: The highlight of the event will be the 13th edition of the KNX Awards. This usually takes place every two years as the Top Event within the framework of Light + Building, but will now take place completely digitally for the first time on 29th September 2020 at 17:00 (CEST). The KNX Awards are awarded in the following categories:
– International – Europe.
– International – Asia.
– International – Africa, America, Australia.
– Energy Efficiency.
– Special.
– Publicity.
– Young.
– People's Choice.
Other highlights will include presentations on state-of-the-art developments including:
• Services with KNX
• Energy Management with KNX
• ETS6.
In addition, new developments to be launched during KNXperience will be the KNX Partner ranking tool, the KNX News App, and the KNX Virtual Reality App. And for fun and extra excitement, there will be lotteries held during the whole week, with fabulous prizes.
KNXtoday: What are the benefits to visitors and exhibitors of an online trade show?
CC: Whilst we have never done an online event on this scale before, and of course it won't be exactly the same as a physical trade show, it does promise to be a very rewarding experience and has some clear advantages. For example, for visitors, there are huge cost savings, with no need to travel, book accommodation or eat at restaurants. You will be able to make more efficient use of your time, as you can see all of the possibilities in a quick overview and arrange your online tour in a few minutes to fit in nicely with your online meetings and the conference programme. Furthermore, there will be no need to carry heavy materials, as all documents and videos will be available online and easily downloadable, ready to watch at any time.
From the exhibitor's point of view, the online trade show will require fewer resources too, and offers the opportunity to easily coordinate meetings, chat and other possibilities.
KNXtoday: What are the core elements of KNXperience?
CC: We have structured KNXperience in three blocks:
• The Exhibition Hall, where visitors can see a hall full of booths from KNX Members, KNX Association and its affiliates such as KNX Professionals, KNX Partners, etc.
• The Conference Hall, where visitors can attend conference sessions on a wide range of subjects including the latest KNX developments, solutions, products and applications.
• The Networking Hall, an online chat space to have discussions with others, be they individuals, groups or even people that you don't know.
KNXtoday: Who is taking part?
CC: We expect to have a similar number of KNX Members exhibiting at the online trade show as we do in a traditional one. Personnel will be present for the whole week from 09:00 – 17:00 (CEST), and this will include all relevant staff from KNX Association, the participating KNX Members (13 already confirmed at time of writing), KNX Professionals and some collaborators and supporters.
The event is open to the more than 300,000 KNX community worldwide, as well as anyone interested in building automation using the world's foremost building control protocol standard, KNX.
KNXtoday: What will the experience be like?
CC: KNXperience will be not too dissimilar from a real-world event. The exhibition hall will be full of virtual booths with real people in attendance. These will be industry professionals such as KNX Member company staff, KNX Association staff, KNX Professionals and other experts, all of whom will be able to inform and present new KNX solutions and products. The main difference between KNXperience and a real-world event will be the contact between the visitors and the exhibitor; it will be done via your chosen device, be it a desktop, mobile or tablet.
One-to-one conversations between visitors and booth representatives will also be possible via the KNXperience Networking Area. In this digital space, booth representatives will have their own rooms that offer the possibility to have group or individual discussions.
KNXtoday: How can people register and are there any special computer requirements?
CC: To take part as a visitor, simply register, free of charge, in English or German, at www.knxperience.org. The tool we use to run the online trade show does not require any additional software or component on your computer. Any user can register and enjoy the show with a desktop, tablet or even a handheld device.
KNXtoday: Any final thoughts?
CC: Now, more than ever, we need to be at the top of our game and as ambitious as we can be. Thanks to the energy and enthusiasm of KNX Members and visitors, KNXperience promises to be an amazing event. It's an exciting new way to spread the word of KNX to the world, and is open to everyone interested in improving the built environment through automation. I am confident that it will form the basis of future editions in years to come and I really look forward to seeing you there!
For more information and registration visit www.knxperience.org, and follow and use the hashtag #KNXperience.